Rinku Dutt, the lady behind Raastawala, a Kolkata-inspired street food venture in London, was in town for a "whirlwind eight-day trip" in January. Among the many things she ate, cauliflower singharas, Chinese food at Bar-B-Q and Chowman and Bengali food at 6 Ballygunge Place got a special mention from her.
The second-generation, British-born Bengali was generous enough to share a few recipes from her recently-released cookbook, titled Kolkata: Recipes from the Heart of Bengal, available in the UK, Australia and Canada as of now. The book has been published by Melbourne-based Smith Street Books.
"My little notebook of scribbled recipes, with lines crossed out and food stains all over it, began to get fuller and soon I had a book of treasures that held so many hours of hard work, arguments, the frustration of my parents (as I doggedly asked about each step of a recipe), history and beautiful memories," says Rinku.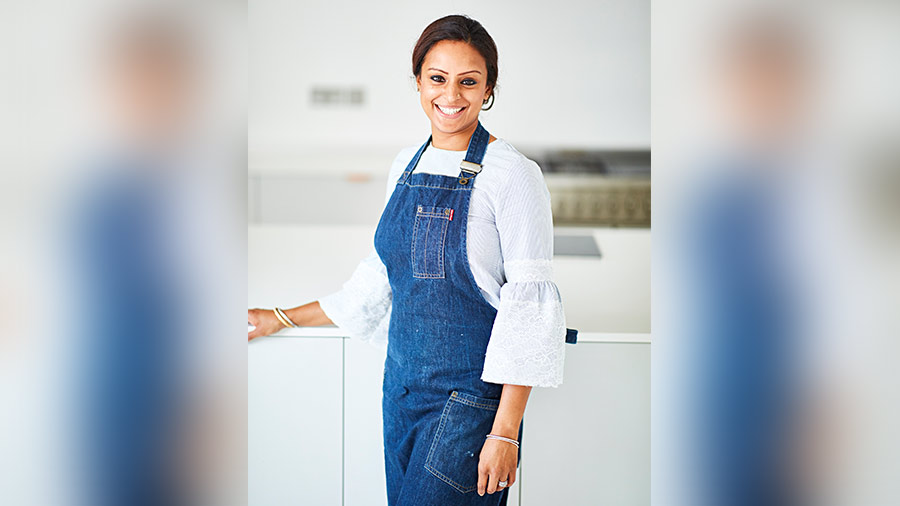 Rinku Dutt has written the cookbook for a global readership and uses ingredients readily available in supermarkets
It was then that she realised that writing a cookbook would take these dishes made by her family for generations, from the small traditional kitchens in Kolkata to ones in other lands.
Conveniently divided into mealtimes, Kolkata: Recipes from the Heart of Bengal offers more than 70 simple recipes for breakfast, lunch, snacks, dinner, sweets, drinks and even family feasts and festive meals. The cookbook has been written for a global readership and uses ingredients readily available in supermarkets. Rinku has hand-picked three recipes to share — a kalo chana salad that can be whipped up by the most basic cook, a Dacres Lane-style chicken stew, and for the home chef looking for a healthier version of a traditional dish, there's a baked version of shorshe maachh.
Recipes from the book follow. We hope you enjoy cooking 'em.
TOMATO AAR KALO CHANA SALAD (Fresh Tomato and Black Chickpea Salad)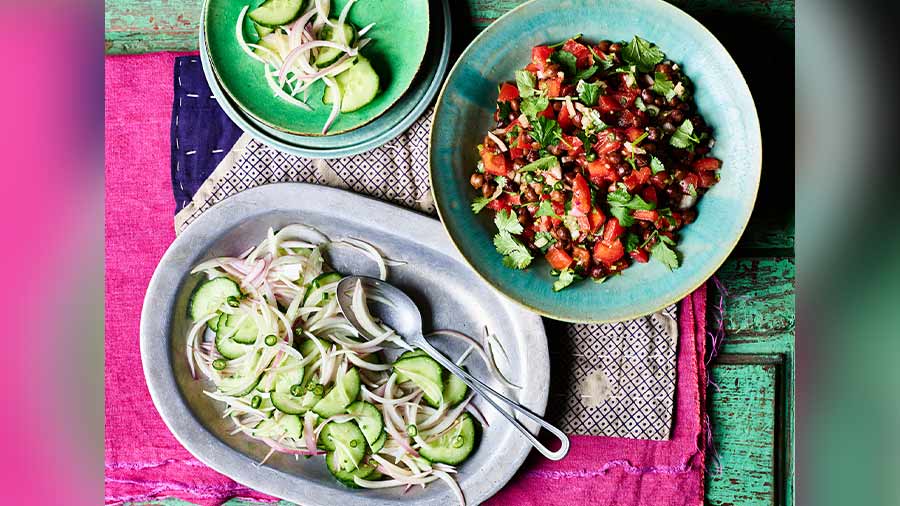 As a child, during our summer holidays in Kolkata, I remember having this as a mid-afternoon snack at my gran's place. This is something that would be rustled up within a matter of minutes and was born from a need to serve a dish unexpectedly with ingredients that were available in the kitchen to guests one evening. Since then, it's become a favourite and is often served with snacks or even as a refreshing salad for lunch.
Ingredients
400 g of kala chana (black chickpeas), drained
1 small red onion, peeled and finely chopped
1 green chilli, finely chopped
1 handful of coriander leaves, roughly chopped
2 tablespoons good-quality olive oil or mustard/vegetable oil
1 1/2 teaspoons chaat masala
Juice of half lime
4 ripe tomatoes
Salt, to taste
Method
Combine all the ingredients, except the tomatoes and salt, in a bowl.
Deseed the tomatoes, then dice the remaining tomato flesh. Add to the bowl and mix everything together well. Check for salt and adjust to taste.
CHICKEN ISHTEW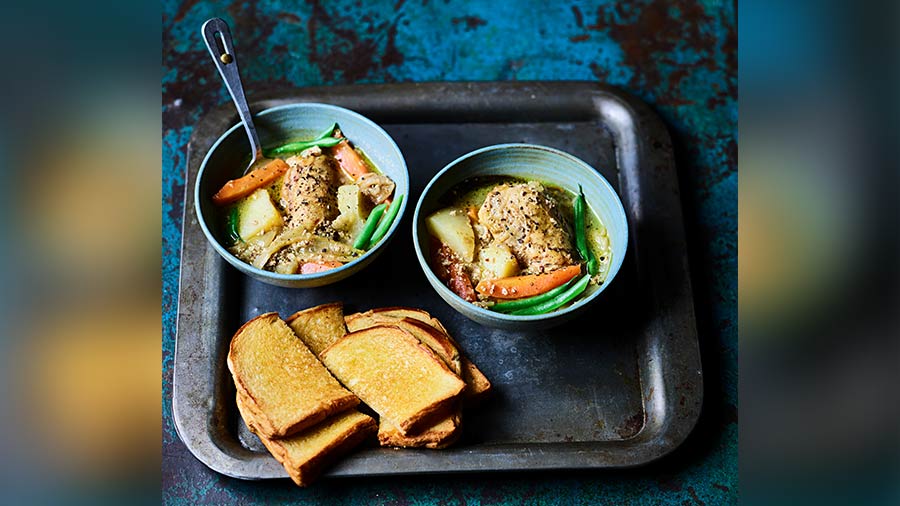 Made famous during the time of the British Raj, the chicken ishtew is a light and simple Anglo-Indian dish made with fresh chicken, chunky vegetables and a wholesome gravy. The aromas of the whole spices are highlighted, especially the black peppercorns.
Chitto Babur Dokan is a small shop in Dacres Lane – a busy lane, bustling with food vendors who serve all the office workers – and is famous for its chicken ishtew and toast. During the lunchtime rush, you will find its lines of benches full of people and alive with noise and fantastic aromas.
Ingredients
1 tablespoon rapeseed (canola) or sunflower oil
2 teaspoons unsalted butter (you can use Amul in India)
3 bay leaves
3 red onions, cut into quarters
2 cm (3/4 in) piece of fresh ginger, grated
1 garlic clove, grated
1 teaspoon sugar
10 whole black peppercorns
5 cloves
500 g (1 lb 2 oz) bone-in skinless chicken thighs
2 potatoes, peeled and cut into quarters
2 carrots, peeled and cut into 4 cm (11/2 in) batons
150 g (5 oz) green papaya, peeled and cut into 2 cm (3/4 in) cubes (available in Indian grocery stores)
2 teaspoons Bengali garam masala (a semi-coarse powder made from 2 cinnamon sticks, seeds of 6 green cardamom pods and 6 cloves)
250 ml (1 cup) fresh chicken stock
250 ml (1 cup) full-fat milk
100 g (31/2 oz) fine green beans, trimmed and halved
Salt and freshly ground black pepper, to taste
Method
Set a heavy-based pan over a medium heat and add the oil and butter.
After 1 minute, add the bay leaves and onions. Cook, stirring, until the onions start to become translucent, then add the ginger and garlic. Cook until the raw smell diminishes, then add the sugar, peppercorns and cloves. Cook, stirring, for 1 minute, then add the chicken thighs and potatoes. Cook for 5 minutes, stirring.
Add the carrots, papaya and garam masala to the pan, mix well and cook for a further 8 minutes, stirring now and then to make sure nothing sticks to the bottom of the pan.
Add the chicken stock and milk, stir and bring to a gentle simmer. Check for salt and adjust to taste, then reduce to a low heat and cover the pan. Cook for 15-20 minutes, stirring in the green beans after 10 minutes and re-covering the pan until the time is up.
Check that the chicken is cooked through and that the potatoes and carrots are soft, then remove from the heat and keep covered until ready to serve.
To serve, pour into a bowl and grind over some fresh black pepper. Serve with warm buttered toast.
BAKED MUSTARD SALMON FILLETS (Shorshey Maach)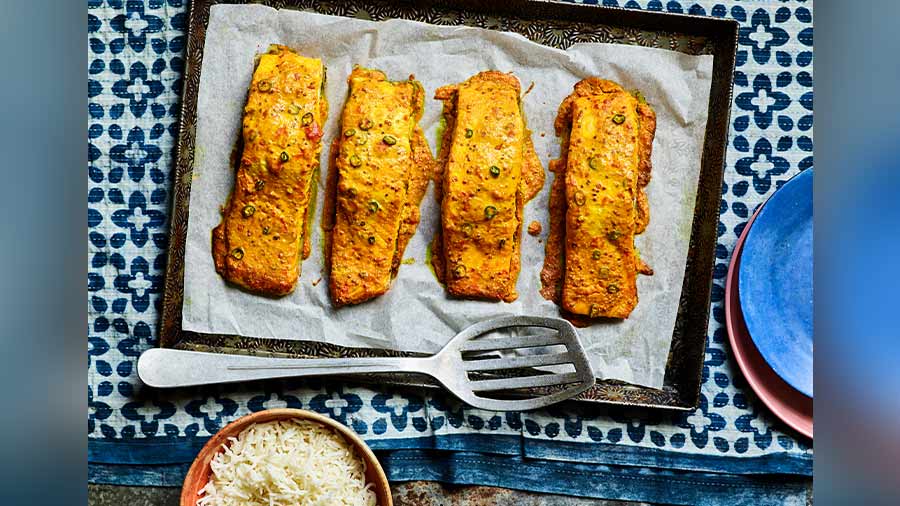 Traditionally, as with many Bengali fish dishes, once the fish pieces have been cleaned and scaled, they are coated with turmeric and salt and then fried, before the preparation of the actual dish commences. Now, with ovens and grills more readily available in India, people are always on the lookout for how to make dishes healthier without compromising on the taste. We make this dish as an oven bake with all the same ingredients, but it's a lot easier and healthier, as there is no frying involved.
Ingredients
4 salmon fillets, skin on, descaled and boneless
Boiled rice, to serve
For the spice paste
2 tablespoons rapeseed (canola) oil or mustard oil
2 teaspoons Greek-style yoghurt or a heavy-set yoghurt
2 teaspoons English mustard powder or shorshe bata (mustard paste)
1 teaspoon wholegrain mustard
1/2 teaspoon ground turmeric
1/2 teaspoon posto (white poppy seeds)
1 green chilli, finely chopped
1 tomato, coarsely grated
1/2 teaspoon salt
Method
Preheat the oven to 180°C (350°F/ gas 4).
Place all the spice paste ingredients in a bowl and mix well into a thick paste.
Line a shallow baking tray with foil and place the salmon fillets on it. Cover the fillets with the spice paste and rub it in well, using your hands to ensure all sides of the fillets are coated.
Arrange the fillets skin-side down and bake for 12-15 minutes until cooked through (the fish should easily flake).
Immediately remove from the oven and serve with boiled rice.