Trendy Asian bistros may have their days, but some of the most vivid, satisfying Chinese flavours in Kolkata come from modest, decades-old establishments with unpretentious menus. When it comes to authentic, no-nonsense Chinese food, Kolkatans know exactly where to go. 
Chinese cuisine has been a huge part of the city's culinary heritage. It makes sense then that Kolkata has not one but two Chinatowns, since food is one of the best ways to preserve personal narratives and migrant cultures. 
For many Chinese families, food was a way of sharing their history and this tradition that has lived on through generations. Some of the most recognised and classic Chinese dishes in the city are made in family-run joints, while some old-school Central Kolkata eateries are big with office-goers who appreciate a humble, hot lunch that doesn't burn a hole in their pockets. 
Here's a list of the most-trusted and traditional Chinese eateries in the city:
Tung Nam Eating House
The eating house is easy to miss in the overcrowded Poddar Court area. But its discreet entryway has a bright blue-and-yellow signboard. Tung Nam may feel like its in a time-wrap — the traditional Chinese decor, the simple red tabletops, the modest seating and even the prices — everything reminds diners of a simpler time. 
The 'Kaptai' numbers are big favourites with regulars and are hard to find anywhere else in the city. The pork 'kaptai' is traditionally made with giblets, the 'Kaptai Hamchoy' rice is also a winning dish. Don't miss out on the entrees made in 'haimei' sauce and the flavourful 'yaam wontons' which are steamed wontons topped with some veggies. 
Must-try dishes: Yaam Wontons, Chilli Pork 
Location: 24, Chatta Wala Gully, Poddar Court, Tiretti Bazaar
Eau Chew
Eau Chew is one of the oldest-surviving Chinese eateries in the city, run by Joel Huang, the fourth-generation owner. His mother, Josephine Li Ying Huang, created the famed Josephine Noodles, which has a cult following in Kolkata. The pot of pan-fried noodles comes with a medley of chicken, prawns, mushrooms and other colourful veggies.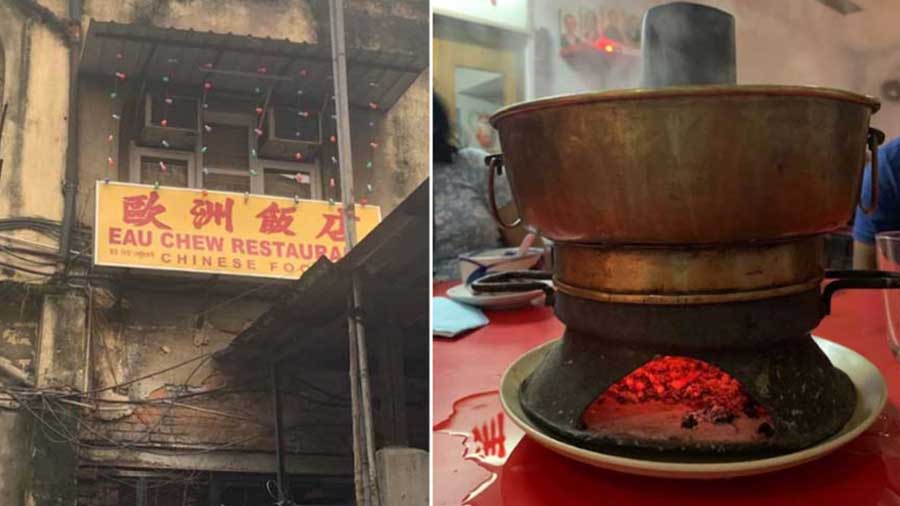 Chowringhee's Eau Chew and its famous Chimney soup
Shivangi Jaiswal
Eau Chew is also known for its chimney soup — a hearty broth with veggies, meat and egg drop, served in simple white ceramic crockery. It reaches your table piping hot and is a modest winter luxury.
Must try: Chimney Soup and Josephine Noodles
Location: 12, Ganesh Chandra Avenue
Ah Leung
Tangra's Ah Leung is known for its lip-smacking Chinese breakfast and offers one of the most pocket-friendly experiences in the city. Run by a Chinese family right out of their home in Kolkata's Chinatown, this eatery is frequented by locals every day, especially for their handmade 'Singhara Chow'.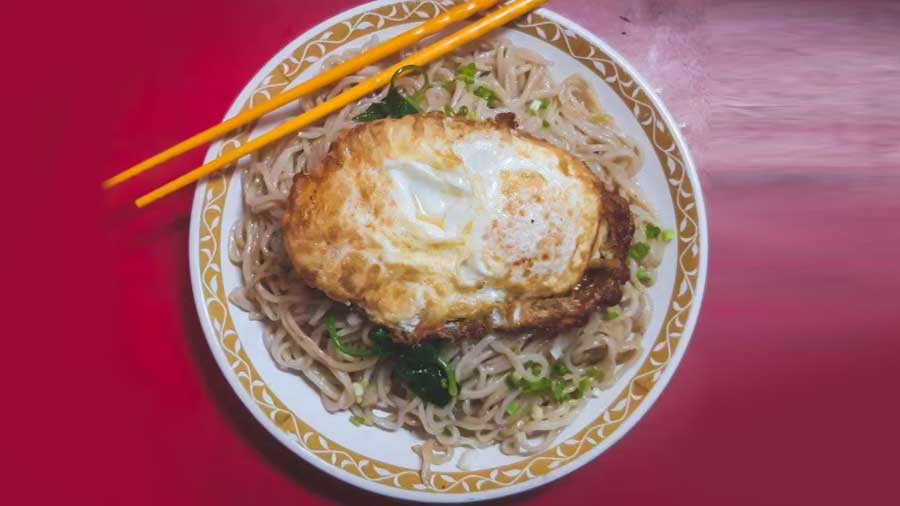 Noodles and veggies topped with a fried egg at Ah Leung
Shuvarup Sadhukhan/Zomato
Steamed wontons are often colloquially referred to as 'singhara' and are served with fresh noodles, greens and meat. This breakfast dish is available from 8.30am to noon and it's totally worth the early alarm!
Must-try dishes: Singhara Chow and Stir fried pak choi
Location: 119, Tangra
Tai Sen Chinese Eating House
This tiny eatery seems like a hole in the wall, but packs a punch of flavour when it comes to its food. Tai Sen is owned by Edwin Liao (also the head chef) and specialises in the Tangra Hakka cuisine. Interestingly, Tai Sen opened just three years ago, but has held on to a quaint, old-world charm and some delicious classic recipes.
Must-try dishes: Roast Chilli Pork and Golden Fry Prawn
Location: 4, Bentinck Street
Kim Li
The lesser-known Kim Li Restaurant in Tangra offers some of the best Chinese delicacies in the city. The pork-speciality restaurant is famous for the Wonton Chow, a popular breakfast dish made with handmade noodles and steamed wontons tossed in lard and fresh greens. 
The exquisite Orient-inspired tableware is a big draw for the customers, along with their signature red chilli sauce. Don't miss out on their pork meatball soup that is loaded with pak choi.
Must-try dishes: Wonton Chow and Chilli Pork
Location: 60, Matheswartala Road, Tangra
Chung Wah
Anyone who frequents Chandni Chowk is bound to have an appreciation for this hidden vintage gem. Fashioned like an old 'Calcutta' cabin-style diner, this restaurant has a loyal fan following among office-goers due to it's relaxed ambience and tasty food.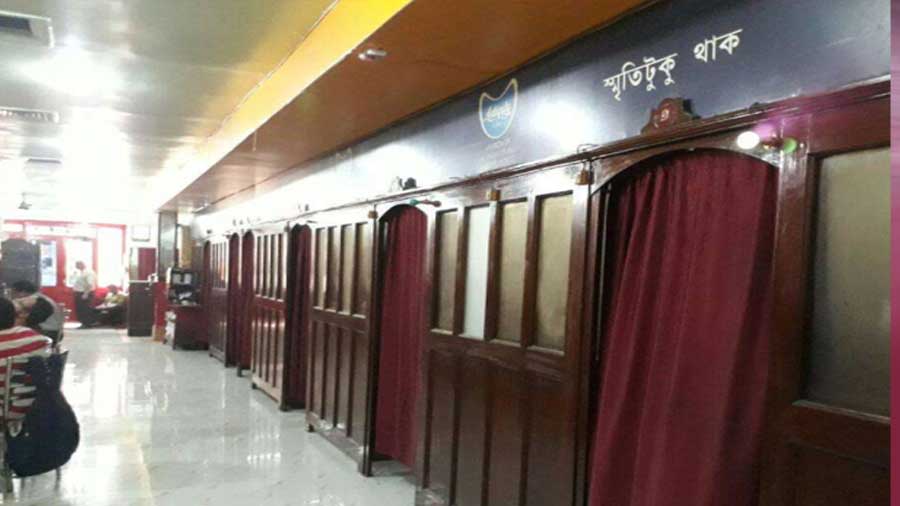 The cabins in Chung Wah
Rajat Hazra/Zomato
The flavoursome pork dishes are the most popular and go really well with beer. Another unmissable option would be the Fricasseed Prawn Chowmein that works great as a standalone number.
Chung Wah is also delivery-friendly and also has a special delivery menu, which is great for people working in and around Central Kolkata who're looking to order in a quick, familiar Chinese lunch.
Must-try dishes: Roast Chilli Pork and Fried Chilli Chicken 
Location: 13A, Chittaranjan Avenue, Near Chandni Chowk Metro Station