Idli, sambar, dosa, filter coffee — when you think of south Indian food, these are the dishes most Bengalis will identify with. But there's more to south Indian cuisine than this, and over the last decade, new-age south Indian restaurants have emerged in Kolkata that are serving a larger variety of authentic southern flavours in innovative ways. From thalis and bisi bele bath to parathas and even chaat, there's much to entice the Bengali palate.
Not only is there a variety of dishes, the outlets also have innovative business models, from vendors on cycles to 24-hour operations. My Kolkata takes a look at five such establishments in the city:
IdlyGo: Idli from a cycle vendor in office paras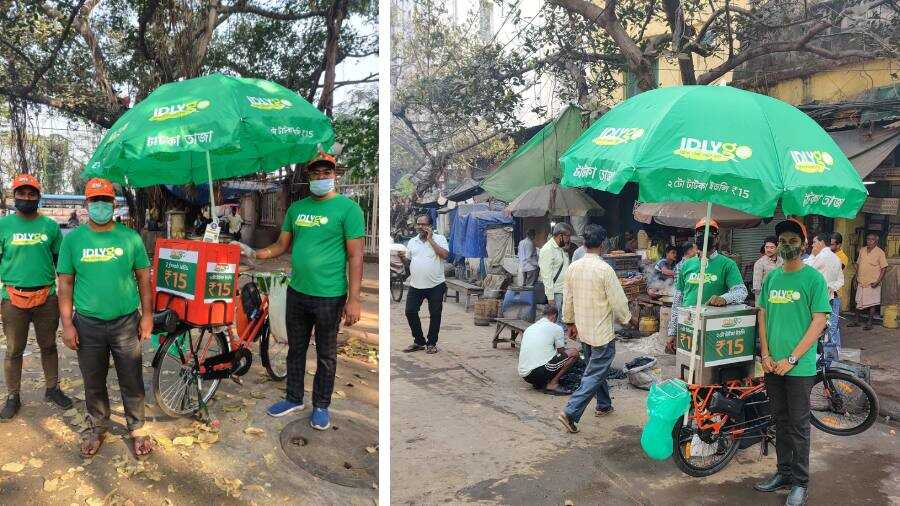 The cycle vendors of IdlyGo can be spotted selling their fare in north and central Kolkata
The office paras of Kolkata now have idlis on wheels. If you're on the go and have missed your breakfast, or just want to get a quick bite for lunch, grab a plate of idlis from a IdlyGo cycle cart. The newest brand on the block, IdlyGo started in February 2022, and serves a small menu of simple, freshly made and authentic fare including idli with coconut chutney, masala dosas and the latest winter addition — masala vadas. The items are available till the day's stocks last.
When talking of the sales format, Anup Kanodia, chief executive officer, said, "It is eco-friendly, small footprint, low maintenance and has lowest cost for last-mile delivery. Most of our current bicycle locations are in high footfall areas near bus or metro stations, schools and hospitals or business districts, where hungry people from all economic backgrounds can satisfy their hunger with our fresh and healthy meals. We expect to start operations in south Kolkata in the next two months.''
For now, IdlyGo's cycle carts operate in central and north Kolkata locations, IdlyGo Plus is also available on food delivery apps and you can order online.
Locations: Dalhousie, Bowbazaar, New Market, Sealdah, Entally, Kidderpore, Dum Dum, Shyambazar.
Time: 8am to 6pm
Price for 2: Rs 30 (approx.)
Vaango: Variety of meals served in mall food courts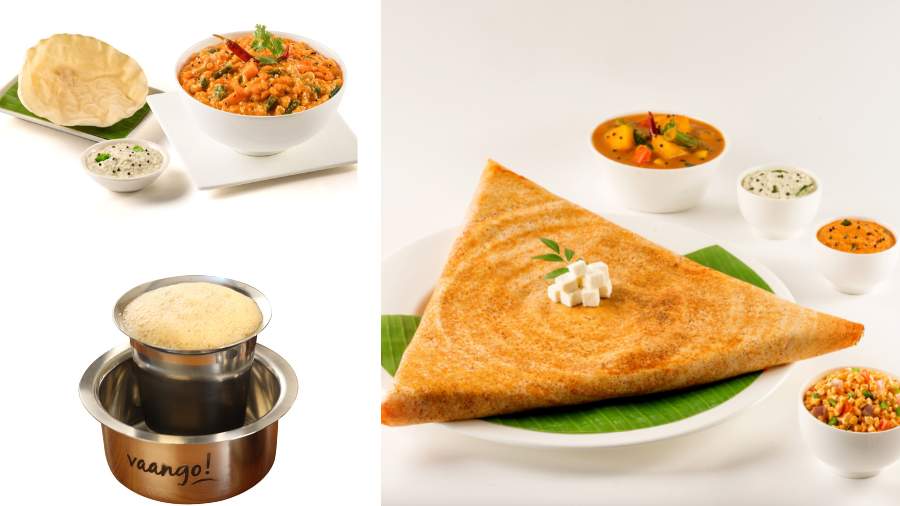 South Indian dishes at a food court is not a new concept, but Vaango deserves a mention for the variety of meals it offers. Serving pure vegetarian dishes in the city since 2015, the chain — whose name means 'come in' in Tamil — has three operational outlets (and one upcoming )in the city. Their USP is their varied fare and the spin on popular south Indian dishes.
When in Vaango, sample the Paneer Dosa, Bisibele Bhath, Vaango Special Filter Coffee, Idli Chaat and Ghee Roast Masala Dosa. If you are unable to visit the outlet in person, you can always order in from the comfort of your homes or opt for a takeaway.
P.S Keep an eye out for their winter-special south Indian Aloo Puri Combo served with Rava Kesari and Dahi Vada, and the Malabar Paratha with Korma.
Locations: The food courts of Acropolis Mall, Kasba; South City Mall, Prince Anwar Shah Road; Lake Mall, Rashbehari, and an upcoming one at Platina Mall, Bhowanipore
Time: 11am onwards
Price for two: Rs 400 (approx.)
Kurry Patta: Breakfast for early morning walkers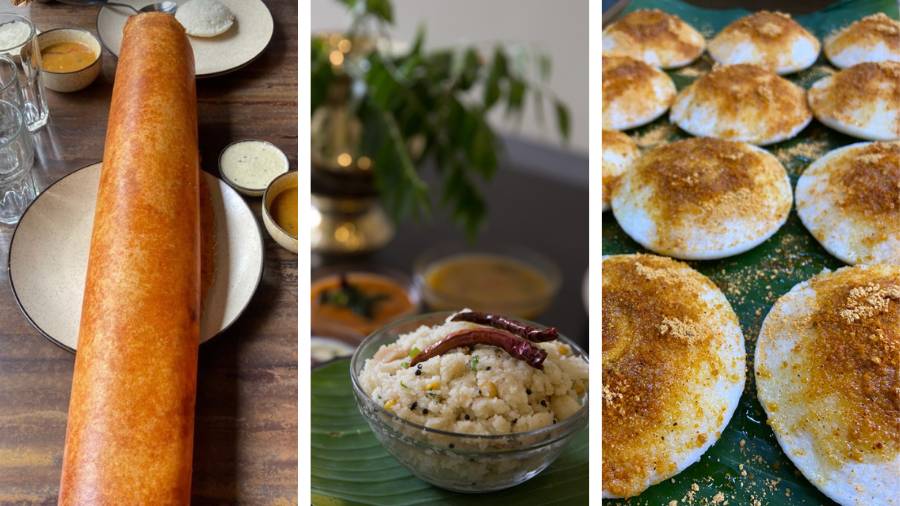 L-R: Paper dosa, upma and molagapodi idli
In Southern Avenue and craving a south Indian breakfast? Stop by at Kurry Patta! From 2016, this restaurant has won over the hearts of the people with its offerings, which include hearty breakfasts from 7am. It is always ideal to experience the hospitality in person, but you can also opt for a takeaway or order online through food delivery apps.
When in Kurry Patta, go beyond the usual and check out Thatte Idli, Onion Chilli Vada, Family Paper Dosa, Pizza Dosa, Molagapodi Idli, Upma, Gunpowder Paper Dosa and more. With winter setting in, the crowd favourites are rasam and filter coffee.
Proprietor Anant Kanoria says, "Some bestsellers in the morning are the Molagapodi Idli and Upma. We would like to believe that we have a loyal customer base among the morning walkers, although we still have a long way to go. Our breakfast menu is available throughout the day, from 7am till 10pm.''
Address: P79 Lake Road, 1st Floor
Price for 2: Rs 500 (approx.)
Dosa Coffee: Dosa around-the-clock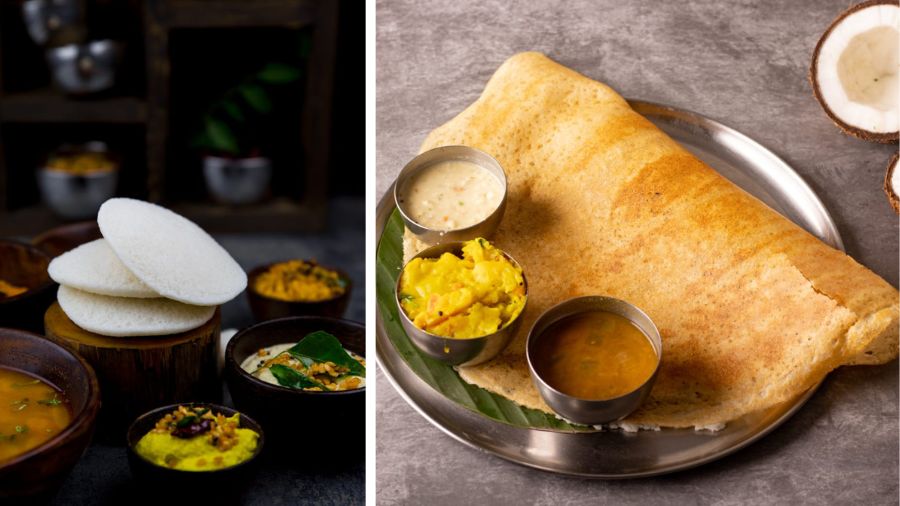 Idli and masala dosa
For those midnight hunger pangs and cravings of coffee and munchies, head to or order in from Dosa Coffee. The chain has eight outlets around the city, two of which are open 24x7 and run delivery and takeaway options from 10pm to 6am.
Founder Siddhant Dalmia, spoke about the need of healthy and fresh food for midnight snackers, "Kolkata needed a light and healthy meal option after midnight as well as comfort food for early morning travellers. The outlets serve fresh, vegan and healthy options after 10pm. Most items are available except for the flavoured rices and sevai. I personally recommend the Malabar Paratha with Paneer Korma and the Paper Dosa.''
From Sarat Bose Road to New Town, no matter where you are, you cannot miss Dosa Coffee. Since 2019, the brand has grown to accommodate eight outlets in Kolkata. When in Dosa Coffee, you must try Guntur Karampodi Dosa, Malkapodi (molagapodi) Idli, Garlic Ghee Roast Dosa, Raw Mango Ghee Roast Dosa, Malabar Paratha with Korma, Keshri Halwa and more. You can visit any of their outlets or order in as well.
(Dosa Coffee also does a south Indian thali on special occasions and festivals.)
Locations: Ideal Plaza at Minto Park, Food Court at Forum Mall, Calcutta Swimming Club, Sec-III Salt Lake, Technopolis Sector-V Salt Lake, Food Court at Mani Square Mall, Lake Town, Rosedale Plaza, and New Town, Action Area-III.
Time: 8am to 10pm every day; and 24x7 with deliveries and takeaways from 10pm to 6am for Sec-III Salt Lake and Ideal Plaza at Minto Park
Price for 2: Rs 200 (approx.)
Ramanee: For a curated thali experience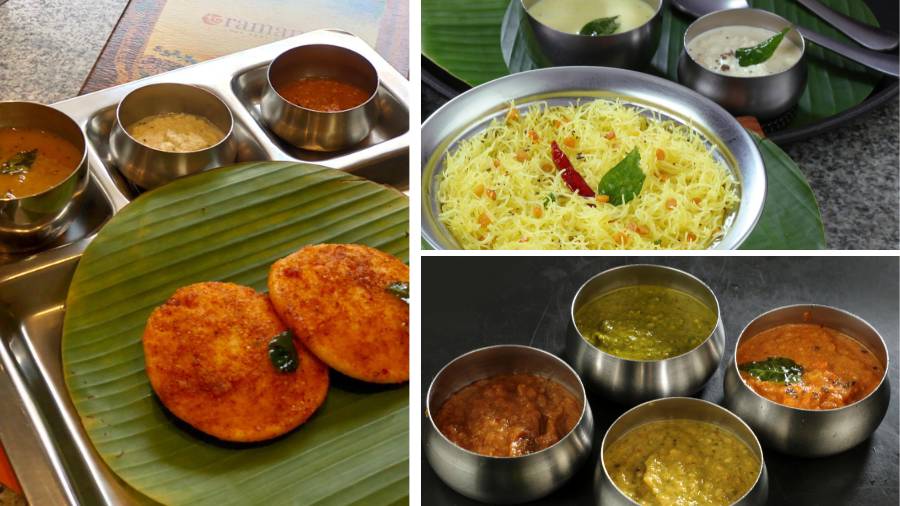 Idli fry, lemon sevai and the different chutneys at Ramanee
Ramanee at Lake Terrace started in 2021. But what keeps eaters coming back to it is its elaborate south Indian thali.
"Kolkata, we felt, was always underserved as far as this cuisine was concerned. There were feeble attempts only. Our USP is that we serve Tamil Brahmin Tanjore cuisine. It serves more than idli, dosa and vada. It's the only south Indian restaurant with a curated thali and serves the best authentic filter coffee in Kolkata," said director S. Ramani.
The restaurant's Podi Idli, Mysore Masala Dosa, Traditional Adai, thalis, Lemon Sewai, and Filter Kapi have won over many regulars and new visitors. If you visit Ramanee, be sure to also check out the special pongal, Kuzi Paniyaram, and Mysore Pak, which are available from 8am to 9.45pm every day.
Location: P569, Hemanta Mukhopadhyay Sarani, Lake Terrace
Price for 2: Rs 500 (approx.)