Pizzas are all kinds of fun — even when they're served as a good ol' circle, right? A number of eateries in Kolkata are shaking things up and making the discs we love in fun and innovative ways. There's a cloud-kitchen offering 11-inch New York-style slices, an eatery that sends DIY kits to your doorstep and one that serves them by the metre, in rectangles! Here's how to get your hands on them…
DIY pizza kits from Home Slice
Baking a pizza at home is a tough task. Home Slice, the pizza label with a national presence, is on a mission to ensure pizza-making at home is an easy affair. "We want anyone and everyone who has an oven at home to be able to make a pizza. We send you DIY (do-it-yourself) kits that assist you throughout the process," said Rohit Goenka, owner of the brand. 
Via Home Slice's DIY Kits, you'll be able to "experience a gourmet pizza in the comforts of your home kitchen". The brand sends all the ingredients along with the pizza base. So, all you need to do is top it up with your preferred proportions and place it in an oven for eight mins. "We make sure that all our ingredients are preservative free. Pizzas don't have to be extremely unhealthy! We use chakki atta which has a good amount of roughage and we encourage all our customers to eat as healthy as possible," said Goenka.
There are a total of 14 variations of the DIY kits, along with 4 chef's specials making an appearance. Pick between a Funghetto, which sees roasted mushrooms, caramelised olives, onions, jalapenos, olives, mozzarella, cheese mix and extra virgin olive oil or a Mother Earth, which is a mix of onions, green capsicum, sun dried tomatoes, sweet corn, jalapenos, mozzarella, feta and fresh basil, and the Five Cheese Truffle Pizza, made with ricotta cheese base and topped with truffle oil and scented honey. 
Pocket-pinch: Rs 425 onwards, taxes additional
Rectangular Pizzas at Please Don't Talk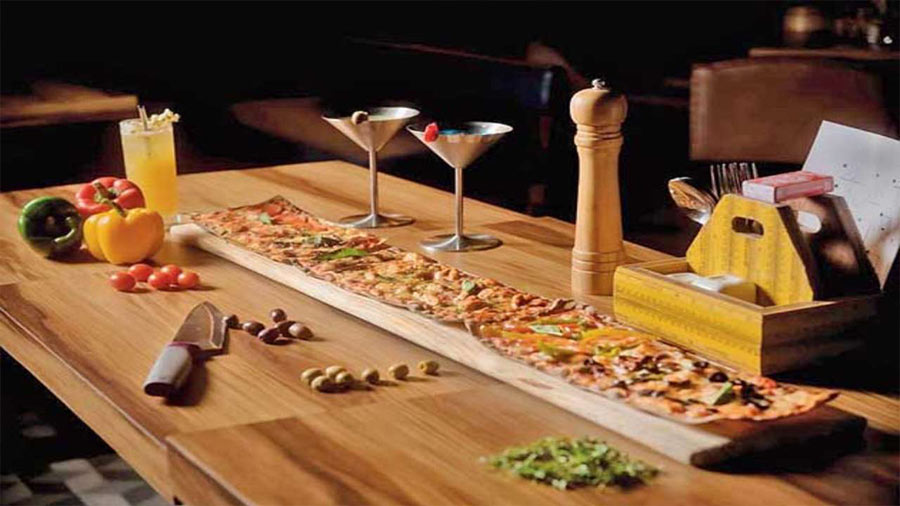 A rectangular pizza
TT Archives
Please Don't Talk on Ho Chi Minh Sarani takes us back to school, and so do its pizzas! "Instead of the usual circles, our pizzas are rectangular and are served by the metre. They are inspired by the rulers we would use in school!" said Harshvardhan Sonthalia, co-owner of the gastropub.
You'll spot nine different types of pizzas and they're served in four different proportions — one-fourth of a metre (six slices), half a metre (12 slices) and one metre (24 slices). Interesting options are Aragula (rocket leaves, goat cheese and cherry tomatoes), Make Some Noise (buffalo mozzarella and fresh basil in a folded cheese crust) and of course Pepperoni (pepperoni and mozzarella). You can mix and match and taste a few.
Pocket Pinch: Rs 400 (approximately)
11-inch slices at The Mighty Slice
The Mighty Slice, a start-up pizza brand that was founded by Sneha Mirchandani and Adhiraj Mukherji and now owned by restaurateur Prithvish Chakravarti of Calcutta Stories Cafe and Deli, serves classic New York-style giant pizza slices to Kolkatans. Available on Swiggy only, the brand capitalises on the shared love for cold cuts and cheesy pizzas with their 11-inch pizza slices. One mighty slice is all you need!
Recently, The Mighty Slice has expanded its range of products to include circular thin crust and cheese burst pizzas. "In addition to our range of pizzas, we now have loaves, pies, quiches, puff patties, sausage rolls, hot dogs and burgers alongside a range of desserts and homemade ice creams," said Prithvish.
Pocket pinch: Rs 250 for one slice, taxes additional
Braided pizzas at The GRID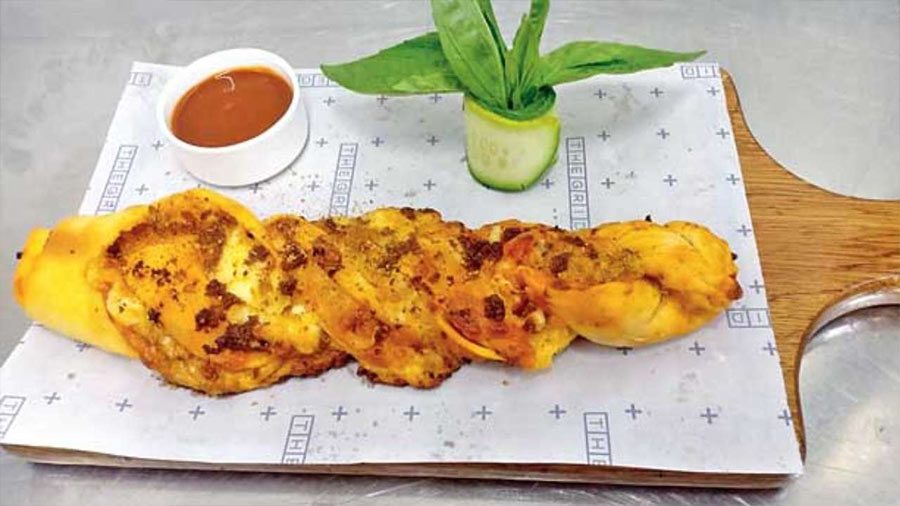 The Grid
TT Archives
One of the hottest microbreweries in town, The GRID, serves pizzas like no other. Their pizzas come braided, almost like a croissant, and are stuffed with a hearty mix of chicken keema, onions, capsicums, Kashmiri chillies with olive oil and butter, which lend a subtle smokey flavour. "Everyone knows of pizza in its conventional sense, but not many have ever tried it this way. In fact, there are many people who haven't even heard of braided pizza. We came up with this idea to blend in the flavours of an Italian pizza with an iconic Indian dish — and that gave birth to this dish," said Gaurav Karnani, owner of The GRID.
A combination of mozzarella, bocconcini and parmesan is the essence of this restobar's braided pizza, making it a real show-stopper.
Pocket pinch: Rs 500 (approximately)
Customisable Pizzas at Raj's Spanish Cafe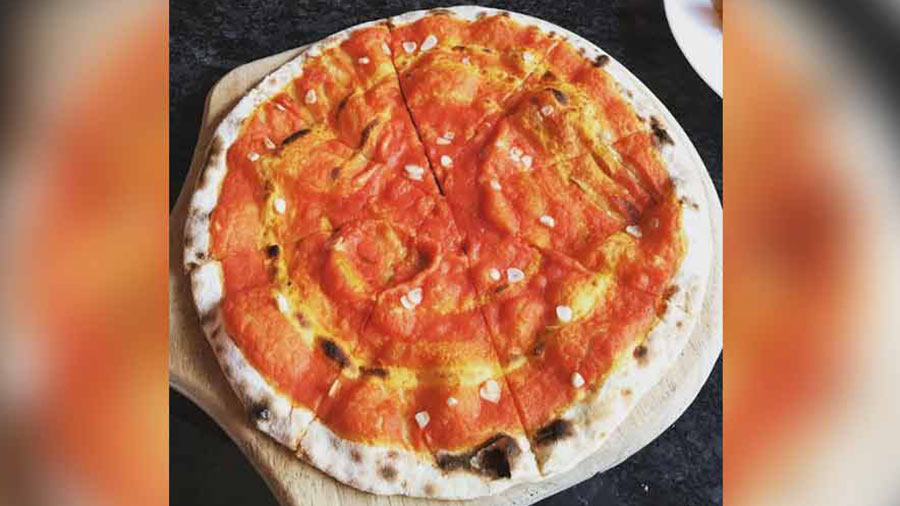 Raj's Spanish Cafe
Instagram
A popular eatery on Sudder Street, Raj's Spanish Cafe, allows customers to make their own pizzas from scratch. The base is a choice between Calzone (a folded pizza) and Margherita and can be topped with any number of toppings. Amongst the toppings are the usual garlic, capsicum, fresh tomatoes, olives, along with eggs, potatoes, spinach, eggplant, French fries and ricotta. There's also tuna, chicken and pepperoni (chicken) for meat lovers.
Pocket Pinch: Rs 400 for one pizza, taxes additional