There's more than one reason why South City Mall is the go-to weekend destination for many south Kolkatans — be it luxury or everyday shopping, movie or date night, pubbing or pampering.
The shopping mall has been south Kolkata's crowning glory since it opened in 2008. For more than a decade, the mall has offered umpteen happy hours and fun moments to shoppers and visitors. From a plethora of F&B brands and high-street fashion labels to party hotspots and tech outlets, the venue has a lot going for it. South City Mall has gone through a number of changes over the years, and more recently, its rooftop parking was converted into a spacious food court with an international feel.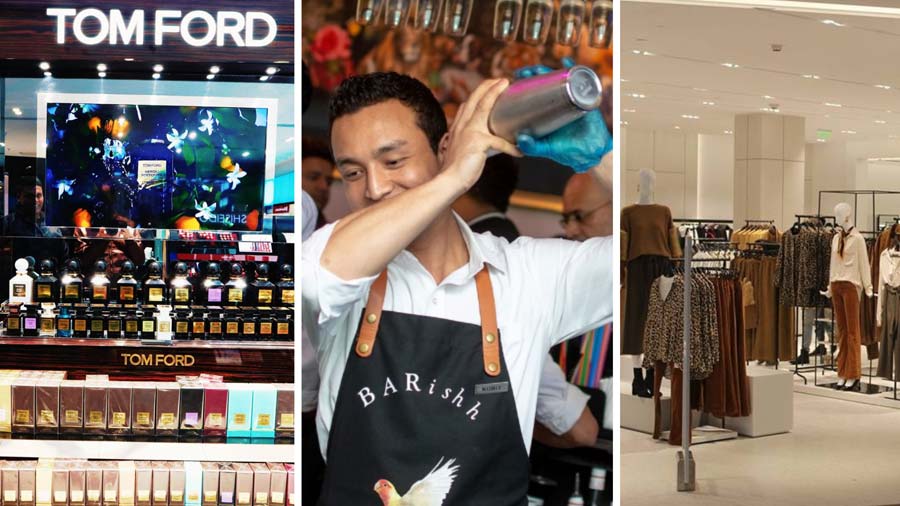 From beauty buys to after-dark hotspots and cult fashion labels, South City offers a range of options
Instagram
Here are 10 reasons why South City Mall pulls in the crowd…
Great location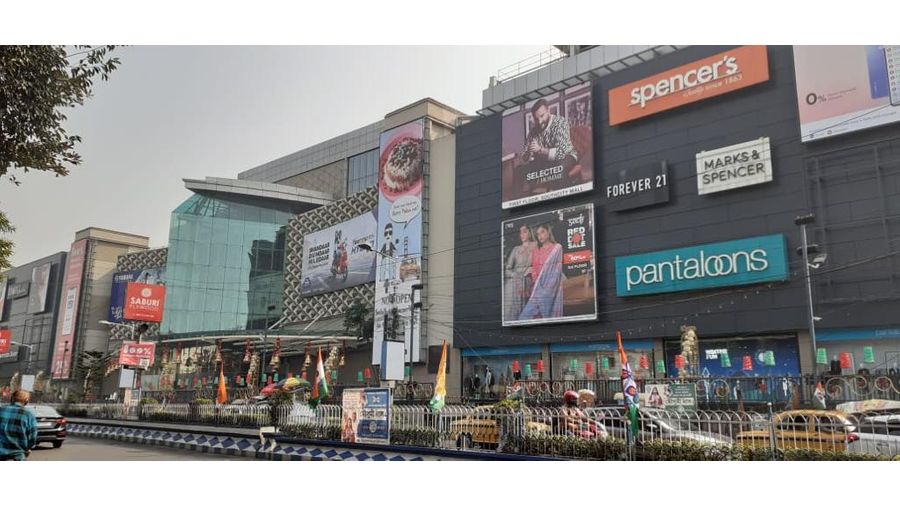 Located on Prince Anwar Shah Road, this mall can be easily accessed via Metro, cabs, buses and autos
South City Mall
Located at the heart of Prince Anwar Shah Road, South City Mall is easily accessible via public transport like buses, autos, cabs and metro. The mall is well-connected to major parts of the city, which makes it easier for shoppers from north and central Kolkata to drop by.
"The location is definitely a plus point along with the way the locality has developed over the years, around the mall. The South City mall, the residence and the school are in the same area, which has transformed the location completely. There is also an ease of convenience with two Metro stations nearby and with public transport being easily available," says Man Mohan Bagree, vice-president, South City Projects (Kolkata) Ltd. 
Besides south Kolkatans, there are a huge number of shoppers from all over the city who visit the mall, especially during the festive season, because of the presence of high-end brands and sales that are offered by stores during the peak shopping season. 
In August, the approximate weekday footfall (Mon-Thurs) was 55,000, scaling up to 65-85,000 on Friday and peaking at 1,00,000-1,25,000 on weekends. "In September, we expect 20-25 per cent increase in footfall every day, and weekends to jump up by 40-50 per cent," added Bagree. 
Efficient parking facilities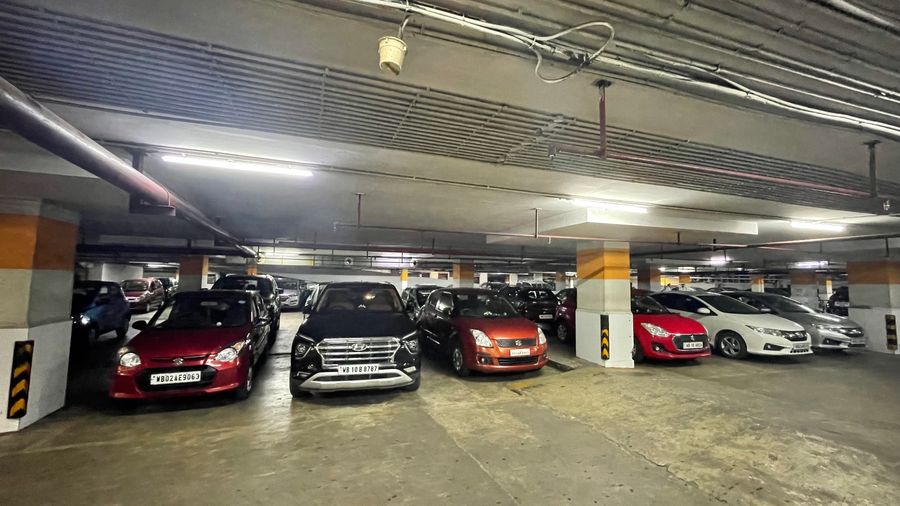 Spacious car parks are available on every level, though it might be tough to find a spot in the pre-Puja shopping months
Aatreyee Mohanta
South City Mall has a huge capacity for car parking and the multi-level underground parking is efficiently designed. With parking levels on every floor of the mall, including the basements, this shopping mall has the capacity to park around 1,600 cars at any given time, which is great for busy weekends. South City Mall has double the number of car parking slots required by the standard norms to ensure the convenience of shoppers.
In July, the mall parking accomodated 1,00,000 cars, which was the highest for the year, and 22,000 two-wheelers. The numbers are expected to be similar for August. 
Expansive food court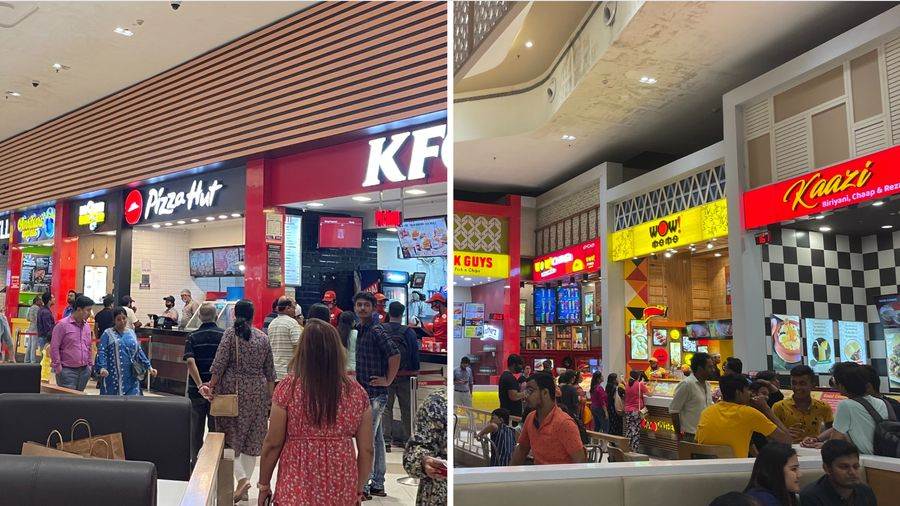 Pick from a wide variety of fast food options and global cuisine
Aatreyee Mohanta
South City Mall has a vast selection of F&B options at the international-look-and-feel food court that is spread over an entire floor. Pick from global chains like Subway, KFC, Burger King, Taco Bell, Pizza Hut and Domino's to homegrown brands such as Wow! Momo, Keventers and Cafe Coffee Day. The mall's food court also has some exclusive brands such as Kailash Parbat, The Frank Guys and Kaazi which serve north Indian, Hot Dogs and Mughlai food respectively. 
"I visit the mall twice a month, at least, if not more. I love the food court, especially after its renovation. The outdoor seating is amazing," revealed Tilottama Banerjee, as she awaited her pizza at Domino's. 
Upscale dining restaurants
The mall offers medium to upscale fine dining, from trusted brands like Mainland China, Flame and Grill, Riyasat and Cafe Mezzuna to trendy hotspots like the newly-opened Italian restaurant Veneto and Iranian Parsi cafe SodaBottleOpenerWala (Veneto, SodaBottleOpenerWala and Riyasat have an exclusive presence in the mall and nowhere else in the city).
Versatile hotspots
Drop in for a dose of pub-hopping and EDM. Hop from the vibrant Lord of the Drinks to the relaxed lounge BARishh or the newly-opened party place Warehouse Cafe. From signature cocktails, imported liquor and craft beers to DJ nights and ladies' hours, keep the after-party vibes going at South City's after-dark venues.
Shopper's paradise
South City Mall is home to a number of exclusive flagships. Besides the global beauty haven Sephora, the A-lister-approved Zara, and the variety store chain Miniso, the mall also houses high-end lingerie brands Hunkemoller and Wacoal, along with the one-stop beauty platform Health and Glow. 
The mall is also home to budget-friendly shopping destinations like Shoppers Stop and Pantaloons along with aspirational brands like Aldo, Steve Madden, Simon Carter and U.S Polo Assn. to name a few.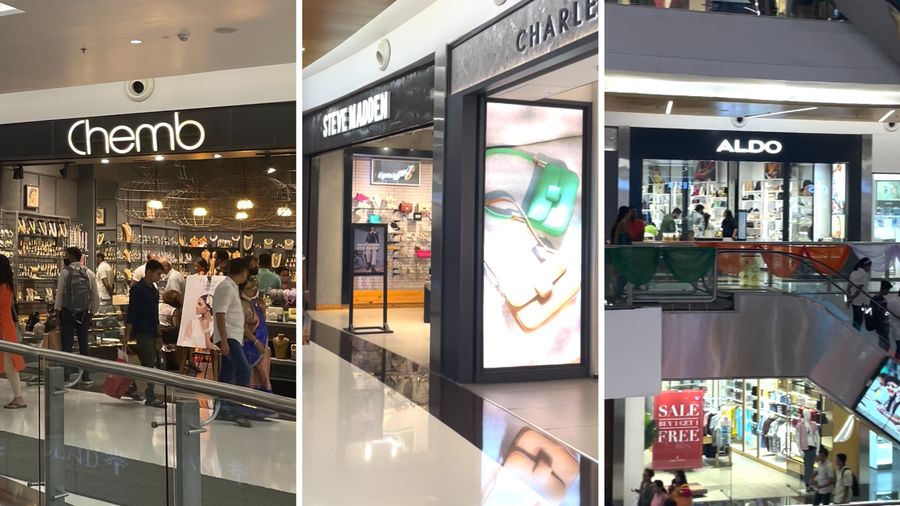 From Shoppers Stop to Steve Madden, the mall has affordable and high-end brands
Aatreyee Mohanta
The mall is now also home to the largest Levi's store in the eastern region of the country. Spread across 5,800 square feet, the store stocks everything the brand has to offer and more. 
"I love the location of the mall and how accessible it is. I enjoy the variety of stores and brands here because offline shopping is something I really enjoy," shared Priyanjana Nandi, who was visiting the mall with her friends. 
Besides a host of cult labels such as Calvin Klein, Superdry, Marks & Spencers, and United Colors of Benetton, the mall also features a number of homegrown labels such as Satya Paul, Fabindia, Ancestry, Label Ritu Kumar, Chumbak and many more.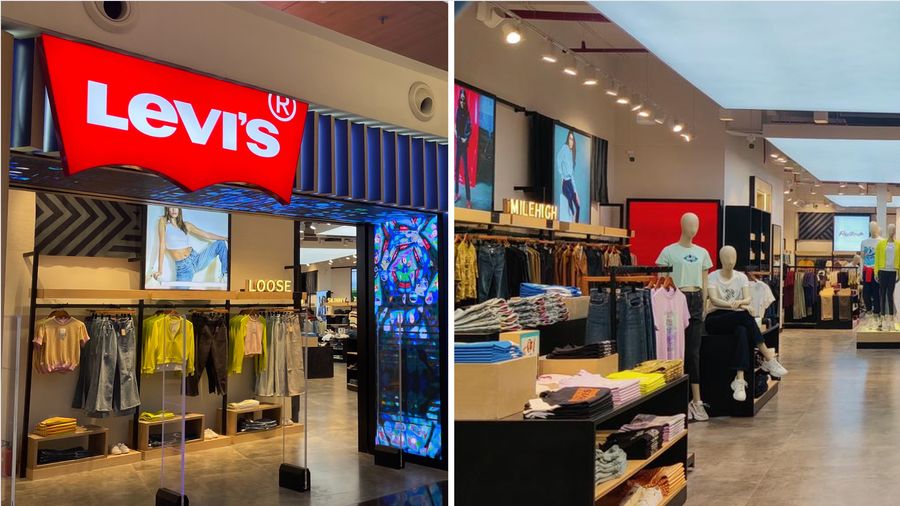 The newest Levi's store is spread across 5,800 square feet and is the largest brand store in eastern India
Aatreyee Mohanta; South City Mall
The mall is also a great place to shop for children's brands like Mothercare, Little Shop, Tommy Hilfiger Kids and The Children's Place, while stores like Chumbak, Lladró Boutique and Aawrun meet all your homecare and decor needs. 
The shoppers are what make the mall a success story, too. By virtue of offering something for everyone, this mall is a common ground for the common man, fostering harmony and community-building. 
Self-care needs
South City Mall houses a number of high-end skincare brands like The Body Shop, L'Occitane En Provence, Kama Ayurveda and Forest Essentials. 
Along with shopping for self-care products, you can also get some haircare or a pampering session from EyeCatchers Salon. 
In-mall events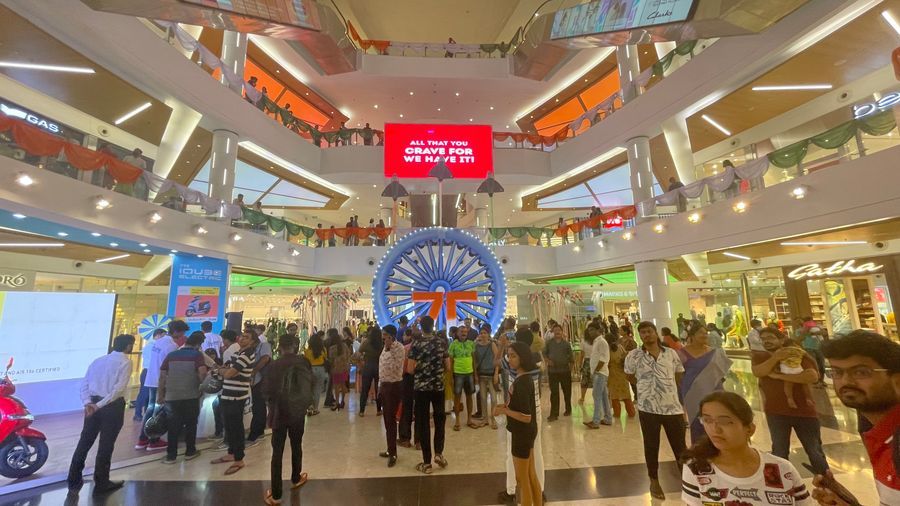 South City Mall decorated for Independence Day this year
Aatreyee Mohanta
South City Mall hosts a number of events throughout the year, including product launches and games in which you can participate. The ambience is always bustling and upbeat. The best part? You can watch livestreams of matches on their giant screen! 
Besides, the mall is always decorated for festivities and offers plenty of opportunities to take selfies and group photos! Be it Valentine's Day or Durga Puja, South City Mall is always decked out in lights and ornaments to set the holiday mood. 
Tech products and deals on electronics
If you enjoy shopping for electronics, head straight to the basement level of the mall. The floor houses stores of Apple, Samsung, OnePlus and MI, and it's a dream walk for tech-loving window-shoppers and serious buyers. 
You'll also spot stores like Fundamental and Bhagwati, for great deals on electronics, mobile accessories and new tech releases.
Snack time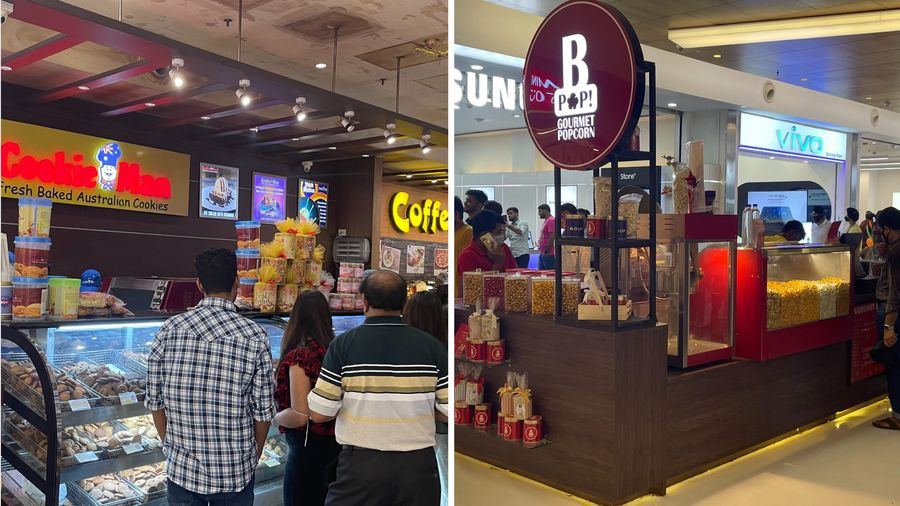 Get your hands on cookies, popcorn and snacks at the mall
Aatreyee Mohanta
Looking to just grab a snack at the mall while you window-shop? Head to Cookie Man where the aroma of freshly-baked cookies will fill your senses. Or make a pitstop at Coffee World to indulge in some signature brews, finger food and dessert.
The new B Pop Gourmet Popcorn in the basement is a great place to grab a snack too! Or if you're looking for some artisanal brews and classic picks, head straight to Flurys, Starbucks or Costa Coffee!