Kolkata-based home chef Dyuti Banerjee cooked her way into everyone's hearts on MasterChef India Season 7. Just as 'Energy Banerjee' — as judges Ranveer Brar, Vikas Khanna and Garima Arora called her — seemed to be inching close to victory, she crumbled in a pressure test post a thumb injury.
My Kolkata caught up with the alumna of Modern High School for Girls and Presidency College to chat about her MasterChef journey, her culinary dreams and more.
Born a foodie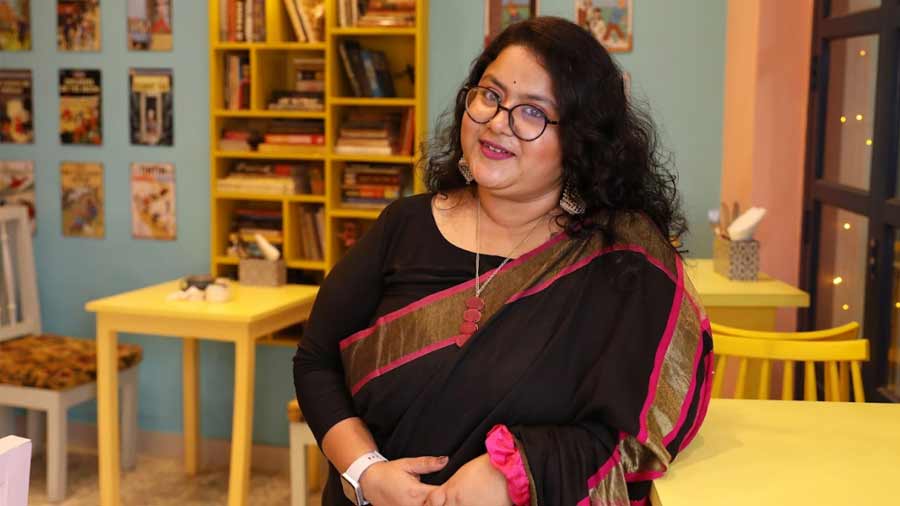 Dyuti Banerjee has been running her cloud kitchen The Calcutta Calorie since 2021
Arijit Sen
Dyuti Banerjee, who has her own cloud kitchen called The Calcutta Calorie, admits she was born a foodie. So much so that she would gulp down spicy phuchkas when she was just three. 
From a very young age, she loved exploring and learning about culinary history. As much as she loved eating different kinds of food, she also picked up recipes and cooked at home. Dyuti was 19, when her family knew she had it in her. She cooked a simple chicken dish at home and her idols— her grandparents — showered her with compliments. "My grandmother was a great cook. She would make simple dishes like bandhakopir torkari (cabbage curry) taste heavenly. Also, my Baboojidada (grandfather) used to cook a spicy mutton curry. That was my favourite," recalled Dyuti who recently lost her grandfather. 
This Bangaal is not quite a fish eater but loves meat, especially mutton. Her comfort food is ghee bhat but she enjoys almost all home cooked food. A lover of Kolkata street food and always in search of new tastes, Dyuti said, "Travel and food were my favourite topics to read about. My grandfather would tell me stories about how different dishes were created in India and how different spices and vegetables made their way to our plates. Our favourite alu, for example, was not a common vegetable in India. The Portuguese sailors introduced potatoes to India in the 17th century."
After completing her graduation in English literature, when Dyuti headed for Delhi for her LLB, she got a chance to cook and explore various kinds of dishes. "I was living alone and I never followed the recipes word to word, instead I liked experimenting. My cake baking journey also began while in Delhi. I used to bake in my rice cooker and the cakes turned out very well."
Cloud kitchen to reality show
Dyuti's journey as a home chef began towards the end of 2020. She began from the kitchen in her home in Behala and accepted orders from acquaintances through social media platforms and WhatsApp.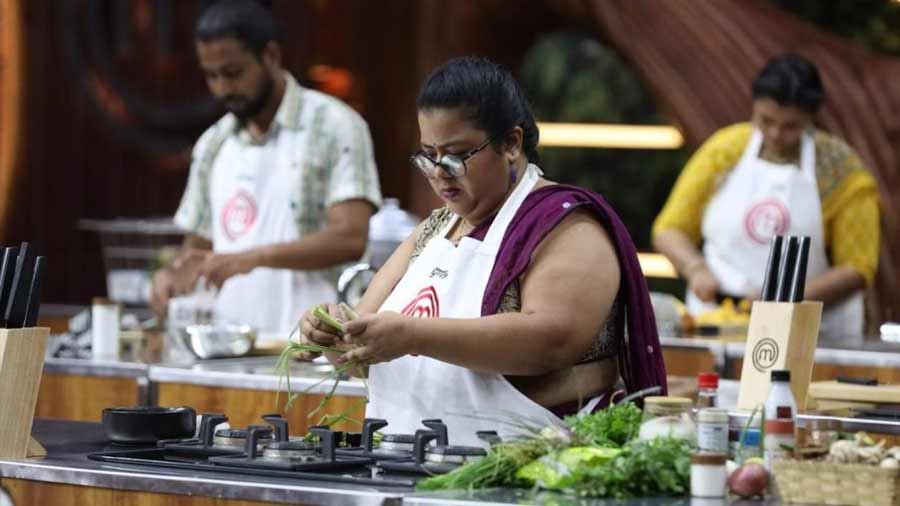 The Kolkata home chef was among the Top 15 contestants on the show and was recently eliminated after a pressure test
Courtesy MasterChef India/Sony
In the beginning, she started baking rich fruit Christmas cakes as gifts for her close ones when a good friend placed a big order. "I was baking for my friends and one of my closest people tasted my cake and wanted me to bake for her. She insisted I bake her a cake with three kilos worth of ingredients. That's how my journey started and now there are many people who pre-book my cakes before Christmas." For her "very boozy" cakes, Dyuti soaks fruits in rum for at least a month and then infuses the cakes again later. "So one might feel tipsy from eating the cakes I bake," chuckled Dyuti.
In 2021, Energy Banerjee was hit by the second wave of Covid. She soon resigned from her corporate job in a CA firm and decided to start her cloud kitchen. Dyuti recalls, "I was going through a rough phase in life and that's when people around me encouraged me to start cooking. I set a very small menu and started The Calcutta Calorie. I would pick up signature dishes from Kolkata's favourite palate and give them my own twist."
She picked Bengali and Kolkata classics and made dishes like Prawn Rocktail, coconut lime verbena cake bars, phirni, Bangkok salad bowl with a Bengali twist and more. Soon orders started pouring in and Dyuti found herself engaged in this.
"The Bangali in Bangkok Salad Bowl is a vibrant, piquant salad with a sharp panchphoron vinaigrette and a beautiful Asian dressing with soy, ginger, chilli and gondhoraj lemon flavours. It is a rare marriage of distinctly disparate elements and a treat for each of the senses," Dyuti explained.
The Calcutta Calorie has a weekly menu customers can order from but Dyuti also comes up with new menus according to occasions. "You will not get a more fudgy brownie anywhere than mine in the mid range. That's the most on-demand item at The Calcutta Calorie," she said.
Soon after her cloud kitchen started gaining popularity, Dyuti received a call from the casting team of Sony MasterChef India. "I really thought it was a prank call. But when things proceeded I realised it was true," Dyuti said, laughing.
The spread that won her the apron
Dyuti's debut dish on MasterChef India was phyanabhaat (Bengali congee) with Korean steamed eggs that she named Shworgoshukh (heavenly happiness).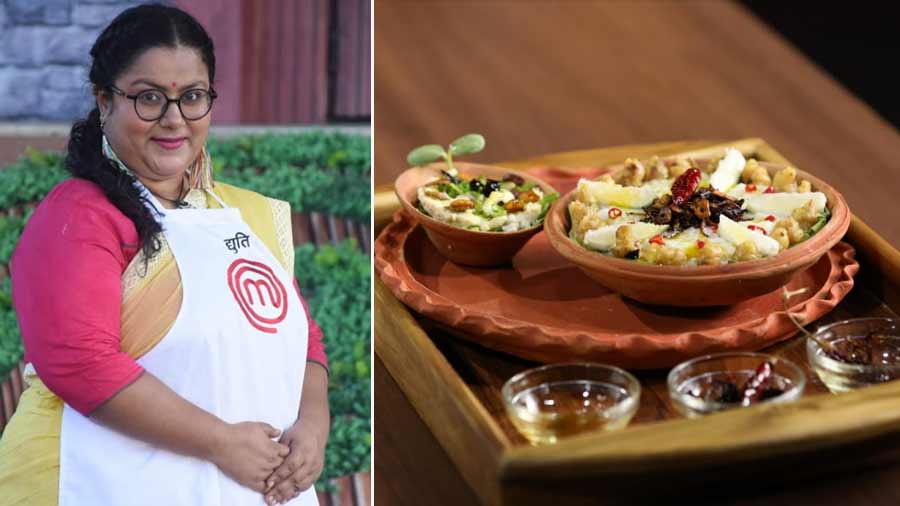 The dish that won Dyuti the apron was a version of Bengali phyanebhaat or congee
Courtesy MasterChef India/Sony
That spread, according to Dyuti, represented her. "I chose to make the Bengali congee with an Asian twist, infused with julienned ginger and gondhoraj leaves, and tempered with shukno lonka (dried red chillies) and onions in smoked mustard oil. Phyanabhaat is any Bengali's ubiquitous comfort food, and also the food cooked for an upset stomach or a tired mind. This has been my exam morning meals, and the only thing I have the appetite for when I have no appetite (which is rare!). With the congee, I served a Korean Steamed Egg or gyeran-jjim, which I tempered with some garlic chips fried in mustard oil and scallions, and my Baboojidada's (grandfather) famed aloo sheddho makha (potatoes mashed with mustard oil), with fried red chillies, onions and garlic mince."
The chefs loved the simple yet flavourful preparation and it got Dyuti the ticket to the show — the MasterChef apron.
Taking Bangaal food to a national platform
Chef Ranveer Brar sparked the Bangaal-Ghoti debate during Dyuti's auditions and she strongly claimed that she was "kaath Bangal" on the show.
"My grandparents on both sides hail from what was 'East Bengal' in undivided India (modern-day Bangladesh). They moved to Calcutta, not knowing that the land, the ponds, the orchards they had known as home would irrevocably be lost to them courtesy of a line drawn through [Bengal] during Partition. With Partition, there was no going back for them — their land was now in another country."
Dyuti recognises that a displaced community forged its identity around little cultural totems and markers — mostly reconstructed from memory and history — and the strongest of them all was food. "Bangaal food — strongly robust, with bold flavours, use of whole spices, baata moshla, and jhaal — was their defining legacy, one they held close to their hearts and to their guts," she said.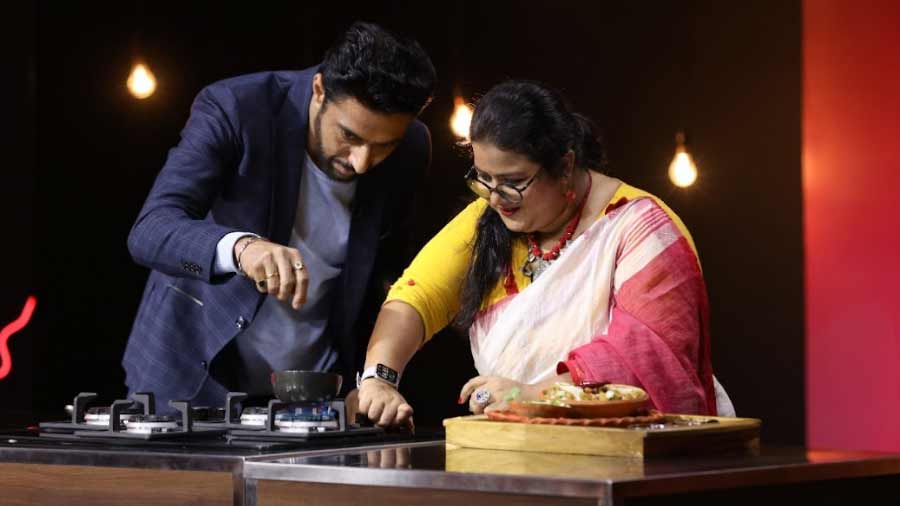 With Chef Ranveer Brar in the audition round
Courtesy MasterChef India/Sony
Food, especially Bangaal food, is a big part of her culture for Dyuti and she wanted to showcase it on a national platform through MasterChef. "The Bangaal food philosophy remains one with a massive use of hyperlocal ingredients, including shaak (greens), chhoto maachh (small fish), and a zero-waste food philosophy, making use of every part of every ingredient in bombastically flavourful ways," she explained.
Dyuti shared how this light East Bengal vs West Bengal banter turned into a heated debate on social media. "The Ghoti-Bangaal dichotomy has always been a lighthearted cultural banter, with no intention of causing real harm. And there has been a seamless intermingling of flavours and cooking techniques too. So being a proud Bangaal does not in any way mean Ghoti-bashing and vice versa. In Bengal, we know how to take a joke, even at our own expense. We also know how to return the joke."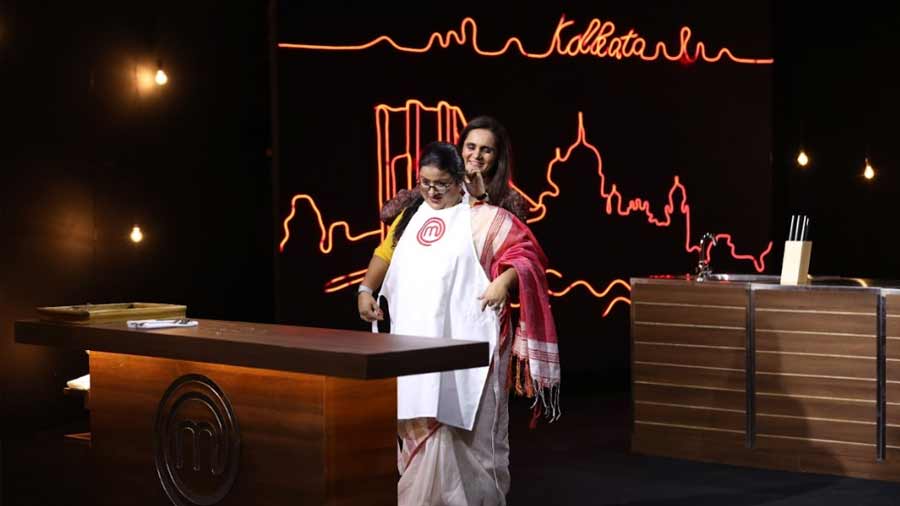 Winning the ticket to the show, the MasterChef apron
Courtesy MasterChef India/Sony
Takeaways from MasterChef India
Dyuti received a lot of love from the viewers and the chef judges also applauded her jovial and energetic personality. For the Top 15 contestant, there are a lot of lessons she has brought back.
"I learnt something from each of the three chefs. I adored Chef Ranveer Brar for his range and knowledge on food. It is extensive! Chef Vikas Khanna has a taste and eye for intricacy while Chef Garima is absolutely disciplined when it comes to cooking, which I lack!"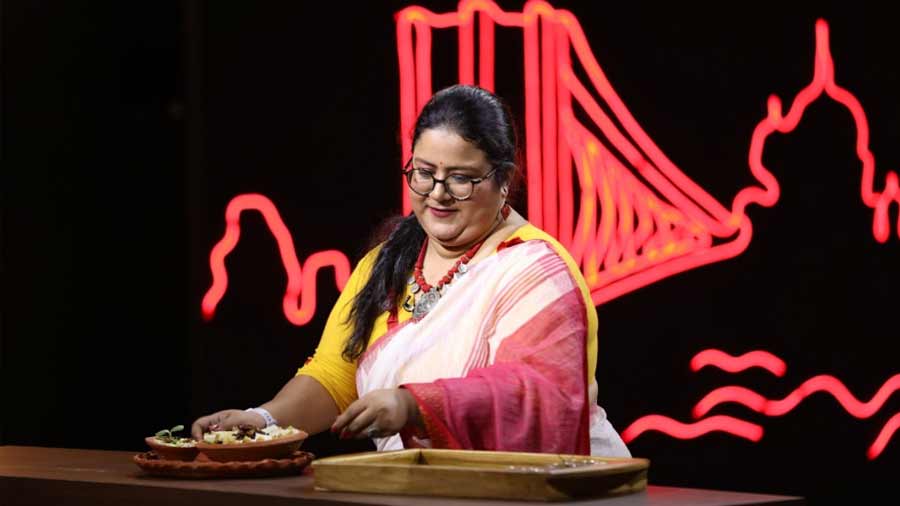 Through MasterChef India, Dyuti wanted to bring 'Bangaal' food to a national platform
Courtesy MasterChef India/Sony
Dyuti failed to complete her platter on the Parsi pressure test episode where popular Parsi chef Anahita Dhondy Bhandari challenged the contestants to make her signature dish Bhaji Dana Ma Gosht. "I struggled to work under pressure with a ligament tear in my thumb. My brain froze and I couldn't plate my elements on time. Yet the chefs tasted my dish. I wish I had a few more minutes," said Dyuti, who was eliminated with her co-contestant Yashu Verma.
The day she was eliminated, her fellow contestants couldn't hold back tears. Dyuti had established a great rapport with them and has fond memories. "Shanta (Sharma), Nayanjyoti (Saikia), Deepa (Chauhan), Vineet (Yadav) and Avinash (Patnaik) became my closest friends. Shanta and Deepa were like my mothers. Shanta was my roommate and she took care of me. She would wake me up on time for shoots. We have had a lot of fun on set together."
Dyuti is rooting for Nayanjyoti to win the show. "Nayanjyoti is a very good chef. I really hope he wins because he deserves to."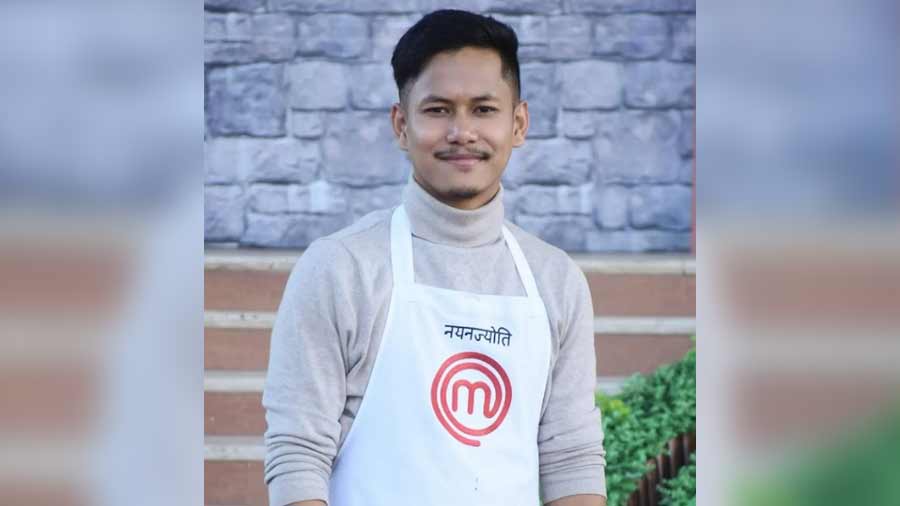 Dyuti is rooting for Nayanjyoti Saikia, a home chef from Assam, to win the title Instagram
Instagram
What's next?
The home chef has big plans for her future. She wants to learn more about food and open her restaurant someday. "I want to have a restaurant of my own. Not a café, because I want to be able to serve alcohol. I want to bring to the table hyperlocal food with ingredients sourced from organic sources. For me it's not just the look of the food, it is about the taste and nutrition as well," concluded Dyuti.