When Farah whipped up Butter Chicken for 30 family members as notun bou in the Kadir household, she didn't dream that in about two decades she would be supplying houses around the city with neatly packed boxes of biryani, korma, pulao and kebabs. "My mother and grandmother were great cooks, so I always enjoyed cooking. It was never something I dreamed of doing professionally," says Farah, who grew up in Shahjahanpur, Uttar Pradesh. She hails from a family of Pathans, originally from Afghanistan.
"Her legend just kept growing!" says her husband, Rubayat, her greatest fan and critic. "You know how we got married? Her brother-in-law lives in Kolkata and decided she absolutely has to marry a Kolkata foodie. Enter, Rubayat!" he says with a flourish.
They waited until their younger daughter had graduated school to resume full-fledged operation. The pandemic only expedited an eventuality which was long-simmering in the Kadir kitchen. Their friends were habituated to wrangling dinner invitations to Farah and Rubayat's Ballygunge home for the fare which most regular Mughlai restaurants will find difficult to replicate. When social distancing became the norm, friends demanded that the food be sent to them. And so Beyond Biryani was born.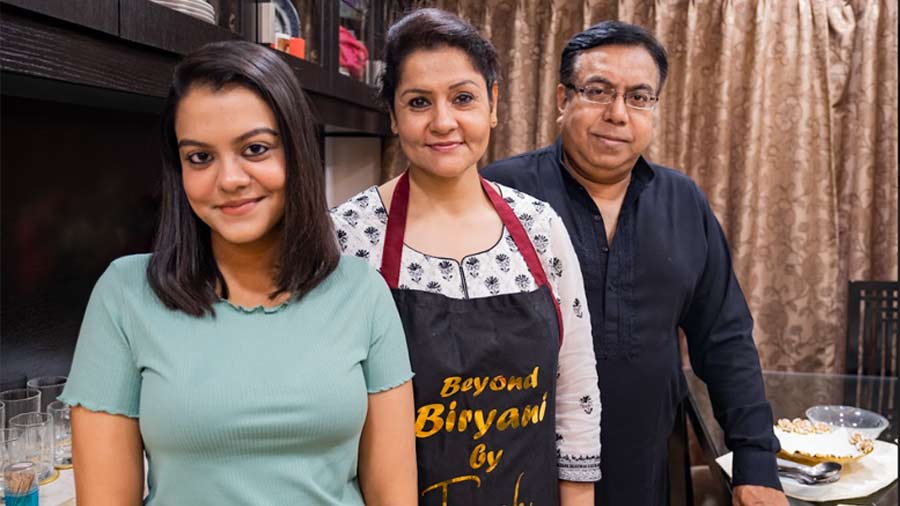 Farah (centre) with her younger daughter Ifrah and her husband, Rubayat
"Calcutta is crazy about biryani but we also want people to explore dishes beyond biryani," explains Rubayat. He's always at hand to taste her recipes and to guide patrons on their menu choices. He's likely to bristle if you ask for an egg in the biryani and grimace if you want to pair the korma with biryani instead of roomali roti. "A boiled egg adds nothing to the biryani! It can be boiled separately and placed inside the rice. Besides, it takes up space in the container and which would you rather have anyway, more rice and aloo or a plain boiled egg?" he demands to know.
Not being a fan of boiled egg in my biryani anyway, I acquiesce. Farah's biryani, having gained popularity and fame, tends to pop up at dining tables across the city, catching guests by delighted surprise. Following the trail to its source, I'm here today to dig into offerings that go beyond the Kolkata dum.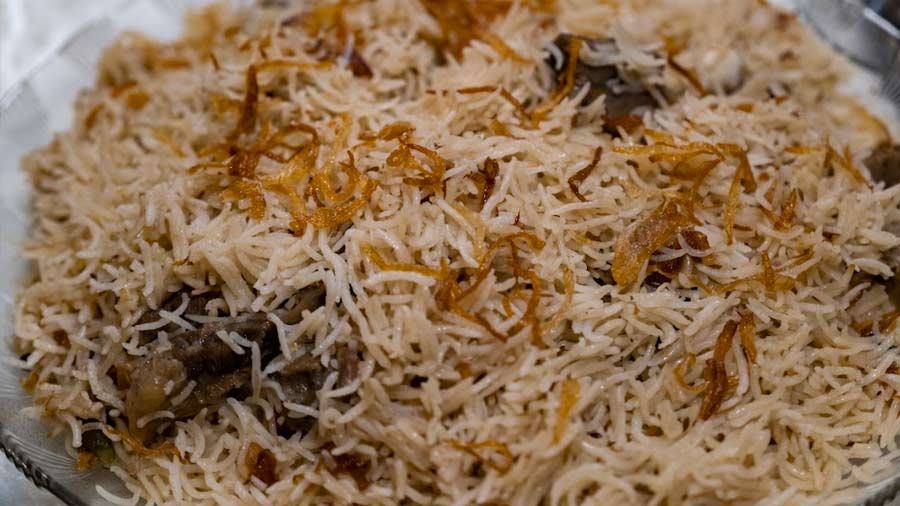 Yakhni Pulao
The flavour of the Yakhni Pulao is enhanced by the fact that the rice is cooked in mutton stock. It's lighter than the biryani, which just means you'll get to eat a lot more and fall into a bhaat-ghoom that much quicker. This one's definitely a winner for summer.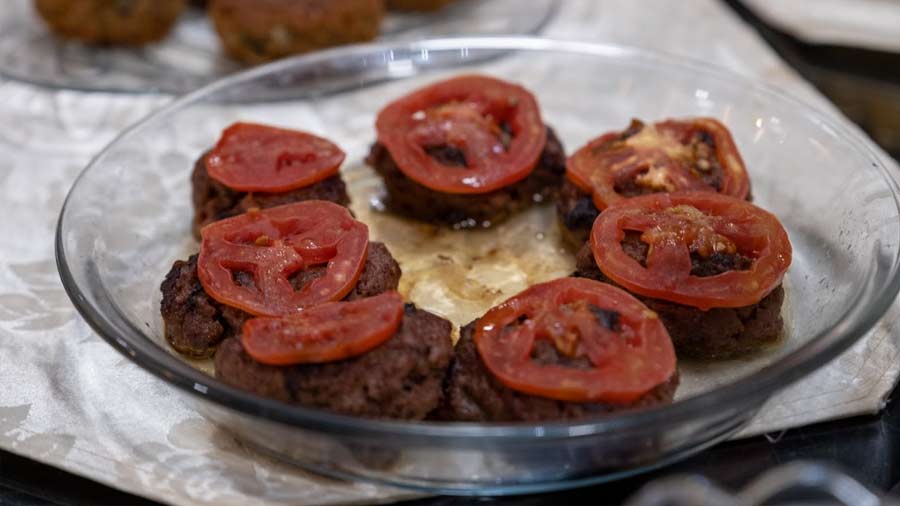 Mutton Afghani Kebab
The Mutton Afghani kebab was one of Farah's mother's specialities, so it's straight from the family legacies. Reminiscent of a galouti kebab, this one achieves just the right amount of tender with the help of papaya and not a slab of fat. "I don't use extra fat or dalda. I cook like I would cook for my family," explains Farah.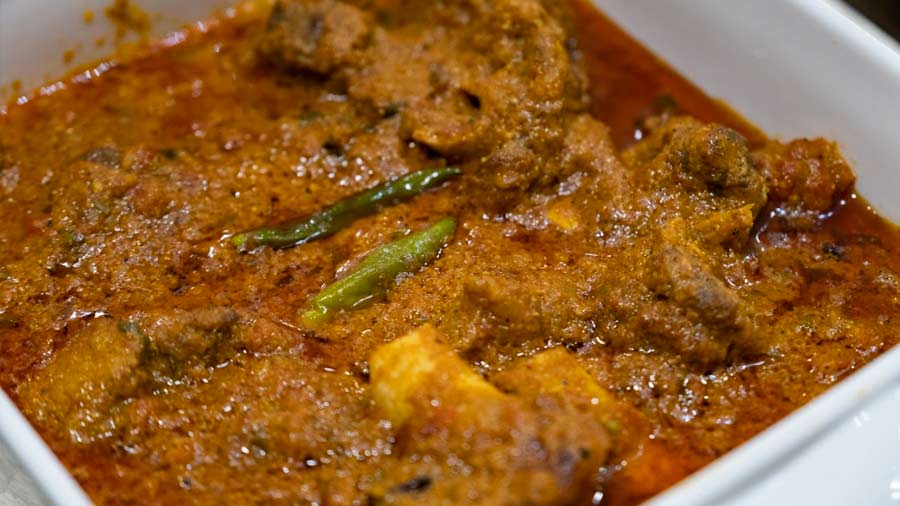 Mutton Akbari
Mutton Akbari, like every great meat dish, is served on the bone, albeit almost falling off it. It cooks in its own juices, and though you might be tempted to moisten your biryani rice with it, like every good Bengali who likes his jhol, Rubayat insists you have it with paratha. Don't worry, you'll love that too.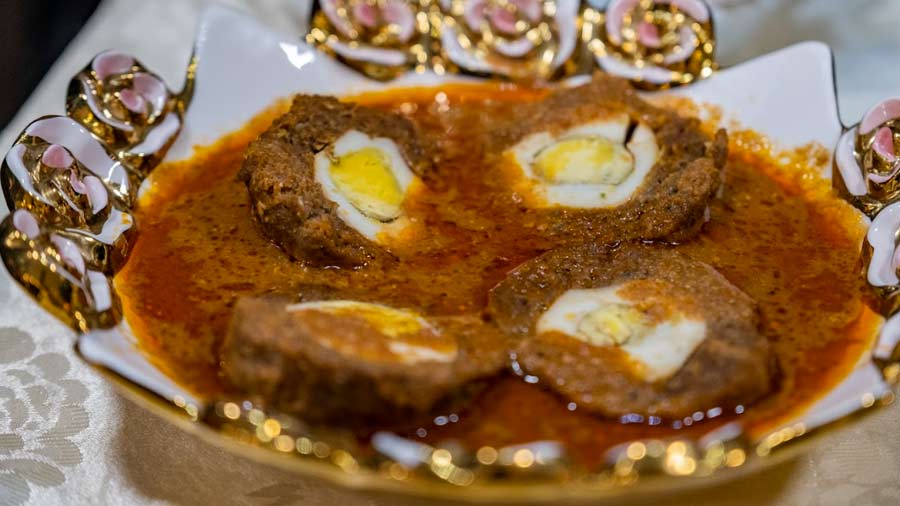 Nargisi Kofta
This one, another maternal hand-me-down, is one of the stars of the menu. The Nawabi cousin of the Bengali dimer-devil, Farah's Nargisi Kofta is fried to a perfect brown and then placed in a surprisingly light gravy. All you need is a plate of fluffy white rice to soak it up with.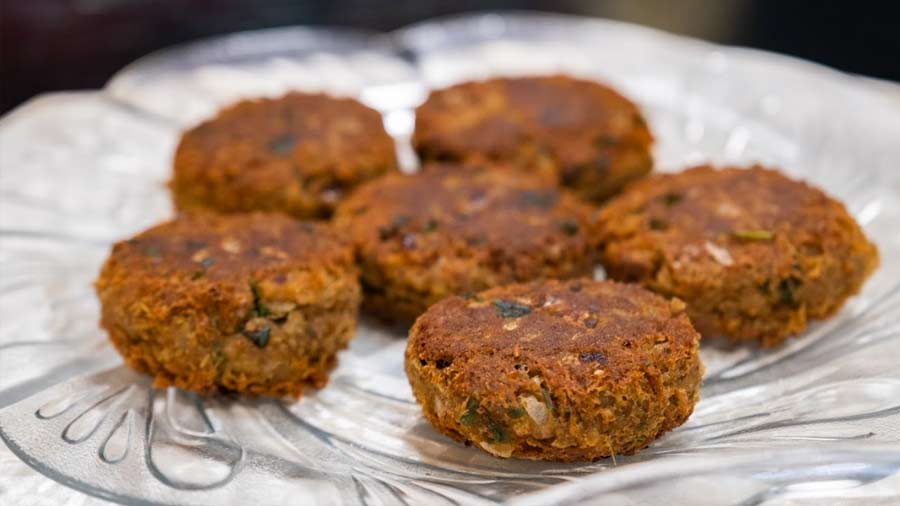 Shami Kebab
The Shami Kebabs are Farah's primary claim to fame. "They're our fastest moving item. These kebabs go all over the world – Canada, America, Bangkok. My elder daughter used to take it back with her when studying in the US. It's the one dish I cook every day, as mutton, chicken or even soya which is also very popular. In fact, the soya is actually very tasty," says Farah.
Which brings us to the crucial point that there are a great many vegetarian items on the menu as well. "We have very many vegetarian clients who are regulars too," says Farah.
Farah's full of surprises. She is able to make a mean prawn dish without tasting it because she prefers to not eat seafood. "There's a de-shelled crab in butter garlic which I tasted in Trishna, Mumbai, that I'm trying to get her to recreate. She's never eaten it, so I have to describe it really well," says Rubayat, with all the purpose of a man setting out on a mission.
The other element of surprise lies in the size of Farah's kitchen. It's a small space attached to an apartment, just as fuss-free and efficient as the cook. It's clean, compact and no-nonsense, spilling out a feast for a gourmand. In this kitchen, Farah insists on doing everything herself. She sets out every morning to buy meat from a regular Park Circus shop and then methodically goes about the cleaning, chopping and marinating. "The secret lies in knowing which cut of meat to use for which dish. The meat required for biryani, shami kebab and korma are all very different," explains Farah.
"It's the cut and the cook which determines the success of a dish," sums up Rubayat, succinctly. "She has no recipes. It's all on andaz, which is amazingly never wrong."
Farah is of the opinion that her dishes are infused with the flavours of Delhi because her grandparents lived in the capital city. Of course, she learnt just how Kolkata likes to have its biryani and proceeded to get it just right. It's not the only biryani she knows how to make though, in case you're enthused to go, not just beyond biryani, but beyond the Kolkata Biryani.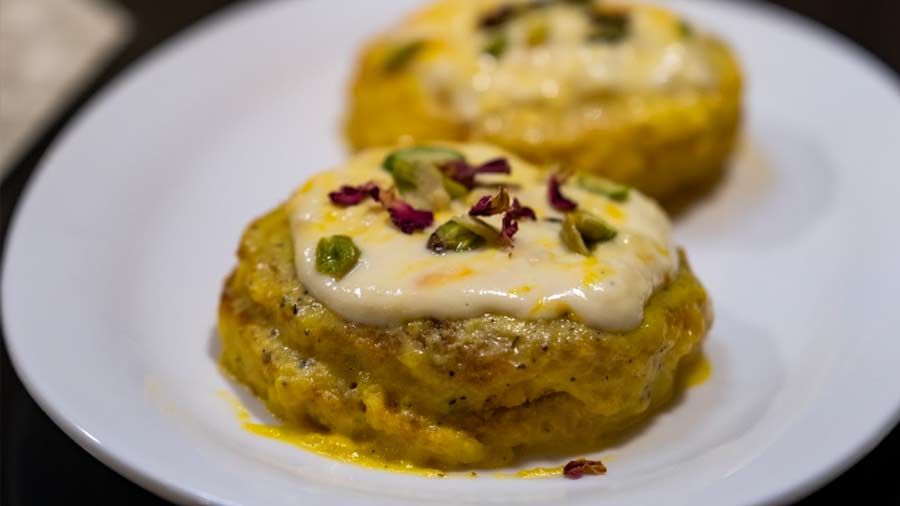 Shahi Tukda
Yes, Farah makes dessert too! Because in Kolkata we need our mishti mukh, even if we can look beyond the biryani.