Food Superstars 2023 brought together a diverse group of chefs who have left their mark on India's culinary scene. From local champions and ingredient-driven chefs to masters of international cuisines and famous faces, the event at W Goa on September 21 showcased the wide-ranging talent in the Indian world of chefs. My Kolkata introduces you to India's top 11-30 chefs and takes you through their culinary journeys.
Winners: #11 to #15
Pooja Dhingra (#11), who has joined MasterChef India as a judge, was missed at the awards, as was Rohit Sangwan (#13) executive chef at Taj Lands End, Mumbai. "Honoured to be a part of India's Food Superstars Top 30 Chefs list this year," Pooja shared. Showcasing the Goan representation at the awards this year was Rahul Gomes Pereira, executive chef and partner of Pass Code Hospitality, which hosted a fabulous lunch for the Culinary Culture team at Jamun, Goa, along with Avinash Martins and Julia Carmen Desa (recognised for her exceptional European food at Delhi's Tres). Avinash, the man on a mission to change the perception of Goan food, and the chef-owner of Cavatina and C'est L'avi - Table in the Hills in Goa, dedicated the win to the "unsung artisans of Goa".
Winners: #16 to #20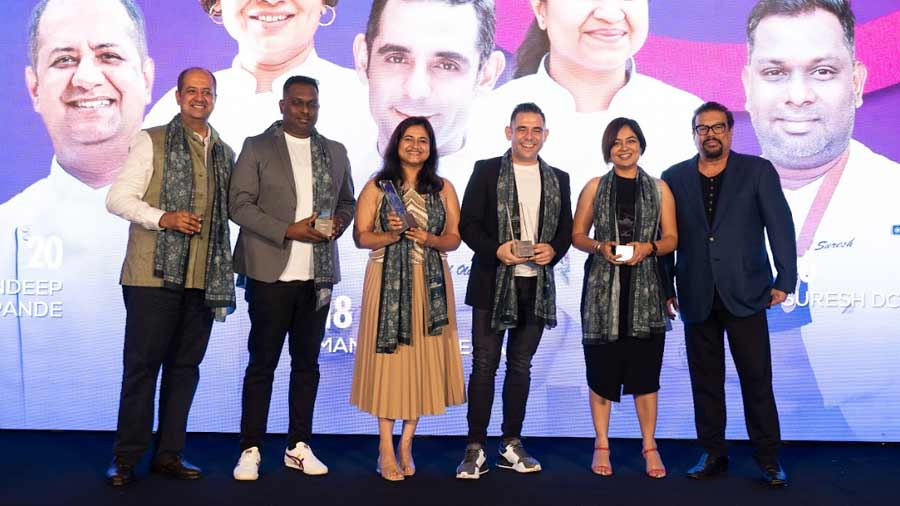 L-R: Winners Sandeep Pande, Suresh DC, Vanshika Bhatia, Manuel Olveira and Amninder Sandhu with Vir Sanghvi
At #16 was Suresh DC, brand chef of Rohit Khattar's Hosa in Goa, which explores the flavours of south India beyond the familiar, a taste of which the Culinary Culture team was fortunate to sample. At #17 was Vanshika Bhatia, founder of Petite Pie Shop in Gurgaon, chef partner at Omo, a vegetarian European restaurant in Delhi and the force behind @bannurevivalproject dedicated to showcasing the cuisine of her community, Bannuwal. Following on their heels were Spanish chef Manuel Olveira of La Loca Maria, Mumbai, and Amninder Sandhu, who ran India's first gasless professional kitchen, Arth, in Mumbai and is now hot news courtesy Goa's Bawri, where she continues to pursue her passion for open-fire cooking and lesser-known Indian ingredients. At #20 was Sandeep Pande who as a mentor claims the title of being the "chef's chef" and is currently culinary director at St Regis Goa Resort.
Winners #21 to #25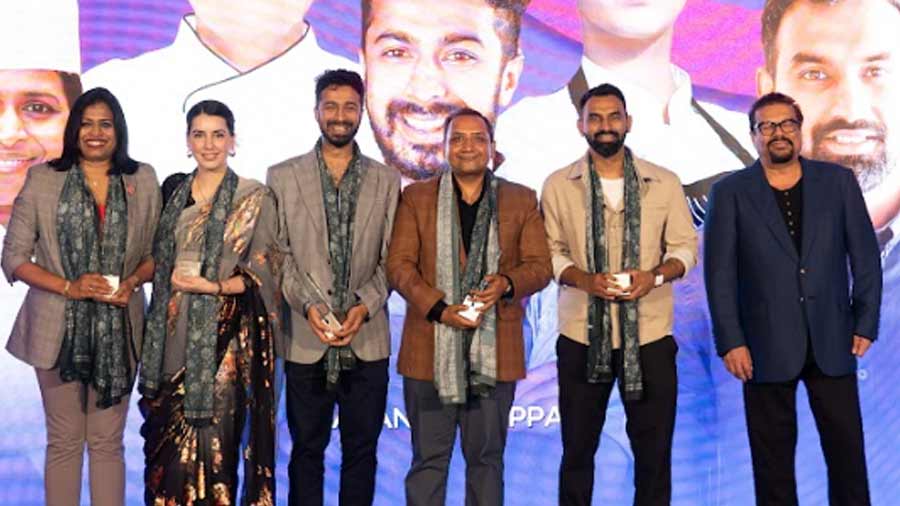 Chefs Shri Bala, Anahita Dhondy, Kavan Kuttappa, Manik Magotra and Vinesh Johny with Vir Sanghvi
At #21 and #22 were Vinesh Johny, co-founder and chef of Lavonne Academy, and Anahita Dhondy who made her reputation as the chef who taught Delhi about Parsi cuisine; followed by Kavan Kuttappa, who started out as a commis in Eleven Madison Park and now helms Bengaluru's Naru Noodle Bar. The last two spots in this range were claimed by Manik Magotra, who heads the kitchen team at The Oberoi Amarvilas in Agra, and Shri Bala, a self-taught chef who promotes rustic native dishes of south India through her restaurant Tekk5, homemade masalas and pop-ups.
Winners: #26 to #30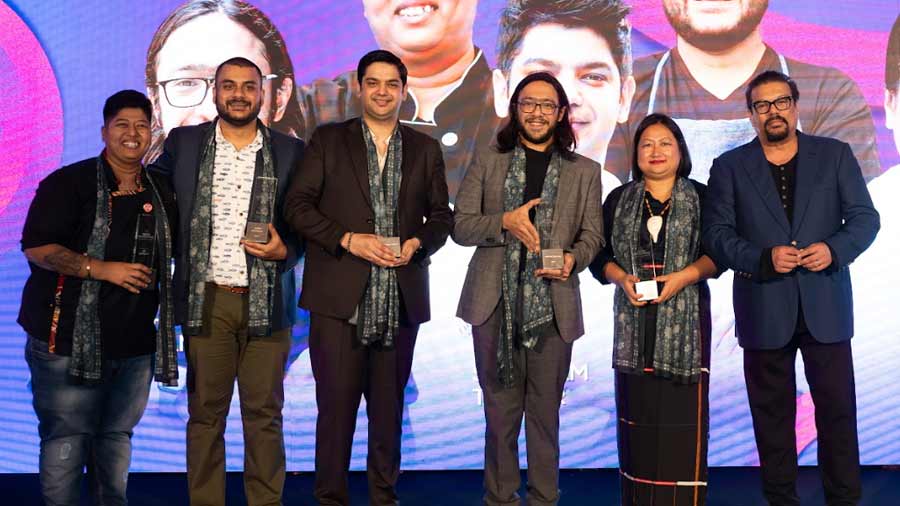 Kolkata champions Sachiko Seth and Auroni Mookerjee, and Shubham Thakur, Lakhan Jethani and Aketoli Zhimomi with Vir Sanghvi
At #26 was Nagaland's Aketoli Zhimomi who runs Ethnic Kitchen, a 20-seat restaurant and catering service in Dimapur, followed by Kolkata's Auroni Mookerjee, whose food at Sienna Cafe is shaped by both the cafe and bajaar (local market) ingredients. "It's inspiring that the top chef at Food Superstars 2023 is a regional chef who draws inspiration from his mother's cooking and from exploring the flavours of districts and villages. We don't always need to think about foreign techniques or a mix of East and West or Global meets Local. That for me was really big and I hope to see more of that," Auroni told My Kolkata. At #28 was Delhi's Shubham Thakur, who is a master of Japanese cuisine and heads the same for the Leela Group, followed by Kolkata's Sachiko Seth, the socially reserved and exceptional co-chef of The Blue Poppy and Boma Asian Bakery. At the 30th spot was Lakhan Jethani, head chef and owner of Mumbai's japanese restaurant Mizu Izakaya. "Thank you Culinary Culture for recognising our efforts, but what's most important for me is the community you guys have created," shared Jethani.