A room full of chefs – where the only thing sharper than the knives was the electric edge of excitement in the air!
The second edition of Culinary Culture's Food Superstars, presented by Campo Viejo, unfolded at The W Goa, on the evening of September 21. The annual chef ranking awards aim to honour and reward India's most skilled chefs, irrespective of their restaurant affiliations.
Time seemed to blur as the announcements came one after another. The award ceremony celebrated 30 exceptional chefs, including two from Kolkata: Auroni Mookerjee and Sachiko Seth.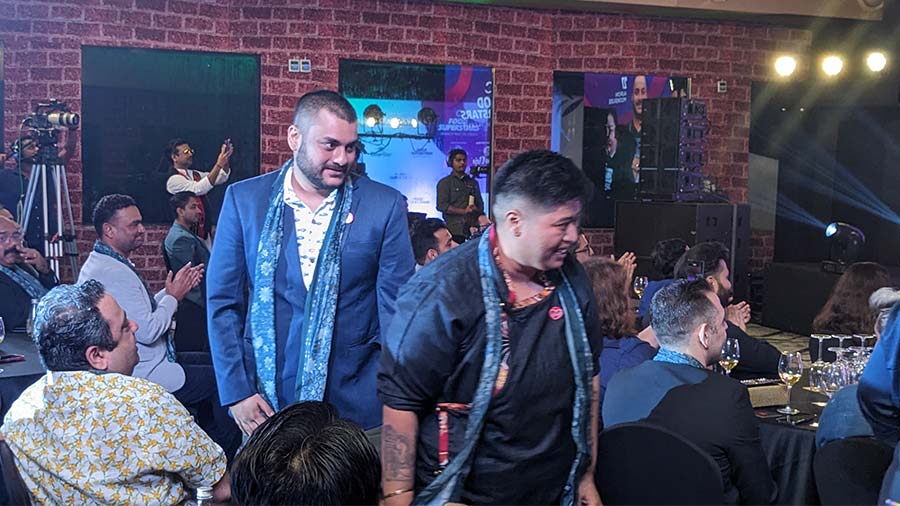 Chefs Auroni Mookerjee and Sachiko Seth make their way to the stage
Taking the top spot was chef Regi Mathew, who is credited with bringing Kerala's cuisine to the national spotlight. Last year's winner, chef Manish Mehrotra, was inducted into the Hall of Fame. Below is the complete list of winners:
Putting Kolkata on the national culinary map
Chef Auroni Mookerjee is a name and face most food enthusiasts recognise in Kolkata, and it came as no surprise to see him represent the city in the country's Top 30. The executive chef at Sienna Cafe & Store in Hindustan Park, Kolkata, initially started out as a copywriter in Mumbai. His culinary journey began when he introduced Bengali cuisine to a friend's dabba-service menu. He then trained on weekends at Cafe Zoe in Lower Parel, where the vibrant and fast-paced environment of a professional kitchen ignited his passion for cooking.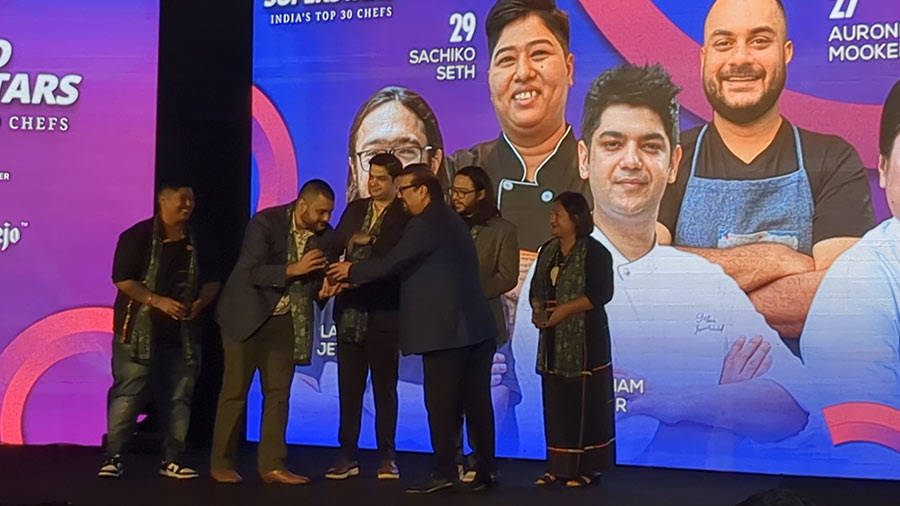 Auroni receives the award from Vir Sanghvi, co-founder and chairman of Culinary Culture. 'More than anything else, I believe this is a victory for the city of Kolkata,' said the Sienna executive chef
"It's wonderful to see this profession being celebrated beyond television," said Auroni. "Culinary awards can be about a lot of things, but this platform stands out because it is about craft first, and brings recognition to a profession that is still not taken seriously enough in India. I know that because when I switched careers to become a chef, I faced doubts and concerns like 'Are you sure?' and 'Is there stability?'"
The second chef from Kolkata to feature on the list is Sachiko Seth. Sachiko co-runs the Tibetan restaurant The Blue Poppy, founded by his mother Doma Wang, with locations in Middleton Row and Salt Lake. He is also a partner at Boma Asian Bakery. "I believe it's essential for chefs to have a platform that's free from biases. To be candid, I didn't anticipate winning, so it was a pleasant surprise," said Sachiko, who is currently working on reviving forgotten Tibetan recipes for The Blue Poppy.
Representing the Northeast (Nagaland) and ranking #26 was chef Aketoli Zhimomi. "I specialise in Naga and regional cuisine because I believe in its potential, and when we get recognised like this, I know we're doing something right," said the chef who runs Ethnic Kitchen, a 20-seat restaurant and catering service in Dimapur. Zhimomi also worked at Grand Market Pavilion in ITC Royal Bengal for two years. In the previous year's edition of Food Superstars, chef Joel Basumatari took the honours from Nagaland.
Food Superstars: Recognising chefs, not restaurants
What distinguishes Culinary Culture's Food Superstars chef awards is its assertion of financial independence, ensuring freedom from external influences. The platform is backed and co-founded by Sameer Sain of Everstone Group, and it is spearheaded by co-founder Vir Sanghvi and CEO Raaj Sanghvi, all sharing a common passion for recognising chefs.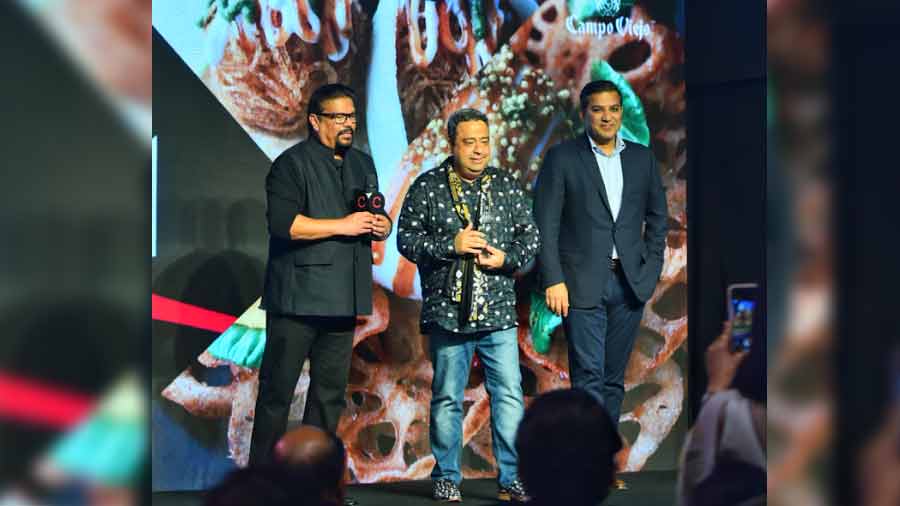 In the previous edition of Food Superstars 2022, chef Manish Mehrotra, flanked by Vir Sanghvi and Sameer Sain, emerged winner. Chef Manish was inducted into the Hall of Fame this year
This list recognises chefs, not restaurants. If a chef moves to another restaurant, the honour moves with them.
There is a single eligibility criterion to be part of the Food Superstars Top 30 – the chef has to be an Indian who is currently cooking at a restaurant, hotel or delivery kitchen in India.
The process of selection starts with nominations by Food Hunters, a group of representatives from each city (including this writer). Their nominations are then vetoed by a jury and from the process emerges the list.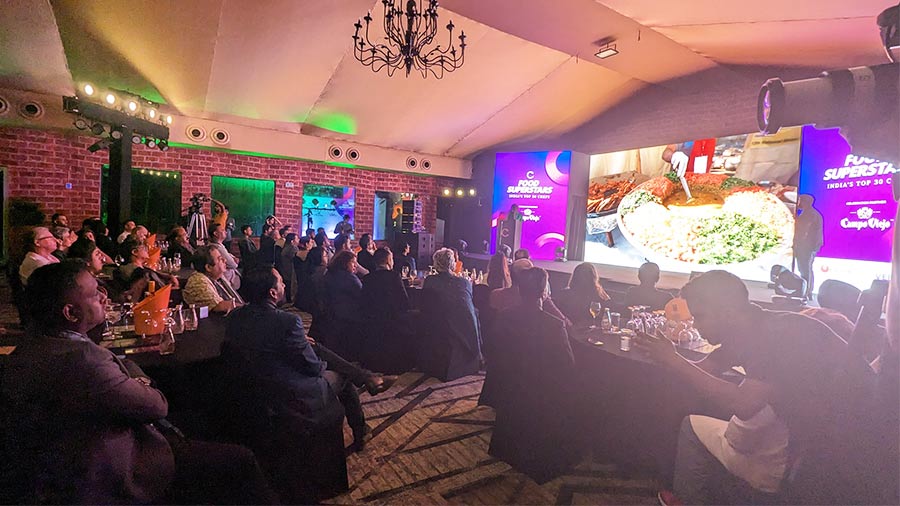 The audience at The W Goa for the awards
"This is a point worth making, that no one person has compiled this list. It's come from our Food Hunters, our jury, and until the last moment, no one knew the names of the winners. We maintained absolute secrecy. It's unbiased and as fair as possible. No list is perfect but this list is as close as it's likely to be," said Vir Sanghvi, co-founder and chairman, Culinary Culture.