When the pioneers of the 'Bajaar to Table' menu decide to bring hyperlocal, typically non-urban ingredients to the eating-out scene in south Kolkata, there's a story that comes with every carefully thought-out dish.
From the shukto and bhaja to the malai curry-inspired course of lobster and the 'pukur to table' plate, every carefully picked dish takes you on a journey from the markets to the home kitchens of the land. Except, there's nothing everyday about the way they are made and presented. 
Sienna Store and Cafe in Hindustan Park, recently brought its Bengali food-inspired tasting menu to Kolkata. After pop-ups in Delhi and Mumbai, the team has introduced the eight-course menu at home.
"The idea was not to recreate a dish. There's nostalgia in these dishes and flavours, and sometimes it can be a challenge to match that memory. So our take was to use the ingredients in the best ways possible, and to revive some of these traditional things like the different rice varieties used," said Sienna owner Shuli Ghosh.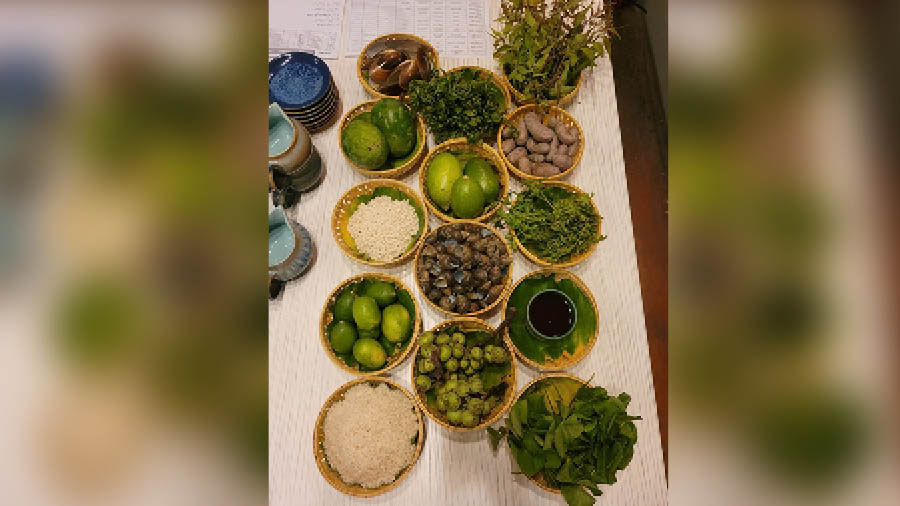 A table with all the produce used in the menu greeted guests as they walked in
Stories on a plate
While the delicious meal deserves its spotlight, what adds to the experience of Sienna's tasting menu are the stories (and feelings) of home and of Bengal that are tied to each course.
Chef Auroni Mookerjee introduces each course with a little nugget of history, nostalgia or experience, and each story will remind you of home — your childhood home, the home you spent vacations in and the multi-layered flavours of this part of your home country.
Sienna kitchen's preferred take for why Bengali meals begin with something bitter: "If you start with bitter, then the sweet, sour and salty all shine on your palate." The little rice golla in the first course, teto — reminiscent of all those balls of rice with 'nutritious' food hidden inside them, that our maternal nurturers fed us — might be a sharp shot of bitter for some, but it does justice to all the memories. The story of the origins of malai chingri links the dish not to coconut cream, but to Malay or Malaysia, which is from where the art of braising in coconut milk or cream was learnt by Bengalis. The hola's roots are in Chittagong, a region that grows fantastic turmeric. Or the image of women and kids foraging around a pond for kolmi shaak and escargot in a setting removed from Kolkata city but part of Bengal.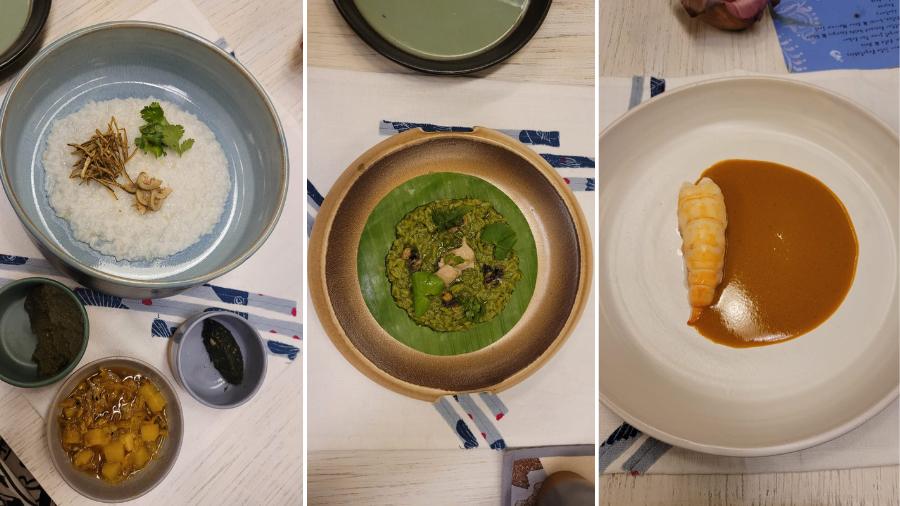 (Left) The Bata, Bhaja, a course featuring a 'bata' of mixed gourds, 'kolmi shaak bhaja', and a 'hola' with 'kaachki maachh'; (centre) Escargot from the 'pukur' featuring a risotto-like rice flavoured with 'thankuni pata' along with mussels; (right) the Butter Poached Golda Chingri and Ghilu with a malai curry-inspired sauce
Auroni introduces the menu with the story of Sienna, which was started by three generations of women, who loved cooking and exploring flavours. Every course of the menu also links to a memory or a dish that is connected to a maternal figure.
Bringing it home
It is always a tricky proposition bringing familiar flavours in non-traditional dishes to a city where everyone knows and loves Bengali food. Confidence in their creation bolstered by the response at the two pop-ups gave the team the confidence to bring the tasting menu to the store and cafe in Hindustan Park.
"Currently, in the country, there are a handful of places doing tasting menus like this. The most important reason we want to do this is because any operation that has a tasting menu, has a voice. You are constantly adding that element of art and creativity to your food," said chef Auroni. How you add your own chapter to a food tradition was an important part of bringing this out of pop-ups and to home ground as a (hopefully) regular feature. The trials were done on chef friends and high-profile guests in pop-ups who had the same gedi-googli and dheki shaak (fiddlehead ferns), and the positive feedback from them helped the team get the confidence to go ahead.
The menu is experimental, but it still holds up the best and typical elements of Bengali food. "It wasn't supposed to be just ideas. The flavours had to pop and we weren't looking at recreating a dish. Why fix something that's not broken, so we didn't mess with the OG in many aspects and we didn't want to gentrify everything," he added.
Almost all the tableware, from the napkins to the earthen dinnerware, is made by someone part of the Sienna family, which includes the cafe and store, and the workshop in Santiniketan
What the diners had to say
"I like how it reminded me of all the food items I did not like growing up, but it tastes nice and speaks to the palate I've acquired now. But it also is nostalgic. I like the thought that has been put into it in terms of ingredients and techniques. I think the smart thing was it still tasted familiar but 'ektu alada' and the flavours popped more."
— Swastik Das, Kolkata
"I'd heard Auroni speak earlier and I've been following Sienna for a while. There's nobody I know who comes to Calcutta and doesn't come to Sienna. I'm not from West Bengal, so for me to experience everything in terms of flavour was great — the 'bata' reminded me of the saag we have back home. I could connect to a food I don't completely understand and there's a powerful connection that food represents there."
— Keerat Garcha, Punjab
"Both the vegetarian and non-vegetarian courses were equally delicious. I actually switched mid-way from veg to non-veg."
— Trisha Adhrit Umed, Kolkata
The special tasting menu experience was organised at Sienna Store and Cafe at Hindustan Park every Thursday-Friday this month. Unfortunately, they are fully booked for all days this time. The team does plan to introduce more such tasting menus showcasing their 'Bajar to Table' philosophy. For updates on upcoming tasting menu events, check their social media.