That Kolkata is a food-loving city is no secret. No surprise then, that 'Masters of Marriott Bonvoy X Culinary Culture presents Indian Accent' is sold out. The two-day event on September 24-25 will bring New Delhi's Indian Accent to Kolkata for the first time for a pop-up at Vintage Asia, JW Marriott Kolkata, preceded by an interaction between chef Manish Mehrotra and Vir Sanghvi on September 23. In a conversation with Himanshu Taneja, culinary director - south Asia, Marriott International, we discuss the Kolkata market for hospitality, food and beverage, innovations by Masters of Marriott Bonvoy, and Taneja's personal connection with the city (his better half is Bengali!) 
My Kolkata: We hear the Kolkata edition is sold out? 
Himanshu Taneja: Yes, we are sold out! We have a total of 60 covers over two dinners and one lunch at Vintage Asia, so it is very exclusive. We need to control the consistency in quality, management and timeliness, so we are sticking to 60 and not going overboard. 
For the first edition of Masters of Marriott Bonvoy X Culinary Culture in St Regis, Mumbai (with chef Massimo Bottura from Italy's three Michelin-starred restaurant Osteria Francescana), we were sold out in just 15 minutes. 
The second event was with the Suhring Brothers in Ritz-Carlton, Bangalore; in fact, I visited both the brothers when I was in Bangkok last week. 
The bookings are done on a first-come-first-served basis.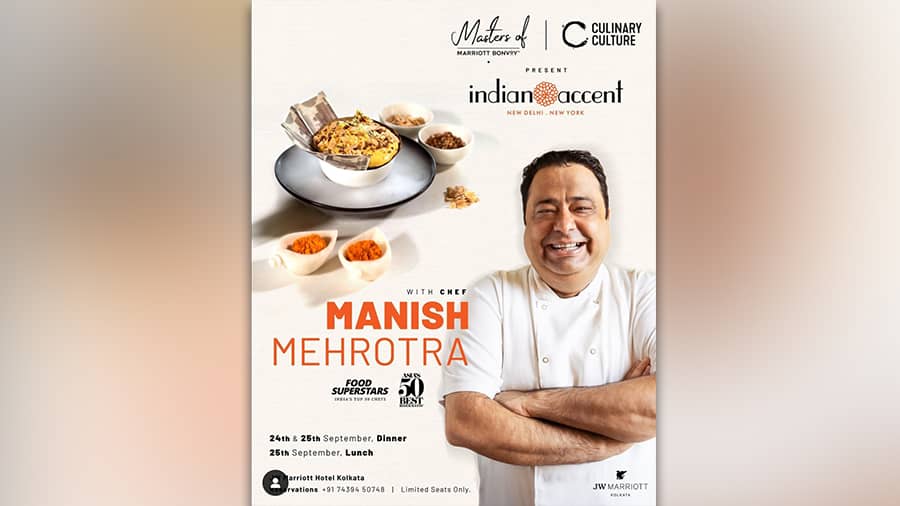 What made the teams pick Kolkata for the third edition of Masters of Marriott x Culinary Culture? 
Kolkata is a foodie city. We've heard that people from Kolkata travel abroad to visit Michelin-starred restaurants, and for weddings, multiple chefs are invited from different countries. So, clearly there is a demand. 
Kolkata is also a market which is coming up very aggressively in terms of food and beverage, with the best of the best brands now available. And since we are running a luxury hotel, JW Marriott, Kolkata, along with two more brands (Fairfield by Marriott and The Westin), and more in the pipeline, it seemed important to do it here. 
Tell us a little about the meal…
We want Kolkata to get a taste of the Indian Accent experience. So while he [Manish Mehrotra] is playing around a bit, we want to keep those dishes exactly as heirloom and authentic as they are in the restaurant. The menu features the following signature dishes:
Danish Blue Cheese Naan  
Ladakhi Apricot Samosa, Goat Cheese
Meetha Achaar Pork Ribs, Pickled Carambola
Kashmiri Morel Musallam, Parmesan Papad
Butter Chicken Kulcha, Fenugreek Butter
Wild Mushroom Kulcha, Truffle Glaze
Anar & Churan Kulfi Sorbet
Daulat Ki Chaat, Rose Petal Chikki, Golden Nuts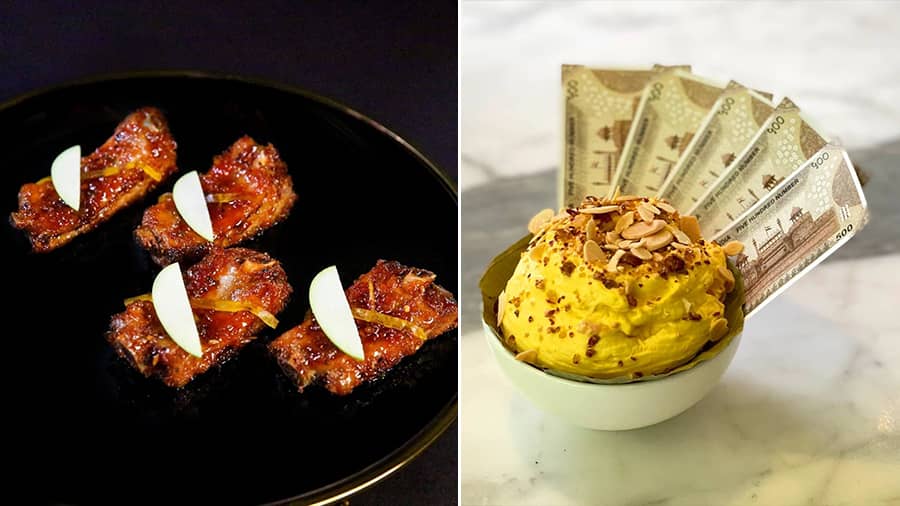 Meetha Achaar Pork Ribs and Daulat Ki Chaat — two of the dishes on the pop-up's menu
How has the concept of guest chefs in star hotels evolved over time? 
The western culture of pop-ups arrived in India around a decade ago, and we (Marriott) had the first-mover advantage. In 2014, I was the executive chef of JW Marriott Juhu, Mumbai, and we invited chefs from Michelin-starred restaurants to the hotel. The first was Laurent Peugeot from Le Charlemagne in Japan, followed by Giovanni D'Amato of Ristorante Il Rigoletto, Italy, and later on, we got Alvin Leong from Hong Kong's Bo Innovations. 
Explain the process of the pop-ups…
Normally, the pop-ups we do are a collaboration. So it's not like the chef comes with his team, gets the ingredients, and we only sell the tickets. What we have is a running restaurant in a hotel that we give to somebody else. The restaurant has its own legacy, and so does the guest chef, and both teams work together from the start. For example, we have logged our lists of guest chefs and properties for 2023. We work about nine to 12 months in advance and it involves a lot of study, including seeing that the menu fits into that city. Once we are 100 per cent about the guest chef, the hotel team works with the chef for kitchen space, manning, ingredient and equipment list.
With chef Manish too, we have been in discussion for the last two months. There are multiple WhatsApp groups where everything is discussed, down to the kind of plate. It's a great learning process for both teams.
What are some other recent F&B innovations in JW Marriott Kolkata? 
We opened the JW Bakery in the hotel last year, and revamped Vintage Asia, where the pop-up is happening. 
You mentioned that Kolkata loves having guest chefs at weddings. How strong is the wedding market here and which are some of your best wedding properties in India?
The wedding market is one of the best in Kolkata. JW Marriott is a great wedding destination for the city, because of multiple factors like the size of the ballroom, F&B offerings, a beautiful-looking hotel, and multiple venues within the hotel, which works as a canvas for different functions. In fact, we just did the Shaadi by Marriott event at Fairfield by Marriott last month. Nationally, W Goa and St Regis Mumbai are some of our best properties for weddings.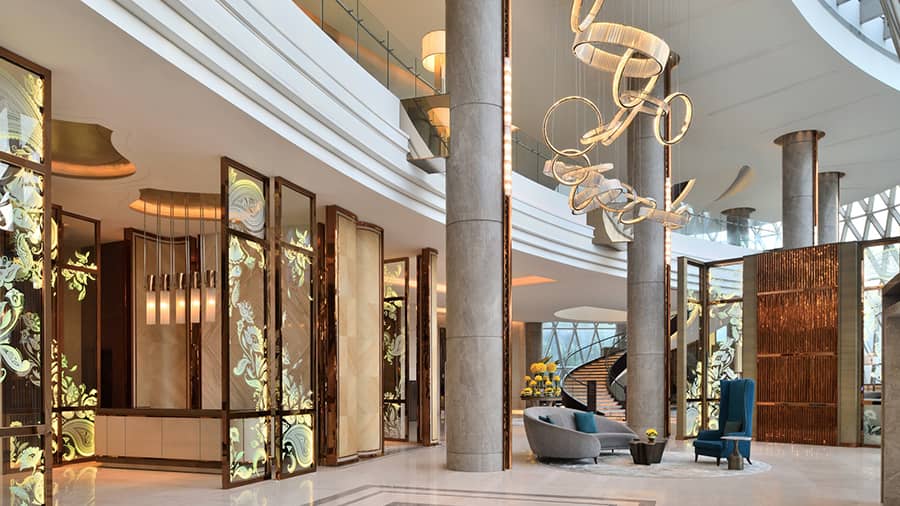 'The wedding market is one of the best in Kolkata. JW Marriott is a great wedding destination for the city, because of multiple factors including multiple venues within the hotel that work as a canvas for different functions,' Himanshu said. Above, the Marriott lobby
Finally, what are you looking forward to in Kolkata? Your better half, Sruti, is from Kolkata, and you do visit the city. 
Yes, Sruti is Bengali, though now she's also Punjabi after marrying one (laughs)! We were in Kolkata last in December 2019, and we hopped around different places, trying the different foods. I love the Kolkata mutton biryani and phuchka, and the taste of mustard oil in the aloo. I was surprised she was eating sukha phuchka, without the water! Another thing we do in Kolkata is just walking down Park street. In December, it was so beautiful. People were singing, you know, somebody was dancing, there was a flash mob and a band. All the restaurants were full so we went to Hard Rock Cafe with our son. There was natural happiness all around. Kolkata is filled with spontaneous experiences.