A great fish recipe will stay with you for years. Just ask Victoria Beckham who has stuck with a steamed fish dinner for more than 25 years, or maybe Deepika Padukone who also swears by grilled fish meal to stay in shape. But if you're looking to explore unique fish recipes with local produce or condiments, we've got the perfect collection for you.
From grilled recipes to old school numbers — here are some of the best weekend recipes featuring fish.
Grilled lemon-honey bhetki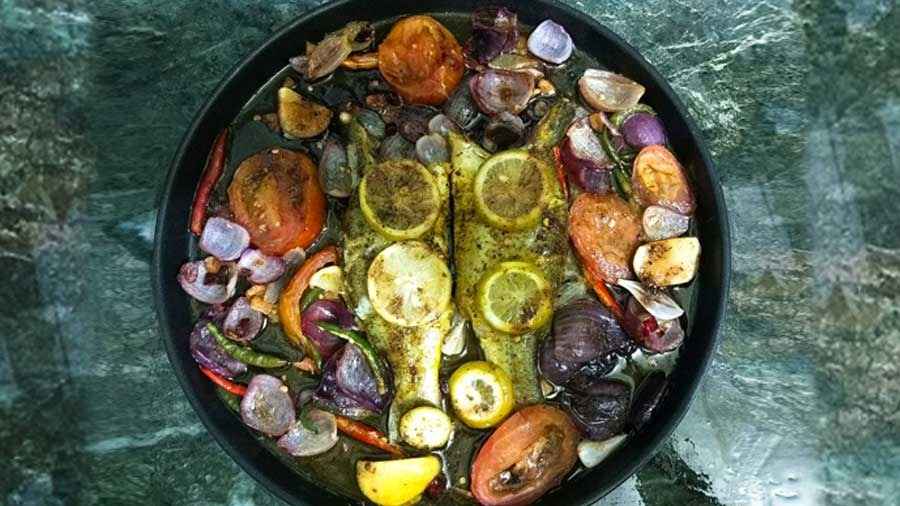 Attribution: Pooja Mitra
An all-time favourite pairing —  the richness of bhetki and the tanginess of lemon will never disappoint you. If you are avoiding carbs but craving a good maach meal, this could be a hearty pick.
Recipe:
Marinate the whole bhetki with salt, turmeric powder, grounded black peppercorns, lemon juice, honey, a little olive or sunflower oil and the juice of ginger-garlic paste and keep aside for a minimum of 10-15 minutes. Prepare your grill plate by brushing a little olive or sunflower oil. Chop onions, tomatoes and any other veggie you fancy, into cubes or thick slices as you keep a few green chillies sliced and ready. Take a few garlic pods and mash them a little. Add a little salt and black pepper powder to them. Slice the lemons thin (stick to ripe pati lebu for best results).
Preheat the oven for 7-10 minutes as you start placing the fish on the grill plate.  Put a few lemon slices on the fish and drizzle oil from the top on the fish and the veggies. Throw 2-3 lemon leaves if you have them around and some parsley if you like.
Grill for 10 minutes each, on both sides. Add a small squeeze of lemon and honey and serve piping hot.
Tips:
Poke with a toothpick to keep the fish from getting under or overcooked
If you are adding more vegetables, best to blanch them in advance for an even cooking process while grilling
Baked fish eggs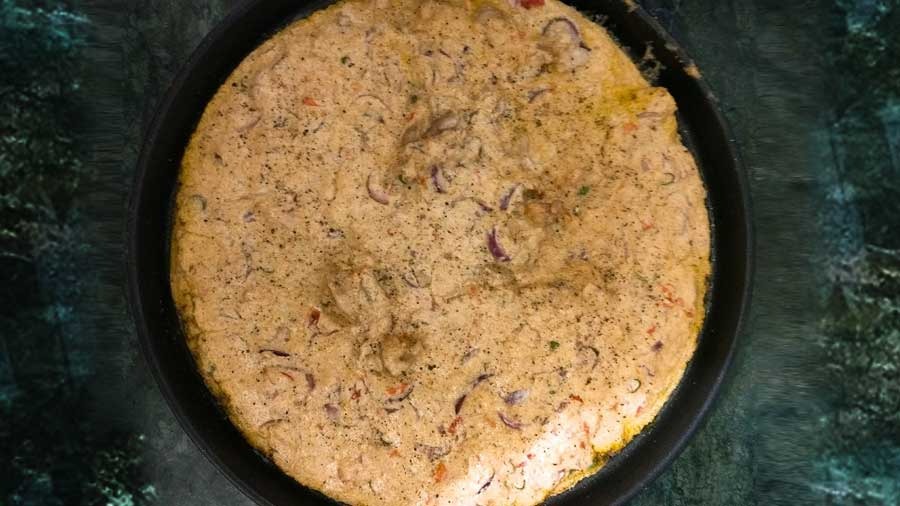 Representational Image
Attribution: Pooja Mitra
This maacher dim recipe is delicious and palatable. If you're hosting a Bengali lunch at your home, serve this number as an appetiser. You can also DIY this recipe on days when the heart yearns for more but making something elaborate is a no go.
Recipe:
Rohu fish eggs are needed for this recipe. Mash the fish eggs to do away with any lumps. Finely chop onions, ginger and garlic, green chillies, tomato and dried red chillies. Mix the ingredients, salt, a little bit of sugar, lemon juice, red chilli powder and black pepper powder with the fish eggs. The outcome will look like a batter, slightly slimy. Do not add any binding agent.
Preheat the oven for 10 minutes. Grease a baking tray with mustard oil and pour the fish batter. Bake at convection mode for 10-12 minutes, checking with a toothpick at halftime to avoid burnt bottoms. Cut into cubes or diamonds and serve hot with a sprinkle of chat masala.
Chingri malai curry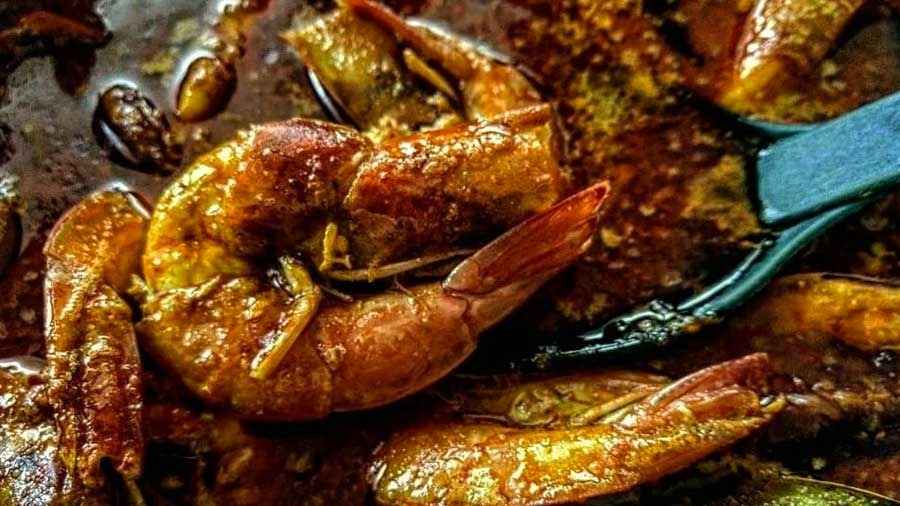 Attribution: Pooja Mitra
If you've perfected the rich and creamy malai curry, you'll never have to worry about a traditional dinner ever again. This classic Bengali curry made with coconut milk is usually cooked with tiger prawns or bagda chingri, although you can simply opt for smaller varieties if you want.
Recipe:
Clean and devein the prawns and keep the heads. Marinate prawns with salt and turmeric powder. If you have time in your hand, make fresh coconut milk and keep it aside or use the store-bought ones. Make separate pastes with onion and green chillies.
Add sunflower oil in a kadhai and heat. Saute the prawns and keep them aside. Add some ghee to the prawn-fried sunflower oil followed by dried red chillies, bay leaves, cloves, cardamom and cinnamon. Once the phoron is nice and fragrant, add onion paste with a pinch of salt and sugar and cook till golden brown. Grate some ginger in the paste and cook till the ginger does not smell raw.
Add turmeric powder and Kashmiri red chilli powder and cook for 2-3 minutes, occasionally sprinkling splashes of coconut milk to keep the spice base from burning. Add a few green chillies slit into halves and a dollop of coconut milk. Keep the flame low to medium and add salt and sugar to taste. Wait till it comes to the first boil and add the prawns. Add the remaining milk and cook for 4-5 minutes, followed by adding the prawns. Cook for 3-4 minutes, check the seasoning and serve straight from the oven with gorom bhaat.
Tips:
If you prefer adding hung, beaten curd to the malai curry, add in between the two servings of coconut milk and stir really well on low flame to avoid curdling. Cooking for more than 2-3 minutes is not advisable
Chitol maacher muithya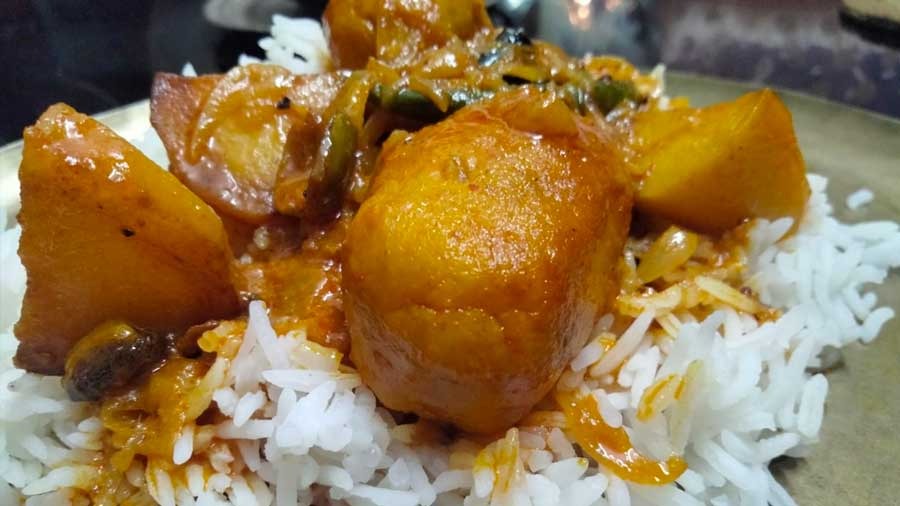 Attribution: Pooja Mitra
Muithya roughly translates into the palm of the hands. Chital er muithya is essentially a kofta cooked in spicy gravy. Fun fact: Chital is a really economical fish, you can fry it up, make a traditional tel chochchori with the skin and bones, or even opt for a chital rosa (recipe another time) in case you have some fish left over from the muithya.
Recipe:
Take boneless, grated chital maach (the gada portion or the back portion of the fish). Boil potatoes and peel off the skin. Mash the boiled potatoes and add finely chopped green chillies, ginger-garlic paste, red chilli - cumin-coriander powder. Now add salt and some mustard oil, add the grated fish and mash till smooth. Make palm-sized fish dumplings and don't forget to grease your palms first. Steam in rolling hot water and let them cool. Cut into cubes or if the dumplings/muithyas are small, keep them as it is. Shallow fry the pieces and set them aside.
Now, cut potatoes into cubes and marinate them with salt and turmeric powder, shallow frying them. Add mustard oil in a kadhai and let it heat. Add bay leaves, dried red chillies, whole garam masala and let the spices do their magic. Next in line are the onion slices — fry them till they are translucent. Add chopped tomatoes, ginger-garlic paste and slit green chillies. Put turmeric powder, Kashmiri red chilli powder (for colour), red hot chilli powder (for jhal), cumin and coriander powder. Cook till oil separates from the masala.
Add the fried potatoes and give a good stir. Let them cook for 5-7 minutes on low to medium flame, and add water according to the gravy you need. Check for seasonings and cover the kadhai to give it a good boil. Check intermittently so the muithyas can be added to the gravy when the potatoes are 90% cooked. Another boil and final seasoning check done right, switch off the flame. Top it off with garam masala and ghee and let it rest for 5 minutes before serving hot, teamed with rice.
Tip:
Make the fish balls, steam them and keep them in a covered container in the freezer for a few hours before you fry them
You can batch-cook the fish balls, stem them and store them for 2-3 days
Mash the potatoes real well to avoid lumps
Ilish bhapa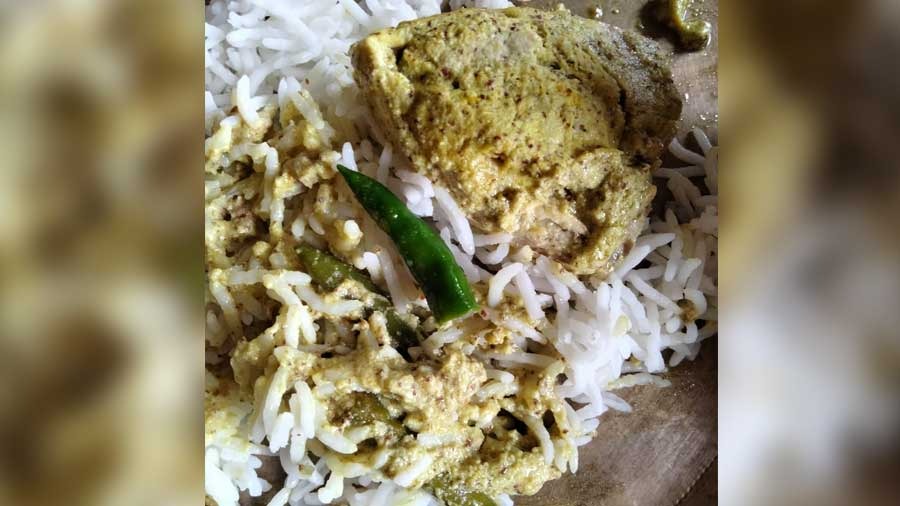 Attribution: Pooja Mitra
It literally takes 15 minutes to make this version of steamed hilsa and you have the maacher raja on your plate in all its glory.
Recipe:
Clean the ilish pieces and pat dry. Marinate them with salt and turmeric powder. Make a fine paste of yellow and black mustard seeds in a 2:1 ratio and poppy seeds with a pinch of salt, green chillies, some mustard oil and water. (remember the paste will be thick and not runny). Mix the fish pieces and spice base and keep aside for 5-10 minutes if possible.
Grease a tiffin box with a cover (or any container you like) with mustard oil. Place the fish pieces and cover them with the spice mix. Ensure that you have enough spice paste ready to serve as a gravy. Add a few slit green chillies and drizzle some mustard oil. In a kadhai, add enough water to half dip the container in which the ilish is and bring to a boil. Add the container and cover kadhai with a lid. Cook for approximately 10-12 minutes in low to medium flame. Check seasonings and drizzle some more mustard oil and serve hot with rice.
Tip:
Over-cooking ilish makes the fish go all brittle, go easy
If you like to saute the fish, go ahead. But, bhapa is all about the juices of the fish mixing with the spice. Don't deep fry the fish