How much mango is enough mango during mango season? It's hardly fair that we get to savour this juicy, gorgeous fruit only for a few weeks. So, we're making the most of it by cooking with mangoes, all day, every day and using tangy green mangoes in almost everything — from zucchini rolls to homemade fritters. Here are some of the best recipes — happy cooking and bon appetit!
'Kancha aam chingri bhapa'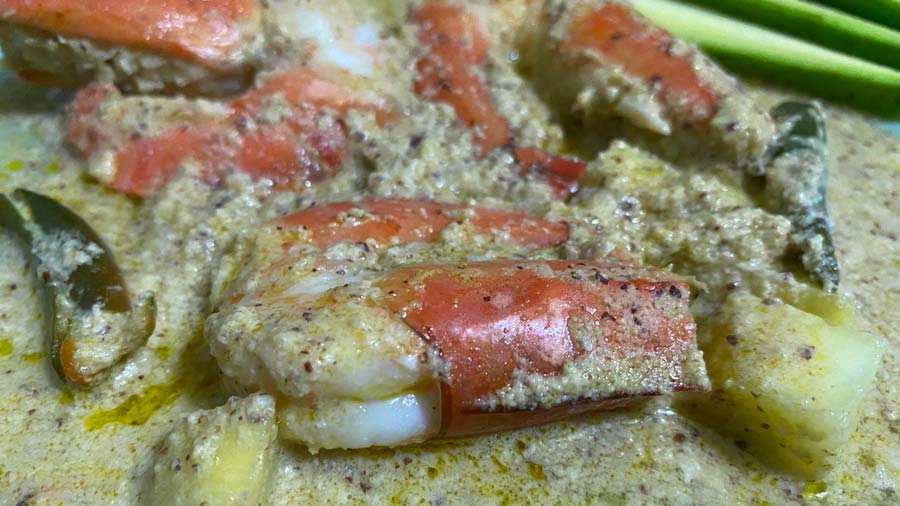 Pooja Mitra
The tangy kancha aam is a seasonal superstar and this yummy Bengali curry lets us indulge with some daring flavour notes.
Preparation Time: 10 minutes
Cooking Time: 15 minutes
Ingredients:
10-15 pieces of tiger prawns (or any kind of prawn)
3 tablespoon poppy seeds
1 tablespoon black mustard seeds
Half cup peeled and chopped raw mango
Salt
Turmeric
Sugar/Honey
5-6 green chillies
1-2 dry red chillies
Mustard oil
Recipe:
Deseed the unripe mango, peel the skin and roughly chop
Soak mustard seeds, poppy seeds, half of the chopped mango, 1-2 dry red chillies, 2-3 green chillies for 15 minutes and make a smooth paste, adding 1 teaspoon of salt and 2 tablespoons of mustard oil while grinding
Devein the prawns and marinate with 1 teaspoon salt and 1 teaspoon turmeric and keep them aside
In a deep bowl, mix the marinated prawns and spice paste, adding salt to taste, 1 tablespoon of honey or sugar and slit green chilis, as per spice tolerance. Add a dash of water (the gravy should not be runny, but smooth and dense), the remaining chopped mangoes and drizzle two tablespoons of mustard oil
In a kadhai, pour some water. Once the water is piping hot, add the prawns and cover it with a lid
Let the prawns cook for 12 minutes before you uncover them. Check the seasonings and steam for another 2 minutes. Serve piping hot with another drizzle of mustard oil and garnishe with slit green chillies and sliced unripe mangoes.
'Kancha aam diye kankrol bhaja'
YouTube/Mompy's Kitchen
What's a rainy day without some steaming munchies served fresh off the kadhai? How about the OG kankrol pur bhaja but with a fruity twist?
Preparation Time: 30 minutes
Cooking Time: 30 minutes
Ingredients:
8-10 spine gourd or kankrol
1/4th raw mango
1/2 coconut
2 tablespoon yellow mustard seeds
3 tablespoon poppy seeds
2-3 green chillies
Salt
Sugar
Gram flour
Water
Sunflower oil
Recipe:
Deseed the spine gourds. Cut them into halves and blanch them. Keep them aside to dry
Soak grated coconut, mustard seeds and poppy seeds for 10 minutes. Peel the skin of the raw mango and roughly chop. In a blender, add the ingredients and make a smooth paste, adding one teaspoon salt and 2 green chillies while blending. Add only a dash of water if required. The desired consistency is thick and not runny
Make a thick batter of gram flour, adding a pinch of salt and one teaspoon mustard oil. Remove lumps in the batter, if any
Take a piece of spine gourd and add a dollop of filling into carved out part with a spoon
Dip each piece in the gram flour batter and deep fry till golden brown
Serve with kasundi on the sides
Devilled eggs with 'kancha aam' filling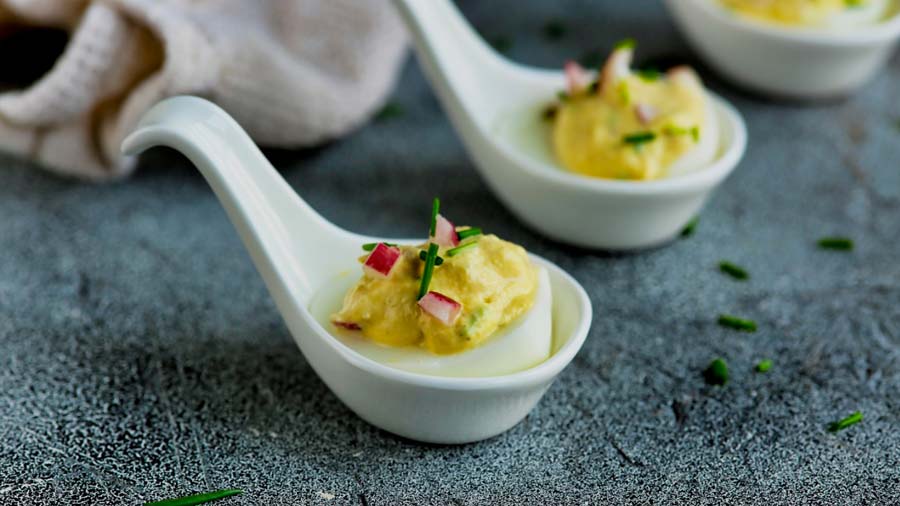 Shutterstock
The devil works hard, but these devilled eggs work harder to unite some popular flavours in one party-starter. This delicious devilled eggs with a smooth yolk filling have a luscious kancha aam filling!
Preparation Time: 15 minutes
Cooking Time: 15 minutes
Ingredients:
6 eggs
1/4th raw mango
Rock salt
Whole black pepper or black pepper powder
2-3 tablespoon milk
Recipe:
Hard boil the eggs and peel off the skin
Cut them into halves and scoop out the yolks into a deep bowl
Add grated mango, rock salt, crushed black pepper and blend with the yolks. Drizzle little milk only if needed. The filling should be smooth but tight
Take a spoon and fill the pockets in the egg whites with the filling
Serve in a plate with a raw mango dip on the side
'Kumro/lau patay chingri bhapa' (in kancha aam gravy)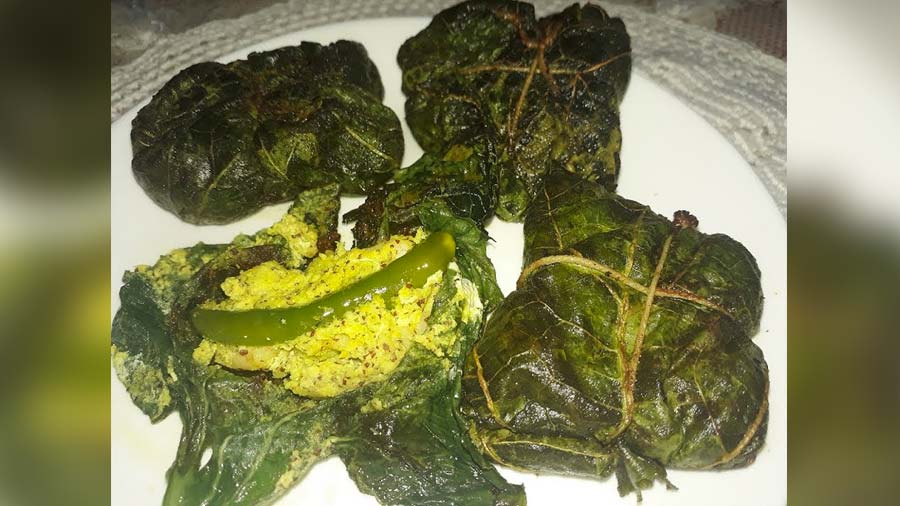 YouTube
Kumro or lau patay chingri is one of the easiest Bengali recipes. But did you know, you can cook the same chingri in a kancha aam gravy as well? This is how…
Preparation time: 30 minutes
Cooking time: 20 minutes
Ingredients:
300 gm prawns
10-12 big pumpkin or bottle gourd leaves
2 tablespoon yellow mustard
Half grated coconut
3 tablespoon poppy seeds
1/4th raw mango
Salt
Turmeric
Mustard oil
7-8 green chillies
Sugar
Recipe:
Devein and clean the prawns and marinate with salt, turmeric and a pinch of sugar and set aside
Wash the leaves, blanch them and pat them dry
In a bowl, soak grated coconut, raw mango, poppy seeds, mustard seeds for 10 minutes and make a smooth paste, adding salt and sugar to taste, one teaspoon turmeric powder, two tablespoon mustard oil and 3-4 green chillies
Mix the prawns with the paste and check seasonings to taste
On a big plate or a flat surface spread a long thread, make a bed of leaves. Pour the filling with a spoon in the middle of the bed. Add a thin slice of green chilli on the top. Wrap from the sides and add a big leaf on the top, to make the shape of a flattened dumpling and tie so the leaves do not open or the following does not come out
Steam for 10-15 minutes
'Kancha aam diye maacher dim bhapa'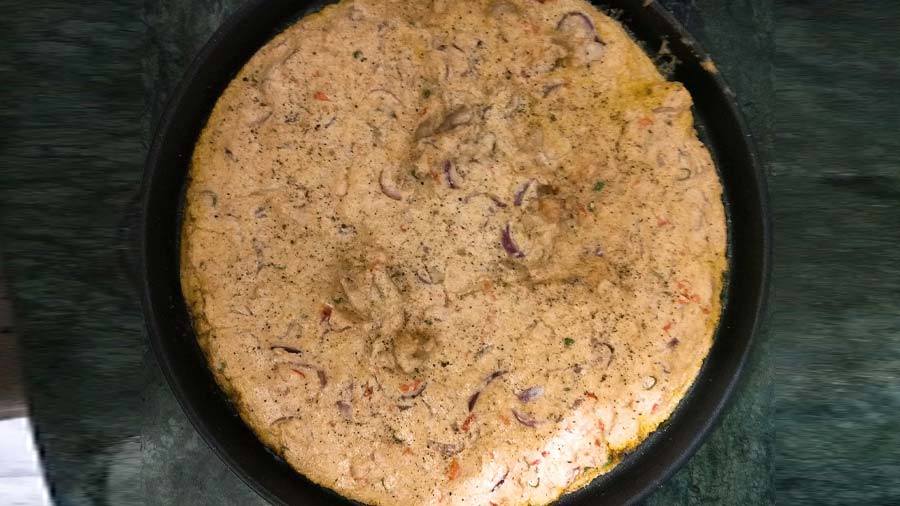 Pooja Mitra
Maacher dim'er bora is a rainy day must, be it with khichuri or with cha in the evening. But if you prefer steamed meal-starters, give this maacher dim bhapa with kancha aam a try.
Preparation time: 15 minutes
Cooking time: 20-25 minutes
Ingredients:
250 gm rui maacher dim
1 big onion, finely chopped
1 small piece of ginger, grated
2 cloves of garlic, finely chopped
4 green chilis
1/4th grated kancha aam
Salt
Kashmiri red chilli powder
Mustard oil
Recipe:
Wash the fish eggs and mash them with hand (preferably), adding the seasonings and ingredients. Sprinkle some mustard oil while mixing
Grease the mould and pour the batter and put butter paper
Steam for 20 minutes approximate, occasionally checking the status with a toothpick
Demould and let it cool a little. Cut into desired shapes and serve
Zucchini wrap with raw mango and chicken keema filling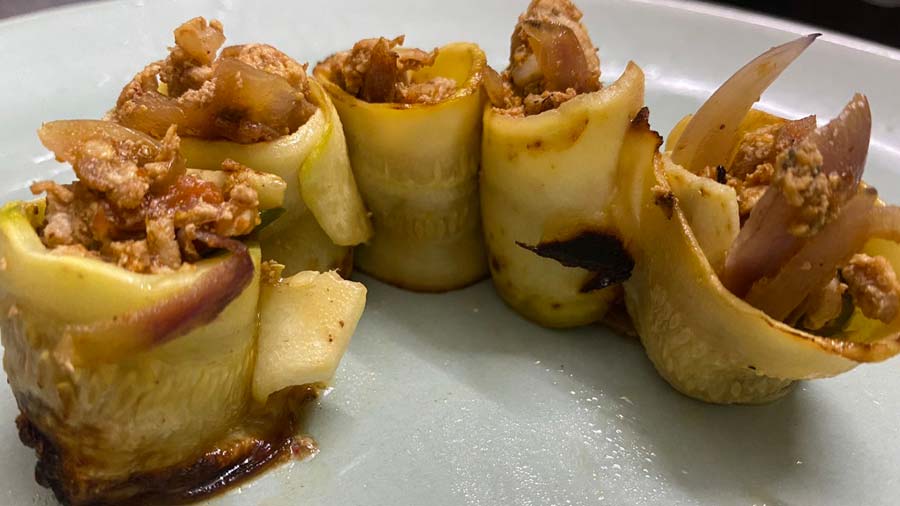 Pooja Mitra
The fancy zucchini meets a chic meat wrap recipe. Try out, startle your guests, and thank us later!
Preparation time: 25 minutes
Cooking time: 20 minutes
Ingredients:
1 green or yellow zucchini
100 gm chicken keema
1 large onion
2 cloves of garlic
1/4 slice of ginger
2 green chillies
Salt
Honey
Half a lemon
2 tablespoon butter
Half of one 150gm raw mango
Recipe:
Peel the zucchini in thin slices and marinate with one teaspoon of salt, half teaspoon of crushed black pepper and lemon juice. Set it aside
Marinate the chicken keema with one tablespoon salt, one tablespoon black pepper, lime juice and half teaspoon honey. Leave it for 15 minutes
In a frying pan, add 2 tablespoon butter and roughly chopped garlic. Saute till golden brown, add julienne cut ginger, followed by sliced onions. Saute till the onion turns golden brown and add the chicken keema. Next, add grated raw mango and mix, followed by salt, honey and finely chopped green chillies to taste. Cook till done. Set aside the filling so it cools down
Add one tablespoon butter in the pan and saute the zucchini strips till golden on both sides
Add a dollop of filling to each strip, and wrap
Tips:
The filling should be dry in consistency.
If you don't want to use chicken, opt for beef, mutton or pork keema instead. For vegetarian options, grated paneer or mashed potatoes can be used as a substitute.
The diet 'tok-jhal-mishti' chicken roast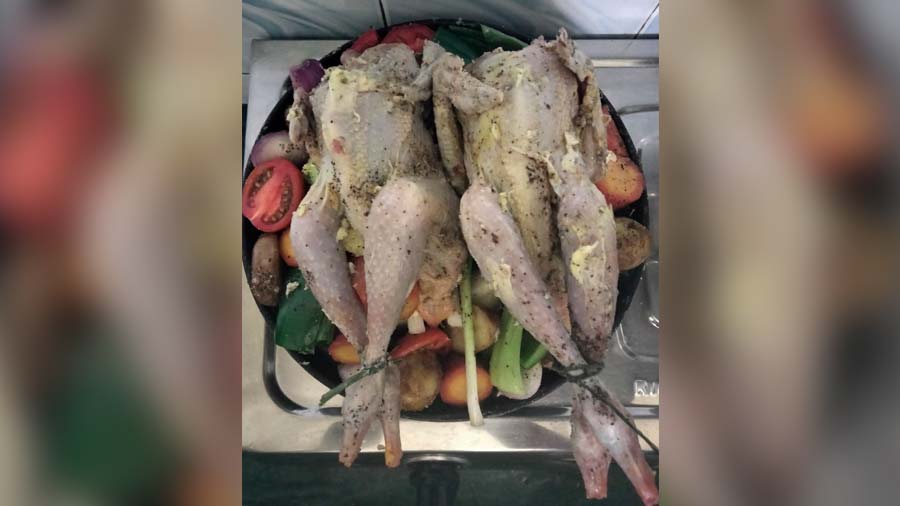 Pooja Mitra
Working on your summer bod? You don't have to steer clear of the green mango. A juicy chicken roast in kancha aam marination could be right up your alley.
Preparation Time: 25 minutes
Cooking Time: 40-60 minutes
Ingredients:
1 whole chicken with skin
2 tablespoon onion-ginger-garlic-green chilli paste
4 tablespoon raw mango paste
Salt
Honey
Black pepper
Assorted vegetables of choice
Butter or olive oil
Recipe:
Clean the whole chicken and pat dry
Marinate the chicken with an onion-ginger-garlic-green chili paste, raw mango paste, salt, one teaspoon honey, black pepper (crushed or powdered), tie the legs and set aside for 15 minutes
Cut the vegetables and marinate them in salt and pepper. If you're using a gas oven, steam the veggies and marinate them. Slow-cook till you hear a whistle. Add olive oil to a frying pan and cook both sides for a crunchy crust
If your medium of cooking is a microwave, add the veggies on the baking plate (as shown in the image).
Grease a baking plate. Preheat the oven for 10 minutes. Or, grease the bottom of the pressure cooker
Brush the chicken with melted butter or olive oil and convection-cook for 40 minutes (check occasionally).