The small, conical fried lentil nuggets that every Bengali knows as a bori, is a luminary of the region's cuisine. As Meenakshi Dasgupta writes in her book, The Calcutta Cookbook, "bori-making is quite an event to many Calcutta homes." Women of the household carry bowls of lentil-and-spice batter to the terrace and lay out small globs of batter on clean muslin cloth to dry in the sun. Mellow but warm sunlight makes these dry to perfection, so bori-making is usually a winter activity. Though the elaborate tradition is becoming a thing of the past, especially in urban Bengal, these crispy nuggets are still very much present on a Bengali platter. The gohona bori, or naksha bori, however, is more than the crunchy component of a curry.
Made primarily in the Purba Medinipur (East Midnapore) region, in areas like Tamluk, Mahishadal, Sutahata and Panskura, these iterations of the humble bori are a work of art, piped out to look like ornaments. There are designs of necklaces, tairas, and earrings as well as paisley and floral motifs. While boris can be made from various lentils including masoor and matar dal, and even vegetables like ash gourd, cauliflower, bottle gourd and radish, they are usually made with a batter of biuli dal (black gram or urad dal) and spices. For gohona boris, the batter is then piped on a plate of poppy seeds or posto and dried under the winter sun.
Tagore family's contribution
The journey of the gohono bori to a wider stage of appreciation is often attributed to the Tagore family. In 1930, Seba Maity, resident of Mahishadal in Medinipur and a student at Shantiniketan, presented to Rabindranath Tagore gohona boris made by her mother Hiranmayi Devi and grandmother Sharat Kumari Devi. Drawn in by the artwork, Tagore sought permission to preserve photographs of the condiment at Visva Bharati's fine arts department, Kala Bhavan. His nephew, Abanindranath also introduced animal motifs like deer, elephant, fish, butterfly to the designs of naksha bori.
In her book Culinary Culture in Colonial India, Utsa Ray remarks, "the way gohona bori was praised by Rabindranath Tagore, his nephew Abanindranarth Tagore, and Abanindranath's disciple Nandalal Bose… speaks much about its transformation into a fine art." Nandalal Basu even described them as "jewel[s] found in the broken box of mother Bengal." As Ray writes, "This fine art originated in Medinipur but it became a pride of all Bengal."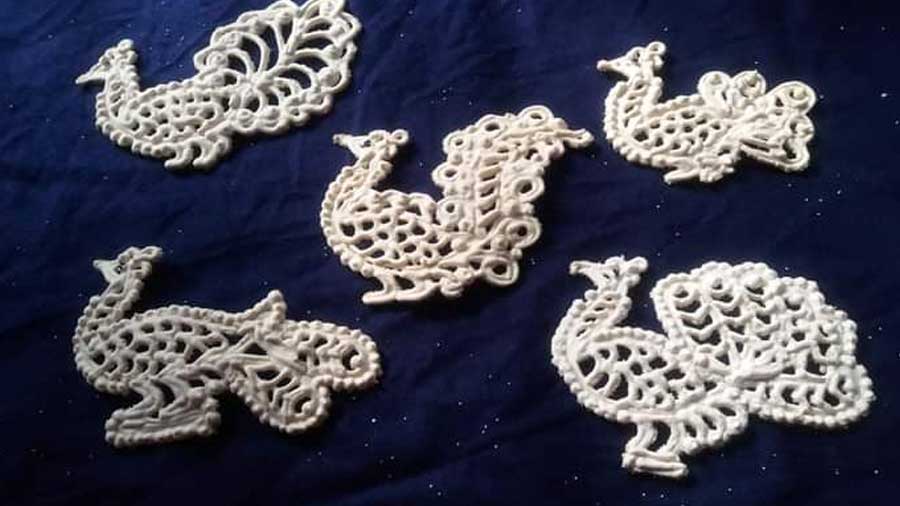 'Gohona boris' made by Mira Maity
facebook.com/barishilpi.miramaity
For octogenarian Mira Maity, a resident of Tamluk, gohona boris are an important part of her life. She learnt how to make them from Moyna Rajbari of Medinipur when she was young, and in the early 1990s took the culinary art outside her household and set up a shop in Tamluk. Her age prevents her from still making them to sell, but her creations were once much appreciated, says her son Biplab Maity. The boris, all her own designs, ranged from as small as three inches to as large as 14 inches. Today, her daughter and daughter-in-law still continue making gohona boris at home.
The tradition of it all might be disappearing from the urban spaces in the city, but with online stores like Bong Haat, naksha boris from Bengal are now accessible to many. Kolkata-based Bong Haat call themselves a "Bengali shopping destination" and source their gohono boris from artists of Medinipur who make it specifically for them. Winter, with its optimum sunlight is when these boris are made and sold the most, and with their eye-catching designs there are often requests for customisation, especially for weddings. Tanmay Sar, one of the co-founders says, "The size can be as big as a plate, and sometimes with names of the bride and groom are also engraved on the bori ."
From beautiful pantry staple to customised edible art — the gohona bori has come a long way.