The pullovers and shawls are being aired in the sunlight, and the season for delicious sweets and savouries is here. As the month of Poush arrives, Bengalis' minds go to nolen gur  delicacies and winter-special savouries.
A name that is never left out of the list is the humble kochuri. While a hing (asafoetida) kochuri is a much-loved breakfast item year-round, it is especially popular in this season. The kochuri, with a side of aloor torkari or chholar dal, has the distinction of being both a street-food favourite and a home-cooked delicacy. In winter, season-special koraishuti (green pea) stuffing only ups its appeal. 
If you're craving a phulko kochuri, we have a list of where to find them for you. Here's a kochuri trail for the winter (and the rest of the following year)...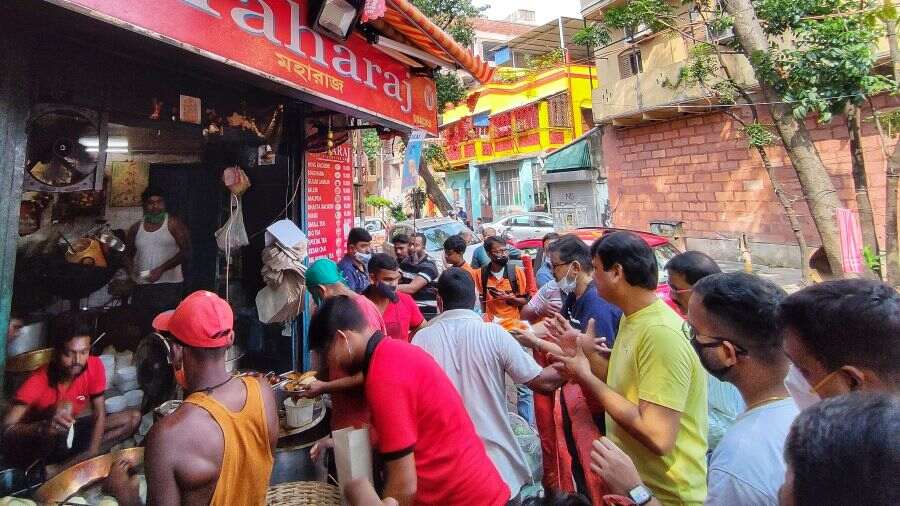 Many shops, like Maharaja on Sarat Bose Road, are located close to parks where people go for their morning walks
Amit Datta
The breakfast favourites
While everyone has a favourite neighbourhood shop, Kolkatans will often go to the other ends of the city for their morning kochuri fix. Interestingly, some of the most popular shops selling the dishes are conveniently located close to public parks that see a lot of morning walkers and joggers.
When the wafting scent of kochuris frying hits the nose on those cold morning walks, even the gluten-wary will want to pack up a thonga to take home. If you're at Rabindra Sarobar or Deshopriya Park, stop at Maharaja Snacks or Maharani Tea & Tiffin on Sarat Bose Road.
Those in the central and northern parts of the city, if you fancy the mini-sized dal kachori or club kachori, then Nasta opposite Dinosaur Park in Kakurgachi, Haryana Sweets near Boro Park near Phool Bagan are your stops. They serve club kachoris in the morning. If you are taking a stroll in the parks near Maniktala, then find Geetika on Sukea Street near Maniktala junction.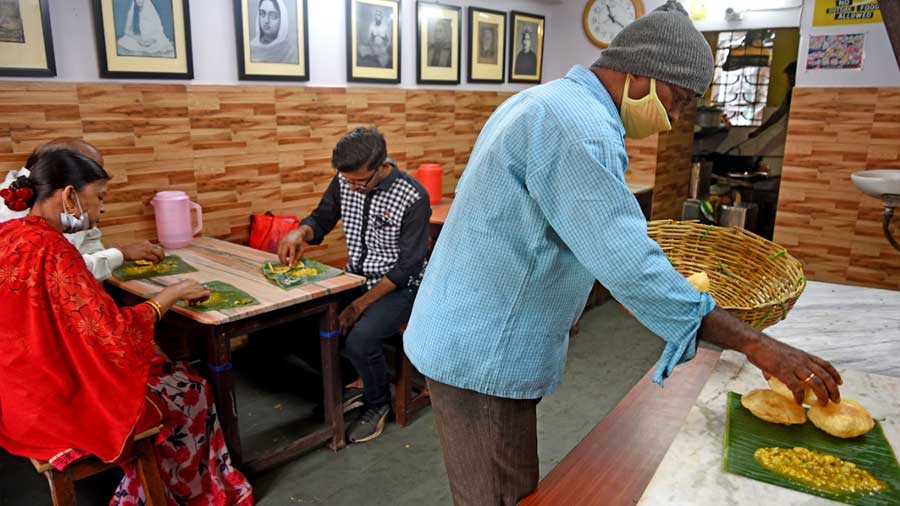 Adi Haridas Modak at Shyambazar serve their 'kochuri' on banana leaves
Amit Datta
The 'kochuri' icons
The superstar shops are spread all across the city and they all have a special item that accompanies their kochuri.
Adi Haridas Modak at Shyambazar five point crossing serves the dish on banana leaves and have unpeeled potatoes in their torkari, while Putiram on Amherst Street serve cholar dal instead of aloo. Try your kochuri with halwa at Mrityunjoy on Sarat Bose Road, the green chilli chutney at Shri Krishna opposite Regal Cinema on S.N. Banerjee Road, and with aloo sabzi at Chhappan Bhog on Shakespeare Sarani.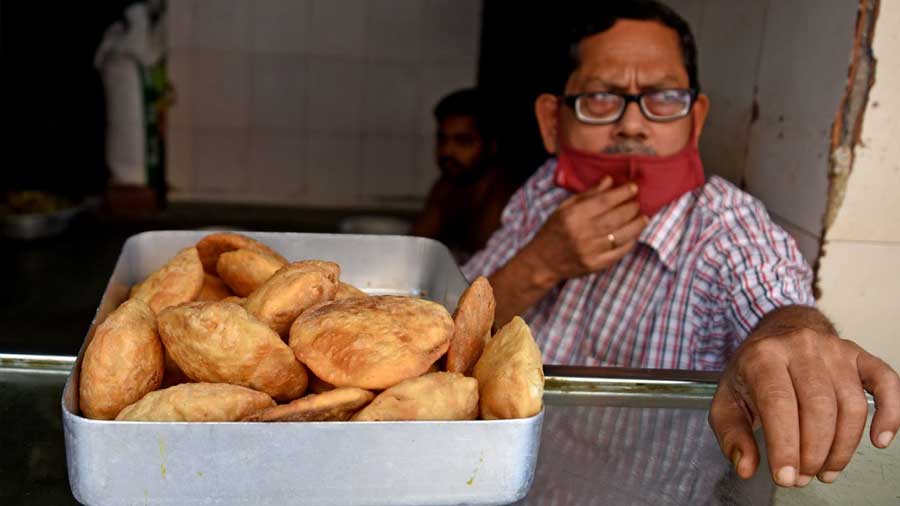 Unlike the bigger ones, some kochuri shops are simply known by the name of the owner, but are equally popular
Amit Datta
Lesser-known stars
While the famous ones stand tall, there are a number of lesser known kochuri shops all around the city that are equally popular and not just with people from the locality. Many of these are only known by the name of their owner, so you might not find a signboard, but you might just find them on Google Maps.
Potla'r kochuri on Bagbajar Street, Gadar kochuri beside Hathibagan market, Bankim er kochuri opposite the petrol pump near School Road on Harish Mukherjee Road and Kanai er kochuri at Kidderpore are some of these spots.
Manik er kochuri near Jadu Babu Bazar stands apart by serving both cholar dal and aloo torkari and letting you choose. At Hari Ghosh Street near Hatibagan, brothers Shibe and Madan manage one shop. One sells crispy khasta kochuris in the morning and the other sells the traditional kochuri in the evening.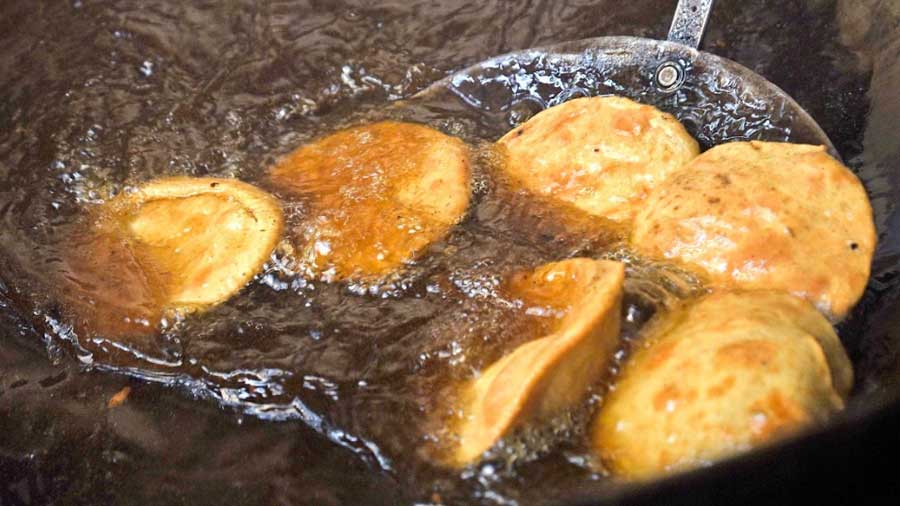 Few things work as well to form a crowd outside shops as the scent of 'kochuris' being fried in the morning
Amit Datta
Nameless wonders
As is with Kolkata and street food, there are always those shops and stalls known purely by location, and by the long queues in front of them.
At the shop alongside the auto stand near the flower shops close to Ballygunge station, people wait in line for kochuri-torkari every day, even though the shop is usually referred to as a bhujiar dokan. The shop selling chhaatu (or sattu) kochuri that stands between Fern Road and Bijan Setu is one of those known by location only, just like the two shops on Nilmoni Dey Lane in Paikpara near B. T. Road and the shop beside Prachi Cinema opposite N. R. S. Medical College Main Gate in Bowbazar. At the shop in Tirpal Patti lane off the Brabourne Road flyover in Barabazar, there are crowds all day.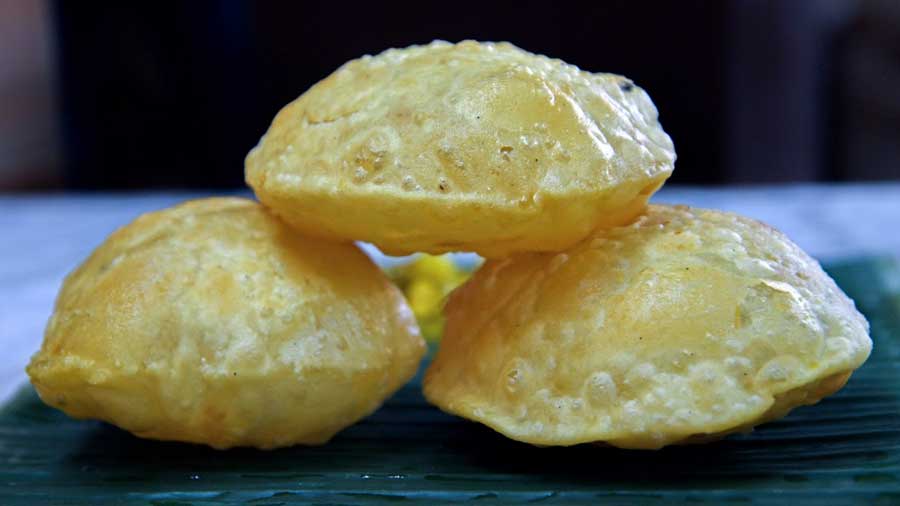 Fried, puffy and irresistible
Amit Datta
The love affair between Bengalis and their kochuri is a long-standing one. No matter how many new snacks reach the city, you will always find Kolkatans waiting patiently outside a kochuri shop.