It's 7am on a Monday. All the other shops in Theatre Road have their shutters drawn, except one. A swarm of people are gathered outside the counter of Annaras, undoubtedly drawn in by the scent of tangy chaat. Bipin and Manoj Naygandhi, owners of Annaras, greet customers like family while their staff works at a staggering pace to prepare their orders. The customers seem to spill over to stools on the opposite footpath too, with the brothers occasionally checking in on them during the breakfast rush.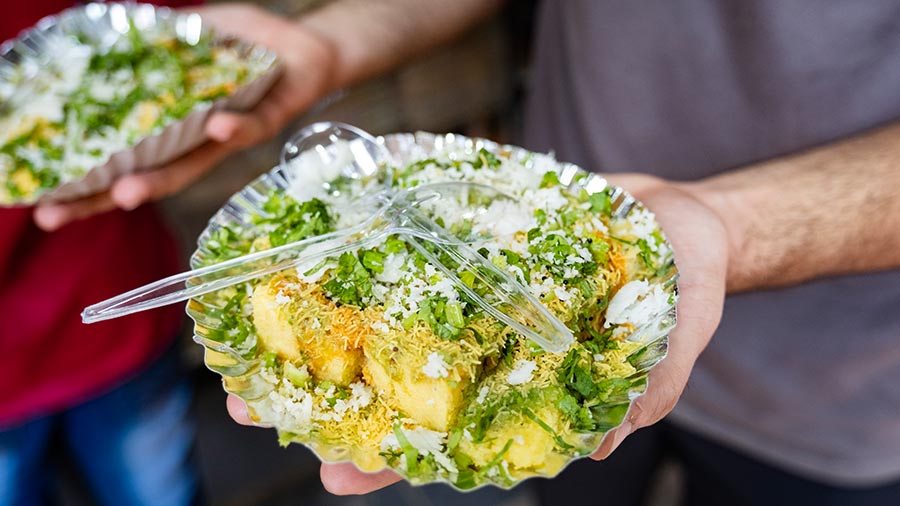 The best-selling dhokla chaat at Annaras
Ritagnik Bhattacharya
The Naygandhis are a family of foodies and they love feeding. "Even when my grandfather didn't have anything, he would make sure that no one could leave our home without being fed," says Bipin. His grandfather, who hailed from Kutch, started his first snack shop in Bhowanipore, over 60 years ago — a store called Rashpurna. 
After seeing its success, he founded Annapurna on Sarat Bose Road in 1977 — a shop which continues to be extremely popular. It became the stepping stone for Annaras, which he set up with the brothers and their uncle in 1989. "For us, the business was secondary. We were passionate about feeding, and we accomplished everything when people praised our food," smiles Bipin. 
The innovation that is characteristic of Annaras is rooted in the struggle of its early days. "We were in our early 20s, and could digest things easily. What could we do if there wasn't enough work and there was something smelling tasty right before us? But that was the best part about the work. Aaj bhi wohi anand hai," laughs Bipin. He confesses that working with his family helped him deal with the challenge of acquiring new customers. When his uncle moved to Gujarat, he and Manoj doubled down on the store.
The signature mix
He reminisces how, during the days when the shop didn't get a lot of customers, one of his staff members insisted on making something special for Bipin ("Babu ke liye kuch special banayega"). He mixed chutney, bhujiya, kachori, samosa on a huge plate, unaware that he was laying the foundation for the samosa and dhokla chaats that would become hot-sellers at Annaras. 
"I was amazed by the taste and thought of serving it in the shop. Even today, whenever something new is prepared at home, my brain instantly starts thinking of ways to bring it to the shop and my wife starts scolding me," reveals Bipin. Many such dishes from the menu, like khandvi, dhokla and thepla came from the Naygandhi kitchen. "Whenever I would have good food at home, I would think, main akela kyu khaaon, sabko khilane ki cheez hai!"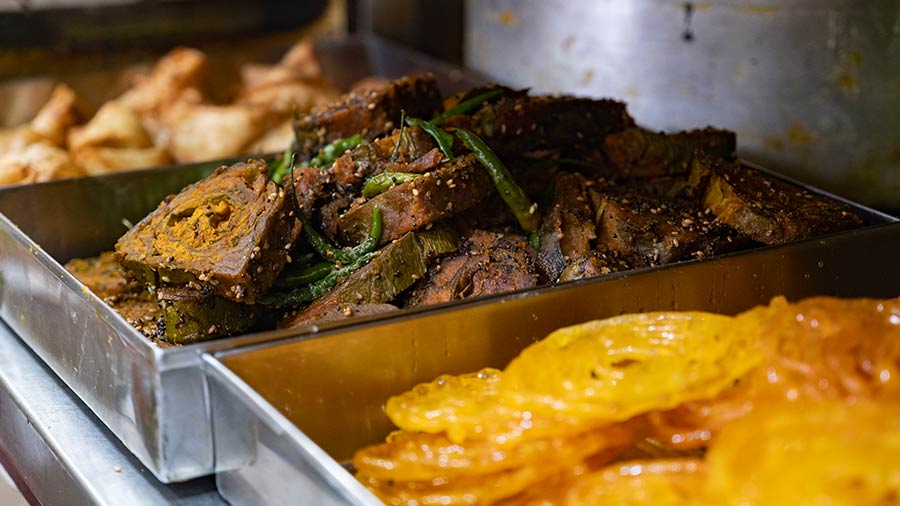 A stack of fresh sweets at Annaras
Ritagnik Bhattacharya
In 2002 Annaras started selling theplas — a staple snack that Gujaratis have as part of almost every meal. "At the time, 50-60 theplas were prepared at our home every day and sent to the shop. Now we sell 1,000 theplas every day, with 20kg atta being used for theplas alone," we are told.
Apart from being a popular choice for travellers, Bipin feels that the dish's success comes from how Annaras is possibly the only place in Kolkata that serves it hot, unlike most outlets which outsource it.
The real deal
The fatigue around outsourced snacks is what makes their food stand out. For instance, potato chips are among their most popular dishes, but it wasn't always so. "Earlier, we used to outsource the chips, but I always wanted to make it ourselves, in our own groundnut oil. I had heard that it required a lot of infrastructure, so we never got down to making it. Around 2011-12, we set up a workshop in Bhowanipore and finally took the plunge," Bipin tells us. 
"The aroma of our in-house chips, freshly prepared in groundnut oil was completely different from the outsourced chips, and it instantly became a hit. In fact, I never go to the workshop when the chips are being prepared. On the pretext of tasting, 100g easily goes into my tummy!" he laughs.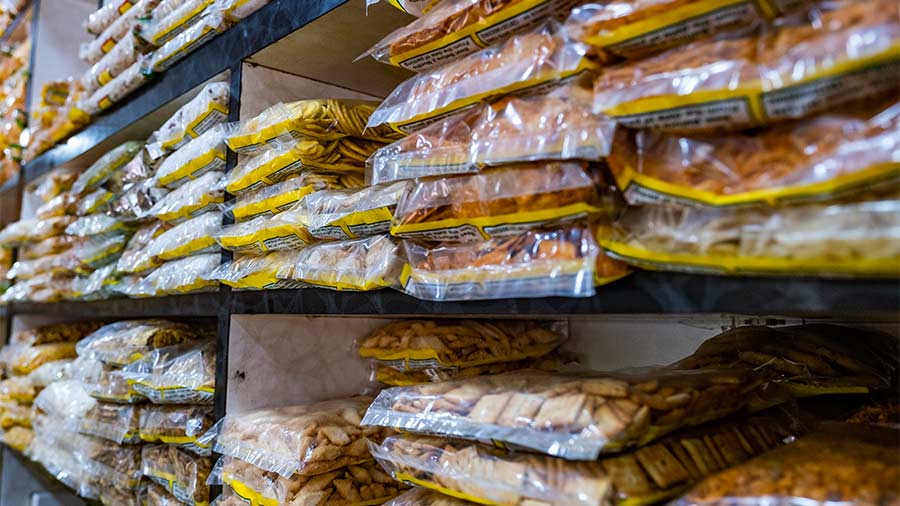 A look at the stock of snacks
Ritagnik Bhattacharya
Annaras has also been making offbeat snacks for many years. Five years ago, when the dabeli was prepared in the Naygandhi household, it soon made its way to the counter. The spicy dish originates from Kutch, and the Naygandhis preserve the authentic taste from the town of Mandvi by importing masalas from Kutch. Manoj exclaims that the dish is more popular among non-Gujaratis! 
"We also introduced a vada pav that doesn't adhere to the Bombay style but is more attuned to Kolkata. Our chutney is the secret to its success," smiles Manoj.  
The chaats at Annaras use three signature chutneys, which not only add taste but are easy to maintain. Over 100 litres of chutney are consumed at Annaras, every day. "We use a lot of chutney and bhujia in our chaats, and add a dressing of dhaniya and coconut. Not only is the mix of white and green visually appealing, but the scent of dhaniya elevates the flavour," says Bipin.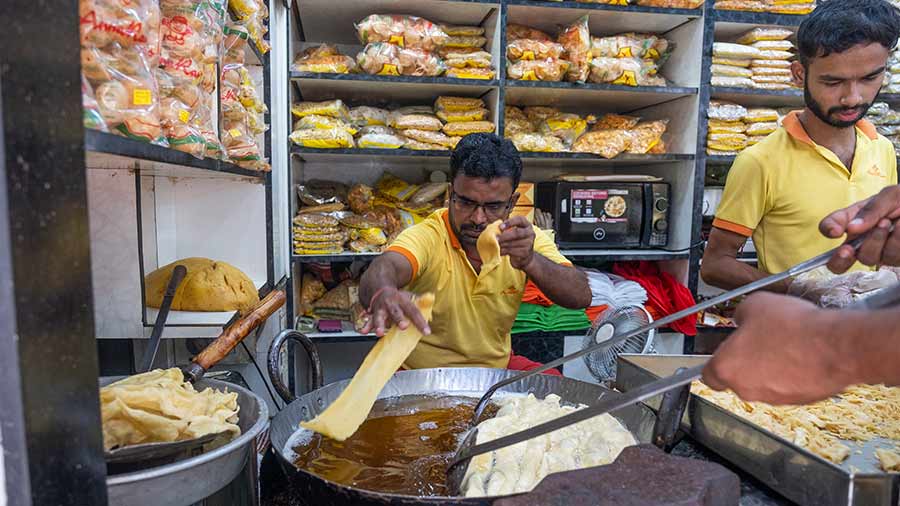 A staff member makes fafda
Ritagnik Bhattacharya
The owners point out that though consistency is their USP, crafting the perfect bite isn't rocket science. "People ask me how we make our fafda, but it is honestly no big deal. Whatever you cook, make it regularly. If you cook a dish for four days, you'll begin getting the right taste from the fifth." 
This explains why Annaras doesn't have a specialist preparing a particular dish. "Everyone has grown according to their strengths. They have been given the freedom to create and innovate using the best ingredients." 
In addition to consistency, Bipin adds that maintaining freshness is paramount. "Once the food is cooked, it should not be on the counter for over six hours. We finish it either by selling or feeding." Hence, the same items are prepared thrice every day at a fixed time. The 5am preparation lasts till 11, when another preparation arrives, irrespective of whether the previous stock has been sold. Similarly, the final stock comes at 4. 
"Our chutney is also prepared every 6-8 hours. If it is finished in the evening, we prepare it fresh again for just two hours, but don't reuse it in the morning." Similarly, there is an emphasis on hygiene, and the kadhai is cleaned every night to sparkle.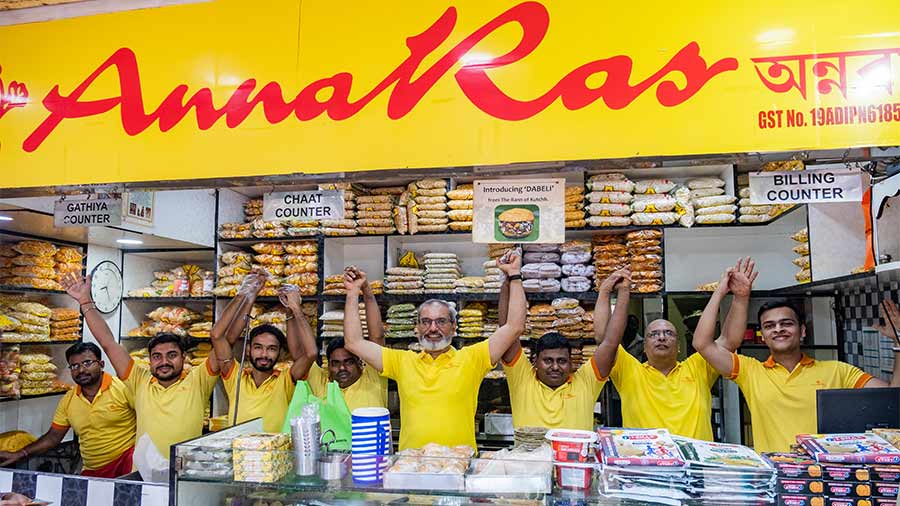 The staff members pose for a click
Ritagnik Bhattacharya
The attention to freshness and hygiene also helped Annaras retain its customers during the pandemic when the street food scene took a major hit. The brothers remark how people would drive down to Annaras from all over the city to stock up on Gujarati snacks like fafda, jalebi, dhokla and thepla. 
Fuelled by this success, they now have their sights on opening a restaurant with a proper thali system. "We don't know when, but we definitely want to do it. The catch is that we want our own people to drive its growth too. Annaras is like a home, and many of our employees have been with us for these 30 years," Bipin shares.
Bipin insists that despite its ongoing success, they do not prepare food to make a sale. "We make it for ourselves, and the customers happen to benefit from it. This is why people call Annaras 'hamari dukaan'. We don't use a single ingredient that won't be available in your kitchen. There is no colour or essence, just items used in day-to-day life. Jo khaana hai, wohi khilana hai. Aur jaisa khaana hai, waisa hi khilana hai," he ventures.