A traditional full English breakfast (also known as a 'fry-up' since most of its ingredients are fried), is an assortment of meat, eggs, vegetables and bread, alongside a cup of tea. Popularised by the British gentry in the 14th century, today variations of this breakfast (often served all day) is common fare at many cafes and restaurants, managing to co-exist rather harmoniously with the age-old kochuri-torkari combination.
While you might have a neighbourhood favourite for the latter, have you tried your local English breakfast? My Kolkata woke up early and followed the smell of coffee to some of these smaller and lesser-known morning hangouts.
Weekend Chinese breakfast (and a lot more!) at Calcutta Deli
Any conversation about the city's breakfast scene is incomplete without at least one mention of Tiretta Bazaar's infamous breakfast offerings. Now, the highlight of your weekend can be that Chinese breakfast, which you can avail of without having to trek all the way to the original haunt. Simply take your pick from the breakfast menu at Calcutta Deli. Apart from the classic momos (think chicken, pork and even prawn!), Calcutta Deli's range of choices include dishes like Singara Chow, Fish Ball Soup, Char Siu Pao and more.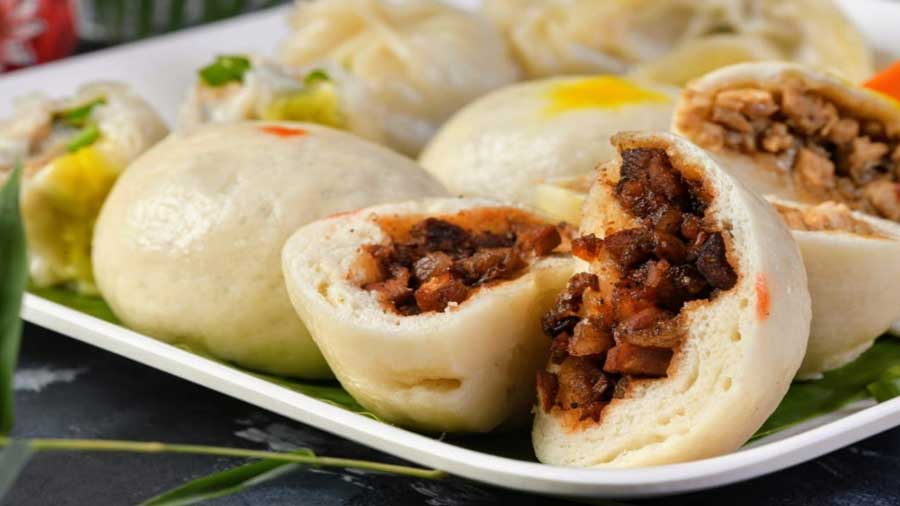 Char Siu Pork Steamed Bao
Besides Chinese, the place also offers a traditional English breakfast complete with your choice of eggs and a range of meat offerings. If you're not in the mood for a big spread, you can go for one of their classic sandwiches or try the 'Creamy Scrambled Duck Eggs with a bit o' smoked ham'. For those of you who like to start your day with a little bit of spice, go for the BB Shakshouka (baked beans and three poached eggs in a rich tomato sauce).
Located at: P-452B, Keyatala Rd, CIT Scheme 47, Hindustan Park, Keyatala
Opens for breakfast at: 7am
An eggy morning at the Calcutta Bakery Cafe
Have an egg-cellent start to your day at Calcutta Bakery Cafe, which boasts of Cloud Eggs, Fluffy Eggs and Egg Witch, besides the classic ham and cheese omelette. The other breakfast options range from the light and simple Chot Joldi Platter, becoming progressively elaborate right up to the extravagant spread that is the Dadagiri Platter. A fitting name for this truly decadent offering, which is also currently one of the biggest breakfast platters being served in the city, the Dadagiri platter comes with French toast, cheese toast, bacon, ham, sausages (chicken or pork), sunny-side-up eggs, baked beans, hash browns, grilled tomatoes, sautéed mushrooms and vanilla pancakes with maple syrup. No matter what kind of craving you have, the Dadagiri platter is sure to satisfy them all.
Located at: Ganguly Bagan, Jadavpur area
Opens for breakfast at: 9am
Wholesome veg breakfast at Cup eBong
If you've had a heavy dinner last night, and want to begin your day with something that is both healthy and delicious, then the English Veg Wholesome Breakfast might just be your best bet. The platter comes with a veg cheese sandwich, some baked beans and a splash of colourful sauteed vegetables on the side. Pair it with a cappuccino of your choice from their selection of coffees, or go classic with the Kesariya Milk Tea.
Meat lovers swear by the cafe's Darjeeling Pork/Chicken Platter and the Bacon Burst Platter. If you're a stickler for the English breakfast, the cafe also offers five variations of the same, including the veg one mentioned above. For those of you who are scouting for Sunday brunch options, we hear that the Pork Chops with mashed potato and veggies is an instant hit.
Located at: 98 Kalitala Road
Opens for breakfast at: 9am
French brunch at Basil & Parm
There is nothing quite like starting your mornings with crepes and croissants on a cruise down the Seine river, but since that sounds like a distant dream given the pandemic, you can have a slice of that French breakfast right in the comfort of your home. Simply order in some French Omelette, Eggs on Croissant and Noisette French Toast from Basil and Parm. With outlets in Ballygunge and Kalighat, this cafe also serves Blue Tokai Coffee Roasters, meaning you have to look no further for that perfect cup of coffee to go with your French breakfast.
Located at:
Kalighat : 35A, Janak Rd, Lake Market
Ballygunge : 29/7 Ballygunge Park Road
Opens at: Noon
All-day breakfast at Hugo & Finn
Eggs Benedict with Onion Jam. Fresh Berries with Frozen Banana Smoothie Bowl. Cinnamon and Ginger Granola. Sounds exciting? Then drop by Hugo & Finn, to dig into their all-day breakfast offerings, which include bagels, croissants, sandwiches and more. Their freshly-brewed range of coffee is a favourite with customers in search of the right amount of caffeine to charge up their day with. However, if you prefer something milder and sweeter, you can also take your pick from their range of fruit juices and smoothies. Head to this cozy, pet-friendly space, to treat yourself as well as your four-legged companion to a delicious meal.
Located at: 5B Little Russel Street
Opens for breakfast at: 7am
Sugar rush at Uncle Peter's Pancakes
If you're the kind of person who likes a classic American Pancake topped with a dollop of butter and maple syrup, then don't think twice before heading to Uncle Peter's Pancakes at Deshapriya Park. Stop by to dig into a wholesome serving of mini pancake cereals or to relish in the decadence of their best-selling Nutella and Ferrero Rocher Pancakes.
This place is a favourite among customers, not just for their classic pancakes and crepes but also for the waffles, sandwiches, cereal bowls and thick shakes.
Located at: 195A, Sarat Bose Road, ground floor, adjacent to Maharaj Tea Shop
Opens for breakfast at: 8am