"Eat-Pray-Love: My Kolkata photo dump!" wrote Anushka Sharma in a recent Instagram post as she wrapped up the Kolkata leg of shooting for Chakda 'Xpress, in which she plays the role of former Indian cricket captain Jhulan Goswami. The post saw a string of snaps documenting the time the Bollywood actress spent in the city — from a visit to Belur Math and Kalighat Temple to some iconic dishes from landmark Kolkata eateries.
My Kolkata followed the gastronomic journey going from Nakur in north Kolkata to Balwant Singh's dhaba in the south on a sultry Monday afternoon. Here's a slice of the fascinating 'foodventure'...
Malai Rolls @ Girish Chandra Dey and Nakur Chandra Nandy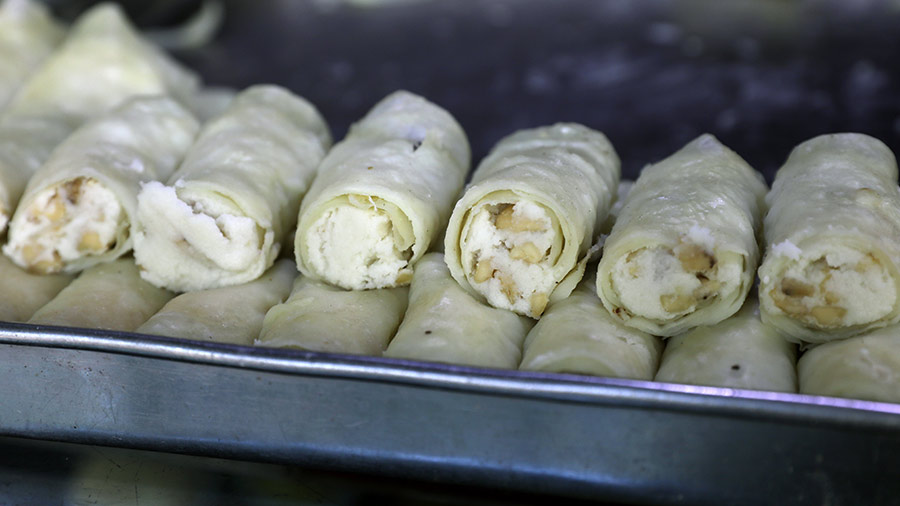 The malai rolls are one of the sweet shop's best-sellers
Arijit Sen
The first stop on our food trail was the 218-year-old sweet shop, Girish Chandra Dey and Nakur Chandra Nandy, located in Hedua, north Kolkata. According to Anushka's Instagram post, she wolfed down their Malai Rolls, which are little chhana rolls wrapped in a rich, creamy malai. "We didn't know that the order was for Anushka Sharma. In fact, with the rush of Kali Puja and Bhai Phonta, we don't even recall when the order was placed and what exactly went to Anushka ji's hotel but we're very proud that she ate our sweets," said a representative who sits at the cash counter of the well-known sweet shop.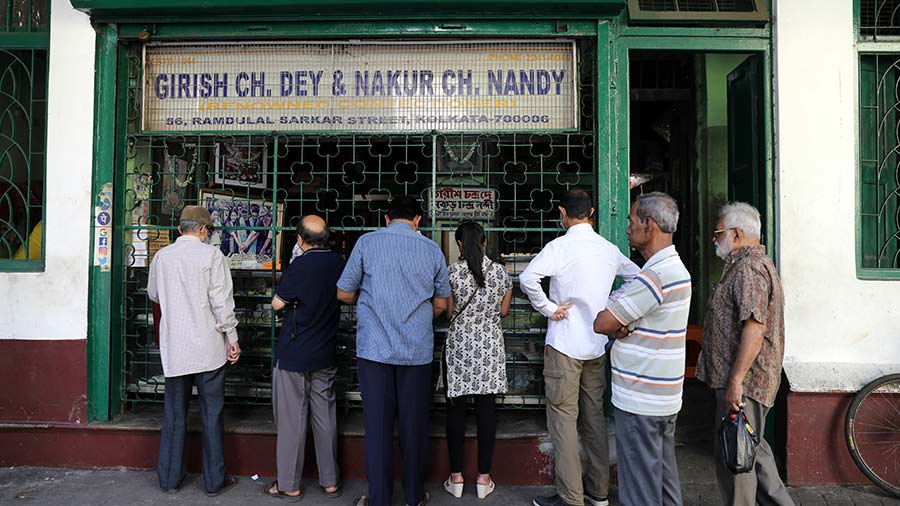 Famous for its sandesh, the shop is over 200 years old
The quaint outlet on Ramdulal Sarkar Street, now with the fourth generation at its helm, has the charms of north Kolkata intact with its green grills, exquisite etiquette and amusing adda circles. Popular mishti picks here are jolbhora sandesh, Mausumi sandesh and malai rolls.
Where: 56, Ramdulal Sarkar Street, Hedua (near Bethune College)
Kochuri and chholar dal @ Putiram Sweets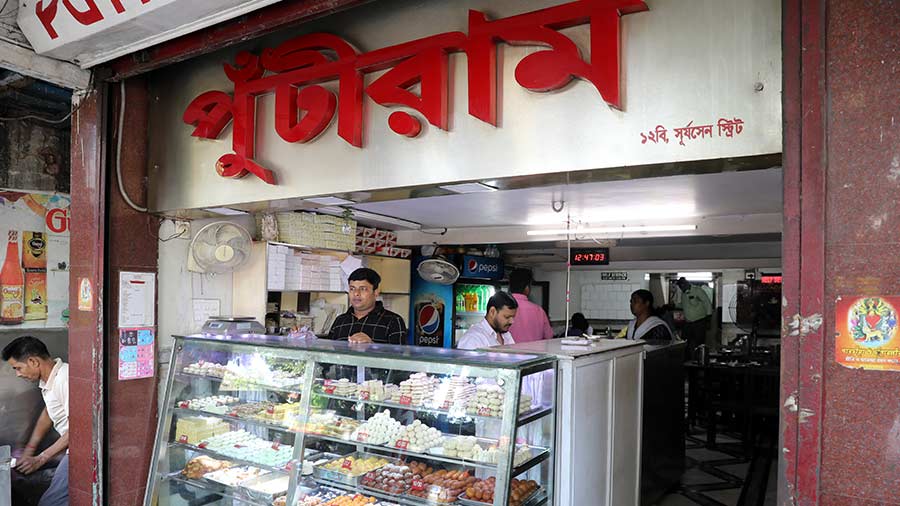 Putiram serves its kochuris with chholar dal
Arijit Sen
Next was Putiram Sweets, located in the bylanes behind Calcutta University, which rustles together a charming chholar dal to go along with their puffy kochuris. Here too, the owners were unaware that their dynamite duo was being served to the Chakda 'Xpress actress. "Over the last 24 hours, a lot of people have come up to us asking about Anushka visiting Putiram Sweets but she didn't and we didn't even know that our food was being served to her. We usually serve our kochuri and chholar dal in stainless steel plates and bowls but the picture on social media has our food served on Bone China crockery. We're very happy that she tried our food and enjoyed it," said a representative manning the counter at the sweet shop.
Where: 12A, Surya Sen Street, College Street, Kolkata
Daab Sharbat @ Paramount Cold Drinks and Syrups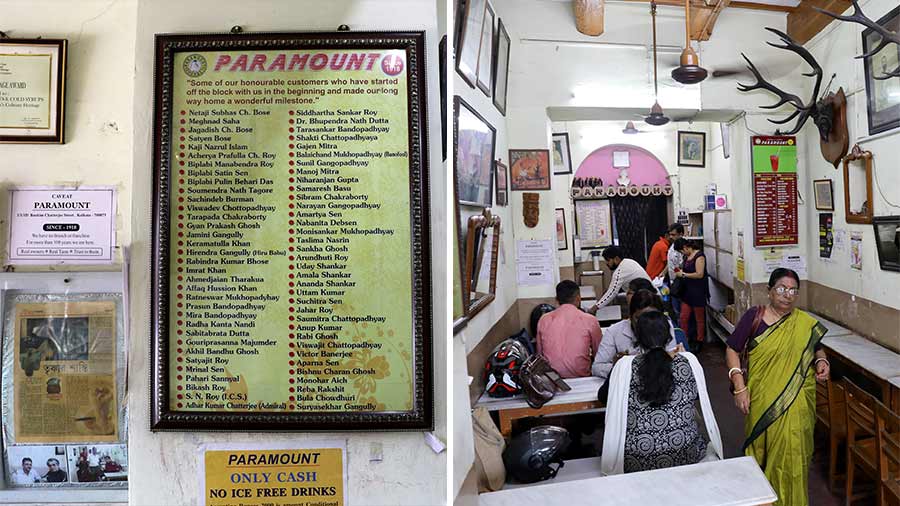 Paramount was the meeting hub for revolutionaries like M.N. Roy and Pulin Behari Das
Arijit Sen
College Square's Paramount Cold Drinks and Syrups was next. Currently run by Partha Pratim Mazumder, the third generation of Mazumders, the legendary shop functions in the most unassuming manner. "Someone from Anushka's team came to us asking for our daab sharbat but it was before 3pm and we didn't have it ready. We gave them Mango Mania, Kesar Lassi and Cold Coffee and they returned for the sherbet at 3pm," said Mazumder. He tells us that Anushka sent her team back to Paramount for a second round of drinks a few days later. "They returned for the daab sharbat that day, it was the day of Kali Puja if I recall correctly, and then again on Bhai Phonta for some more," beamed Mazumder.
Paramount's most famous drink, the 'daab sharbat' is said to have been devised by Acharya Prafulla Chandra Ray for his close friend, Nihar Ranjan Majumdar
TT Archives
Paramount Cold Drinks and Syrups was established in 1918 as 'Paradise' and was later changed to Paramount Cold Drinks and Syrups when the British Raj came to an end. Apart from the famous daab sharbat, the recipe of which is protected with the same strength as a state's secret, the juice joint has many other offerings including milk-based drinks, flavoured lassi and syrups. "Our most popular drinks are Cocoa Malai, Mango Mania, Grapes Crush, Cream Kesar Lassi and Tamarind Syrup," said Mazumder, elaborating that very little at Paramount has changed except the menu, which has expanded exponentially.
Paramount continues to pack in the same emotions it did when Netaji Subhash Chandra Bose and Satyajit Ray used to visit it, all those years ago.
Where: Bankim Chatterjee Street, near College Square
Firni @ New Aliah Hotel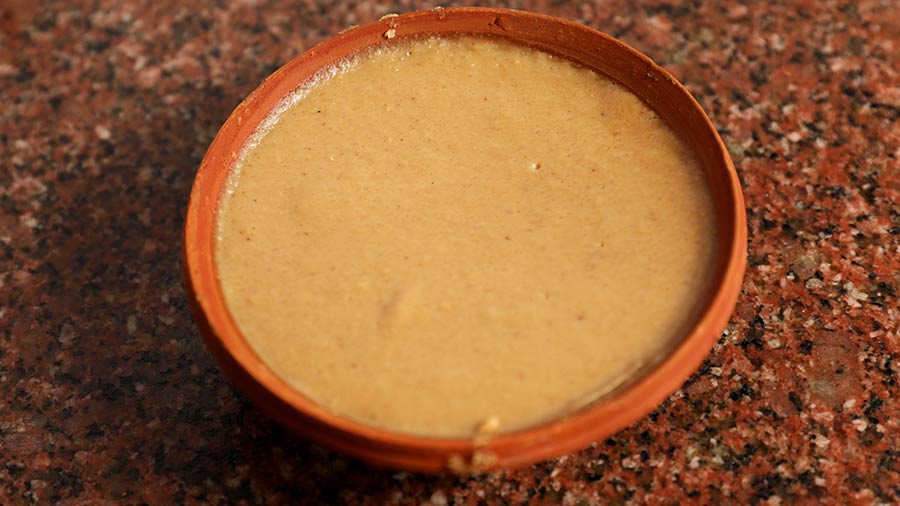 The firni at New Aliah takes seven hours to make
Next was New Aliah Restaurant in the bustling Bow Barracks neighbourhood of central Kolkata which catered to Anushka's dessert cravings with a pot of firni. Jamal Ahmed, the 93-year-old spirited director of the restaurant, narrated the story behind Aliah's fabulous firni for us, and everyone lunching at the restaurant.
"New Aliah Restaurant's firni began as a kheer in 1928," he said. In the 1930s, the restaurant wanted to offer an exotic dessert and thus, Aliah's famous firni was born. "We don't make our firni the way it's made traditionally. We use a mix of different ingredients and maintain the best quality. The base of the firni is made with skimmed milk, mawa and Basmati rice which lends it a rich flavour," said Jamal, further explaining that the firni at Aliah is made on a chakki and the process takes a total of seven hours, from 7 am to 2 pm every day.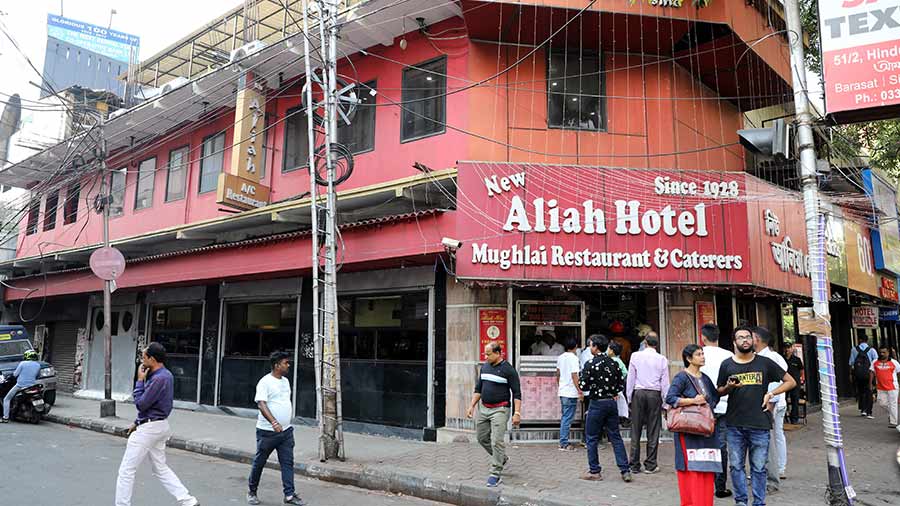 The restaurant came up with their firni recipe in the 1930s
Jamal too received no intimation of Anushka's purchase. "I'm very happy she ate our firni — it's definitely something she would have enjoyed. This is a huge milestone for Aliah," he smiled.
Where: 31 Bentinck Street, Mission Row Extension, Esplanade (near Paradise cinema hall)
Chai and Samosa @ Balwant Singh's Eating House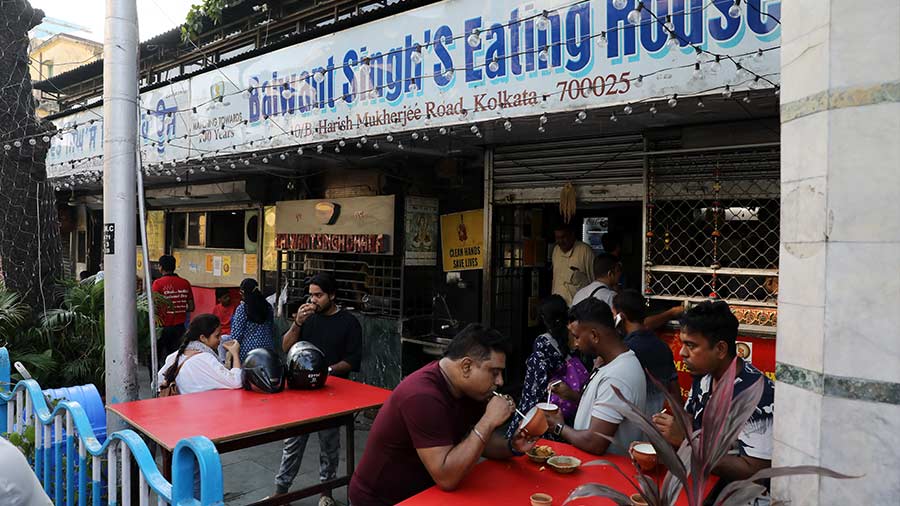 The famous chai-samosa stopover and drive-in on Harish Mukherjee Road in south Kolkata came next. "Anushka's team came and ordered our chai and samosas on the last day she was in Kolkata for a gathering she hosted at her hotel. Someone told them that Balwant Singh's Eating House makes the best samosas in the city!" said Lakbinder Singh, the third-generation owner of the 98-year-old dhaba. The eatery served 200 cups of chaa and 200 samosas at Anushka's hotel and their staff had the chance to interact with the Bollywood actress during the tea. "Anushka told them that the next time she is in Kolkata she hopes to visit Balwant Singh's Eating House and sip on a bhanr of chai in the traditional style," said Singh.
Where: 10/B, Harish Mukherjee Road, Bhowanipore (near Gurudwara Sant Kutiya)
Baked Rasgulla @ Mithai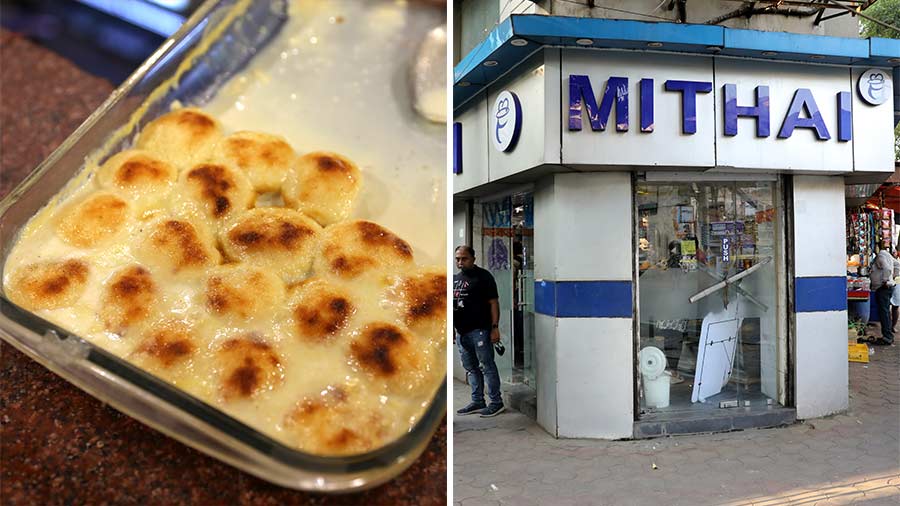 Our last stop was Mithai in Beck Bagan from where the actress ordered Kolkata's famous baked rosogolla. "A team member came and told us that Anushka wanted to taste a few of Kolkata's famous sweets," said the sweet shop's representative who coordinated with Anushka's team.
Mithai wrapped a pretty parcel of 25 sweets — a mix of their most popular picks. The assortment included the popular baked rosogolla, baked chomchom, gurer sandesh and rasmalai.
Where: 48B, Syed Amir Ali Avenue (near Quest Mall)