Walk past Arsalan in Park Circus and the sights, sounds and smell of the fragrant biryani at the seven-point crossing arouses all five senses.
Even your sixth sense will tell you to stop and order a plate.
What is it about biryani that makes it Kolkata's most loved food? My Kolkata visited the Mughlai mainstay to find out what makes it click as it celebrates two decades this year.
The 'degh' we dig
The story of Arsalan started simmering 20 years ago. In 2002, there were barely any Mughlai restaurants in Kolkata that had proper seating and polished interiors. Akhtar Parwez, the current owner of the Arsalan restaurant chain, saw a gap that could be filled and got down to the meat of the matter.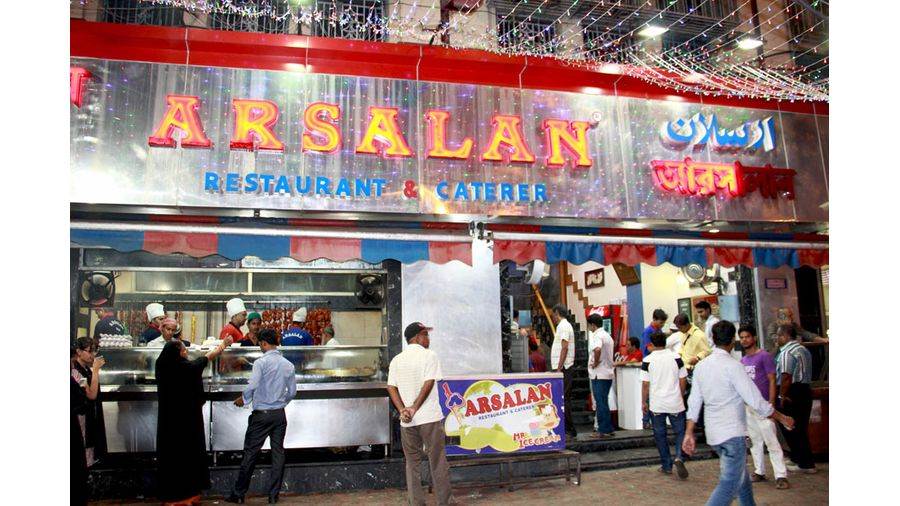 Arsalan's Park Circus outlet
Arsalan
"Parwez realised there wasn't any Mughlai restaurant in Kolkata that could cater to the same crowd that visited restaurants in five-star hotels. The Mughlai restaurants at the time had no uniformed staff, valet, or managers. So, he decided to build Arsalan," says the brand's spokesperson Za Khan, or 'Bhutto' as he is popularly known.
On opening day in 2002, a few deghs filled to the brim with a mix of rice, mutton and potato, were kept on dum for hours on end. They ran out in no time as the doors of the Park Circus restaurant opened for business.
Today, nine Arsalan outlets dot Kolkata while one stands tall in Dubai.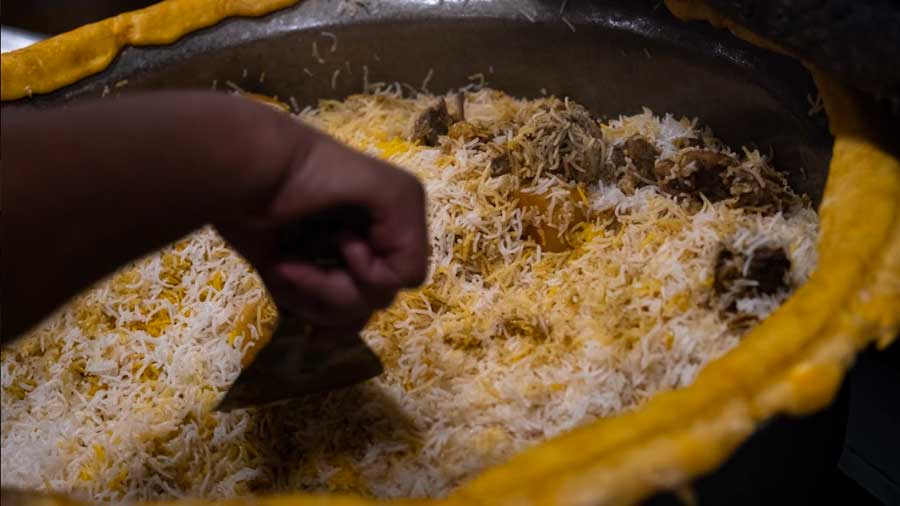 Ritagnik Bhattacharya
A peek into a degh of biryani reveals flakes of ombréd rice, wholesome dum aloo, chunks of mutton with meat falling off the bone and pearly white full-boiled eggs — all accentuated with the heady notes of saffron. One whiff and you know you're at Arsalan
Who makes the best biryani in Kolkata?
Arsalan is a top contender in every 'Who makes the best biryani in Kolkata?' debate. So, what makes their biryani so special?
A sharp focus on quality is the main ingredient in Arsalan's fare. Each ingredient — from the mutton and chicken chunks to the long-grained rice and each component of the garam masala — is procured from a pre-approved vendor and sent to the main kitchen (the Park Circus kitchen) where a designated team runs a quality-check, after which it is distributed to the other eight outlets in the city.
"Some people say our biryani tastes different from every outlet. The recipe and ingredients are the same for everyone who makes the dish, whether it's at home, in a restaurant or in our kitchen. What makes us stand out is our process. We try our best to maintain the quality and taste of the food in every outlet," says Bhutto.
In order to maintain parity, Arsalan rotates its head chefs between the nine outlets. So, every locality gets a taste of every chef's mastery.
Hot stuff — saffron, ghee and 'garam' masala
The flavours of a good biryani lie in the right usage of saffron, desi ghee and garam masala."Saffron adds colour to the biryani and gives the rice a beautiful flavour. Arsalan's biryani will make even those who don't want to eat anything in that moment, salivate. And that's all because of our saffron," smiles Bhutto.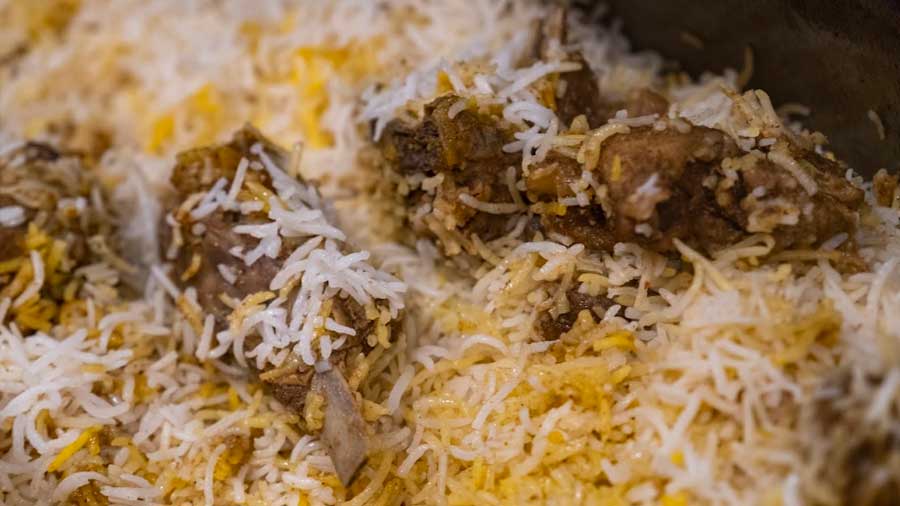 The flavours of a good biryani lie in the right usage of saffron, desi ghee and garam masala
Ritagnik Bhattacharya
The hero of the biryani? Garam masala. The garam masala at Arsalan is ground in-house after each element is checked for quality and taste. It's the king of the yakhni — a mix of garam masala, milk, desi ghee, mutton or chicken stock and saffron — which in turn is the king of the biryani.
The chefs at Arsalan fry the fists of chicken and mutton in pure ghee and oil before adding it to the yakhni.
Beyond biryani — the Arsalan Kebab and haleem
At the Arsalan outlet in Park Circus, one is met with a wall of kebabs. There is chicken, prawn, fish and mutton entwined on skewers in earthy orange and ocher hues, and some a fiery vermillion.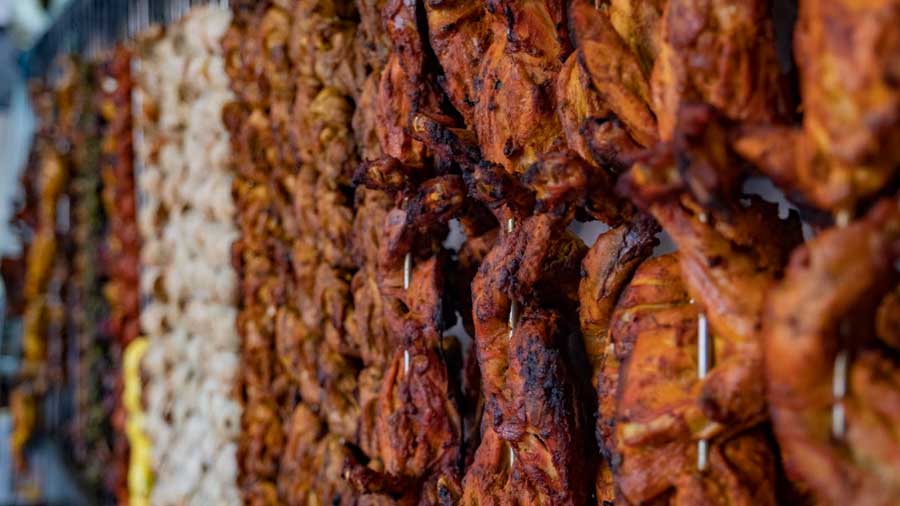 Arsalan's 'wall of kebabs'
Ritagnik Bhattacharya
"We're as famous for our kebabs as well as biryani. But our most loved kebab is the Arsalan Kebab," reveals Bhutto. The Arsalan Kebab is a preparation that pairs chicken, fish or mutton with cheese. It's essentially a kebab wrapped in a thick layer of cheese and garnished with chaat masala and lime. "A lot of restaurants are making this kebab now, but we were the first," he states.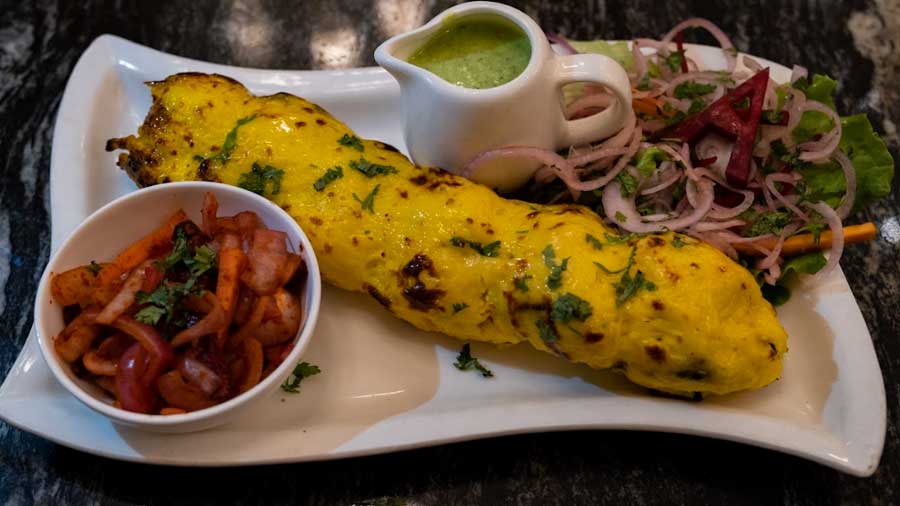 Arsalan Kebab
Ritagnik Bhattacharya
Best-sellers (and must-tries) on their menu are the Prawn Tandoor, Mutton Barra Kebab, Mutton Kakori Kebab and Mutton Chilli Lalli Roast.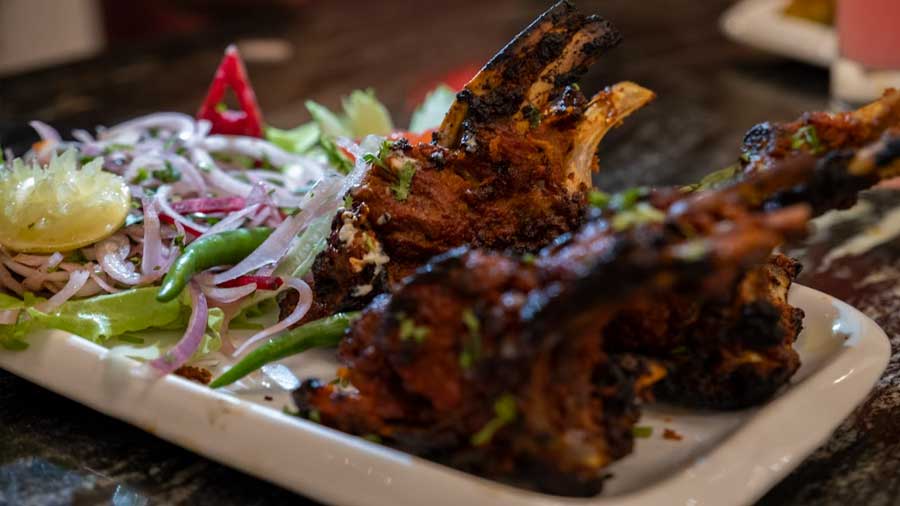 Mutton Barra Kebab
Ritagnik Bhattacharya
Come Ramzan, Arsalan rides the gravy train. Haleem, a combination of a number of dals, stock and meat (mutton) is one of the best-sellers. "Haleem is like a protein shake for us during Ramzan," laughs Bhutto, explaining that its high protein content is what makes it a specialty during the lunchless month.
The Haleem is packed in flavour and enjoyed by everyone — not only the Muslim community. "Last year we sold around 40 deghs of haleem every day during Ramzan," he reveals. The restaurateur advises sprinkling a generous dash of lime and coriander when eating the dish for that extra punch.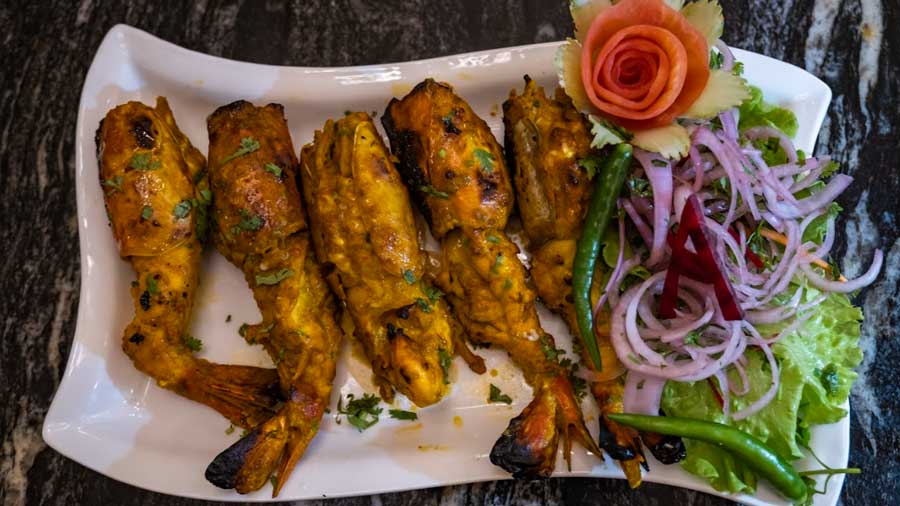 Prawn Tandoor, another best-seller at Arsalan
Ritagnik Bhattacharya
Sticking to the ribs
What next for the restaurant chain? "We have plans to open two new outlets this year. One in Sodepur, which will open in August and one near South City Mall, which will open right before Durga Puja, if all goes as planned," reveals Bhutto.
With a name that means lion in Arabic, Arsalan has roaring ambitions.
Meat of the matter
Year of establishment: 2002
Owned by: Mr and Mrs Akhtar Parwez, directors of Arsalan
Number of existing outlets: Nine in Kolkata and one in Dubai
Best-performing outlet: Park Circus
Best-selling biryani: Mutton Biryani
Best-selling kebab: Arsalan Kebab
Most Swiggy-ed order: Mutton Biryani
Eid best-seller: Haleem
Most frequent customer request: To substitute the egg with potato