Bhel, (or bhelpuri) in Kolkata, is a fitting snack for every mood. It's the indulgence we crave for on a cheat day, a comforting plate of sweet-and-spicy street food that brings back childhood memories and creates new ones. Bhel holds a firm spot in the hearts of many food lovers of the city.
Lake Kalibari's bhel is one of the most delicious, and famous, in Kolkata. It's a muri (puffed rice) mix that forgoes dry spices and instead draws its famed tok-jhal-misthi taste from two chutneys. One, made from dates, raisins and jaggery, is responsible for the bhel's sweet notes, while the other, a combination of green chillies, ginger and lime, adds spice and sourness. The muri used is no ordinary muri — it's sourced from a trusted manufacturer in Amtala, and is always fresh and crispy.
Two street stalls — Bepul Khirkiwala and Chandu Bhelwala — are at the centre of Lake Kalibari's bhelpuri craze. 
The purveyors: Khirkiwala's and Bhelwala's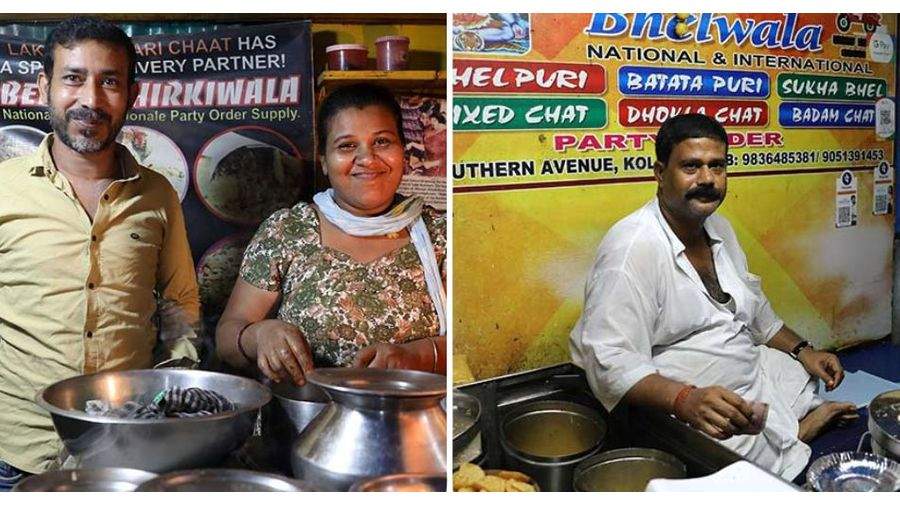 Bepul Dey's stall (right) is open from 4pm to 10pm, while Chandu Saha sits at his stall from 2pm to 10pm
Arijit Sen
Khirkiwala and Bhelwala have been functioning 40 metres apart from each other for 40-odd years.
Bepul Khirkiwala was set up 85 years ago by Raj Kishor Dey. It functioned out of the Southern Avenue address, serving bhel from a little window. Soon, patrons christened Dey's shop Khirkiwala. "It was a very small shop and had no real name. So, our customers ended up giving us the name — Khirkiwala — and the name stuck," says Bepul Dey, the third-generation heir. 
The Chandu Bhelwala stall came to life much later. Chitto Saha, Chandu's father, established the street stall in 1983 with two hero products — bhelpuri and papdi chaat. "My father focused on two things: good ingredients and good relations with his customers," says Chandu, the second-generation owner, currently spearheading the stall. This high regard for customers led to success and Chandu Bhelwala became a popular name, attracting customers from across the city.  "People fondly remember us as Bhelwala's," smiles Chandu.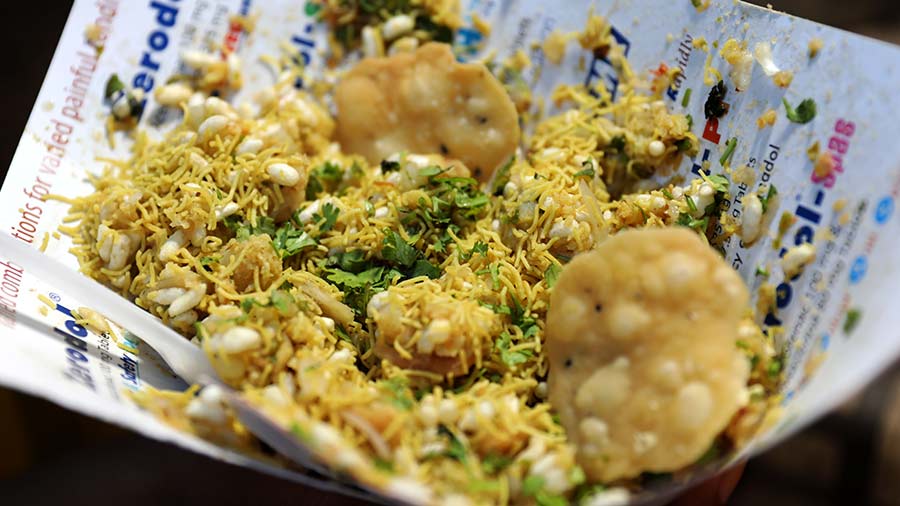 Lake Kalibari's bhel puri is one of the most cherished concoctions in the city
Arijit Sen
"When my grandfather set up this shop, we didn't have paper plates and spoons. We served our chaats in sal leaves and used papdis as spoons. We'd also use sticks made from coconut trees for our aloo dum," says Bepul.
The second generation of Khirkiwala's and Bhelwala's expanded the stalls' menus. Hari Chandra Dey entered the business in the early '80s and introduced dhokla chaat, aloo dum, phuchka, peanut chaat and khatta meetha churmur. Chandu introduced mixed chaat, dhokla chaat, sukha bhel and peanut chaat at the Bhelwala stall in the early '90s. Recently, Bepul added a crunchy Kurkure chaat, which has piqued the interest of the city's youngsters.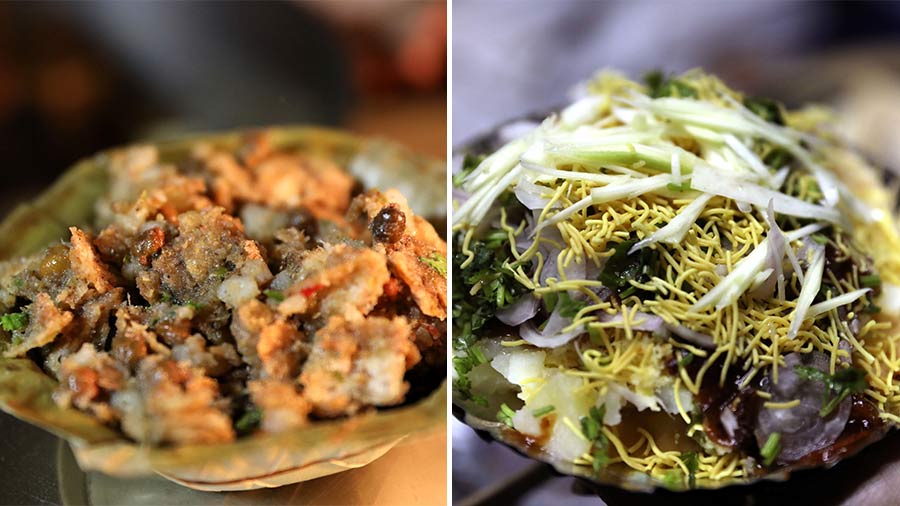 Khatta meetha churmur from Bepul Khirkiwala and batata puri from Chandu Bhelwala
Arijit Sen
The bonds of bhel
Over the years, the two entrepreneurs have formed real bonds with their customers.
Chandu tells us that his favourite thing to do is attend the weddings of the children he's had the pleasure of witnessing grow into adults. "Some of my customers, who have been eating here since my father's time, invite me for their weddings. They say 'Chandu ji chaliye, humara shaadi hai!'. Receiving that love is the best part about running this shop," he says.
Bepul says many of his customers come to gorge on a thonga of bhel and a plate of aloo dum as soon as they land in Kolkata. "Our aloo dum and bhel is sometimes the first thing people eat in Kolkata. They come straight from the airport! There's no hesitation or regard for the money spent on petrol or the extra time that is taken — it's heart-warming," he says with pride.
Bepul too gets invitations to his customers' weddings. The duo have travelled the length and breadth of the country — from Mumbai, Goa and Chennai to Rajasthan and Delhi. Chandu has attended a number of destination weddings also. "My customers have gotten married in Spain, Bangkok, USA, Signapore and Dubai. I attended all their weddings and got to see different cultures outside of India," he grins.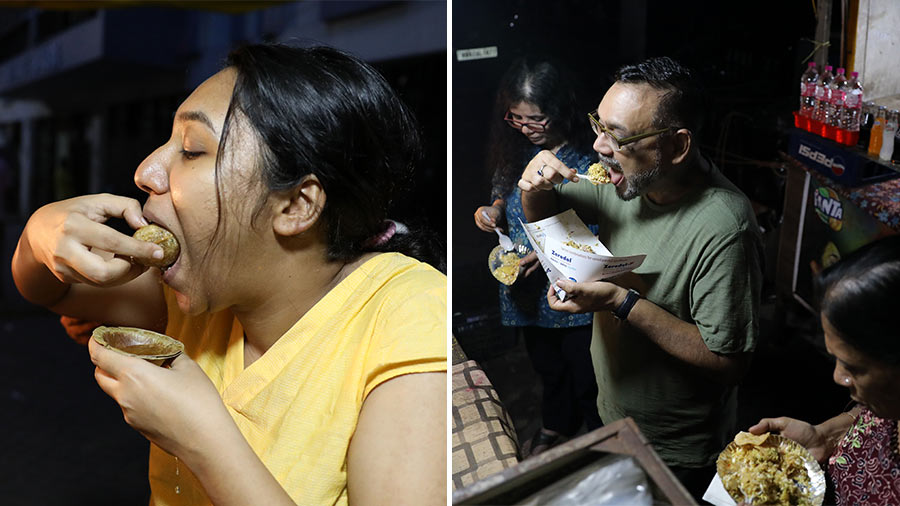 Over the years, the two entrepreneurs have formed wholesome bonds with their customers
Arijit Sen
A love for 'chatpata'
Kolkata's love affair with chatpata chaats is long and storied. The two sellers attribute this to the success of their fare. "Bombay and Delhi may be famous for their chaats, but Kolkata's chaats are a class apart. We make them with love and the relationships we share with our customers are only possible in a city like Kolkata," smiles Bepul. 
A drive past Lake Kalibari, on any given day, during sunset hours, reveals clusters of customers, spanning generations, gathered outside the little stalls. Some are dressed in pyjamas, some in office wear, some to the nines for a visit to the mandir, and some, in uniforms — all snacking on some good ol' bhel as one.