Every para, every gully in Kolkata has a mishtir dokan (sweet shop) and each one has its own speciality. The connoisseurs and old-timers in every neighbourhood would know when exactly to go to the shop to get fresh, piping hot rosogollas and when the kochuris and shingaras are fried every morning and evening. Not surprising that no guest can ever go away without mishtimukh. And if it is Vijaya Dashami, then there is likely to be a plateful of sweets on offer, after of course offering some sandesh to Durga as she bids farewell.
Dwarik Grandsons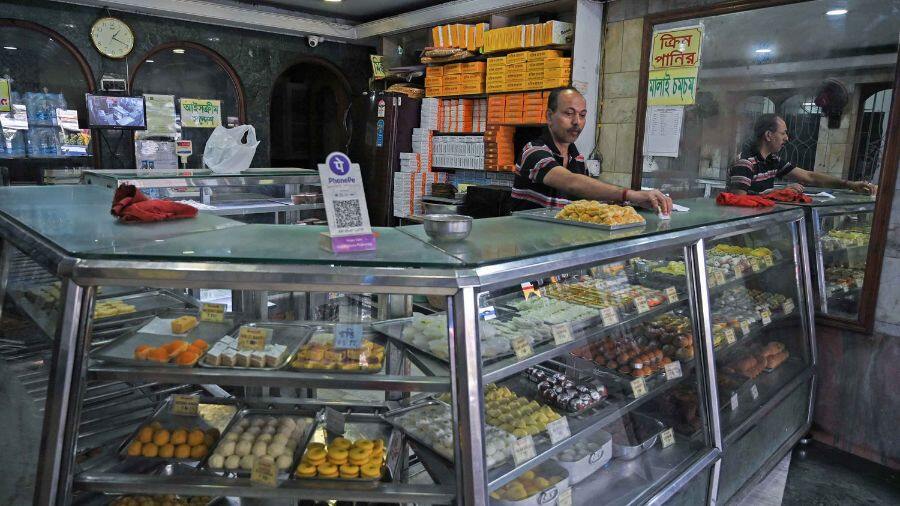 Amit Datta
Located in Shyambazar, Dwarik Grandsons has a long history in mishti- making since 1885. Our favourites at Dwarik are Steam Sandesh, Kheer Chop and, of course, dorbesh.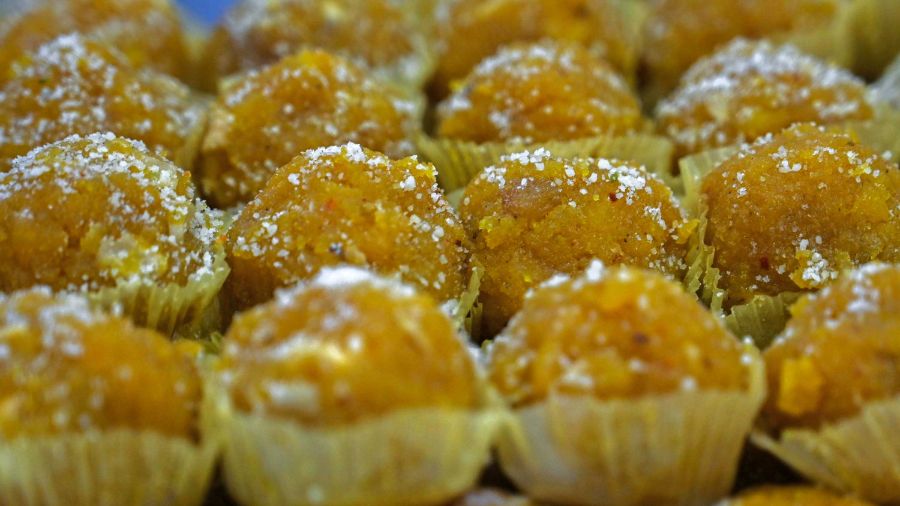 Dorbesh at Dwarik
Amit Datta
Steam Sandesh, priced at Rs 17 a piece, is made of chhana and has a very subtle taste. Kheer Chop is a stuffed and fried sweet priced at Rs 14 per piece while the dorbesh is priced at Rs 10.  The use of khoya kheer and essence of joyitri (mace) give the Dwarik Darbesh its characteristic flavour. The kismis (raisins) are a bonus
Haridas Modak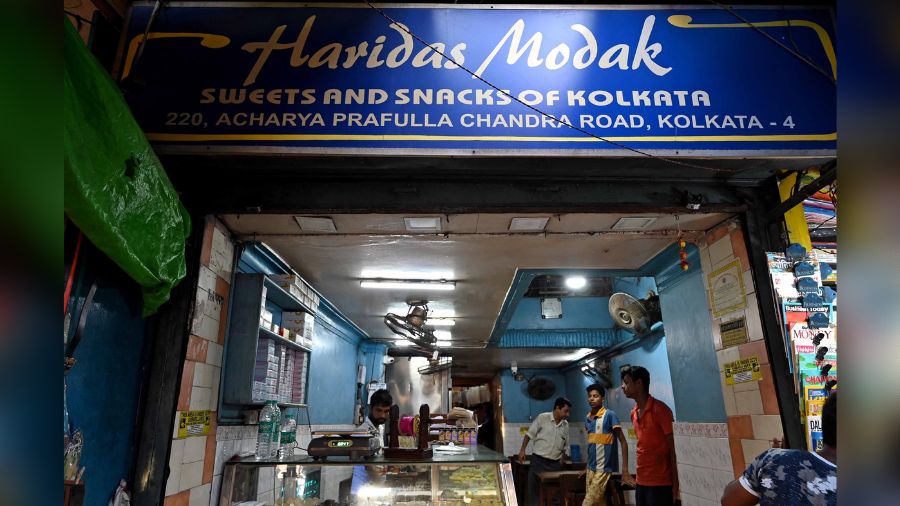 This shop has been satiating sweet taste buds for more than 200 years. Located right at the Shyambazar five-point crossing, on Acharya Prafulla Chandra Road, the traditional sweet shop still serves luchi and alur torkari on kolapata (banana leaves) every morning. Our picks here are Chhanar Toast — a sweet that resembles a thin slice of bread with malai generously spread on it. Priced at Rs 15 per piece, this sweet is bliss in every bite.
Nobin Chandra Das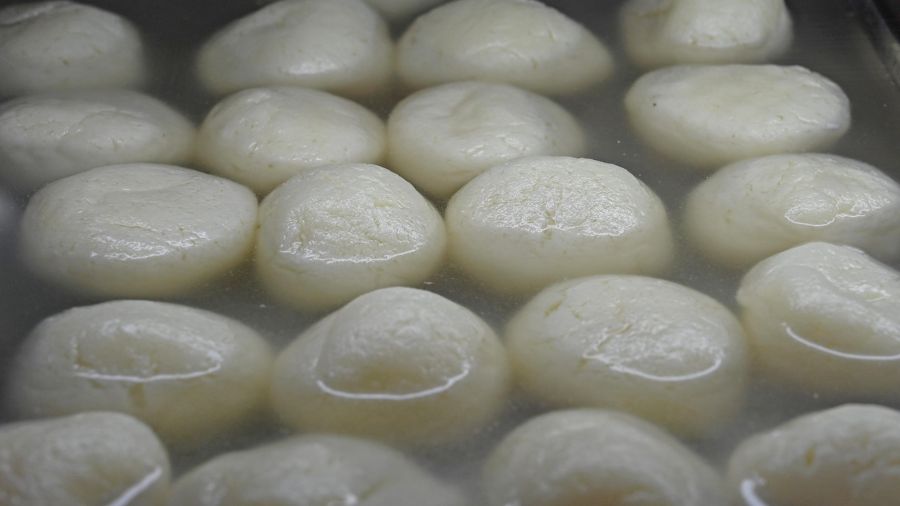 Rosogolla at Nabin Chandra Das
Amit Datta
There's a popular saying that goes 'rosogollar Columbus Bagbazar-er Nobin Das (Nobin Das of Bagbazar is the Columbus [inventor] of rosogolla)'. Rosogolla has since travelled from this shop in Sovabazar across the world. Rosogolla is available in different sizes priced at Rs 12 to Rs 32.
Chittarnjan Mistanna Bhandar
The 115-year-old sweet shop located at 34B Shyambazar Street, just opposite Shyambazar AV School, is famous for its soft, spongy, syrupy Rosogolla priced at Rs 20 and upward per piece. Another sweet star here is the Modhuporko — neither kheer nor doi — available in four flavours. It is priced at Rs 35 per cup.
Girish Chandra Dey and Nakur Chandra Nandy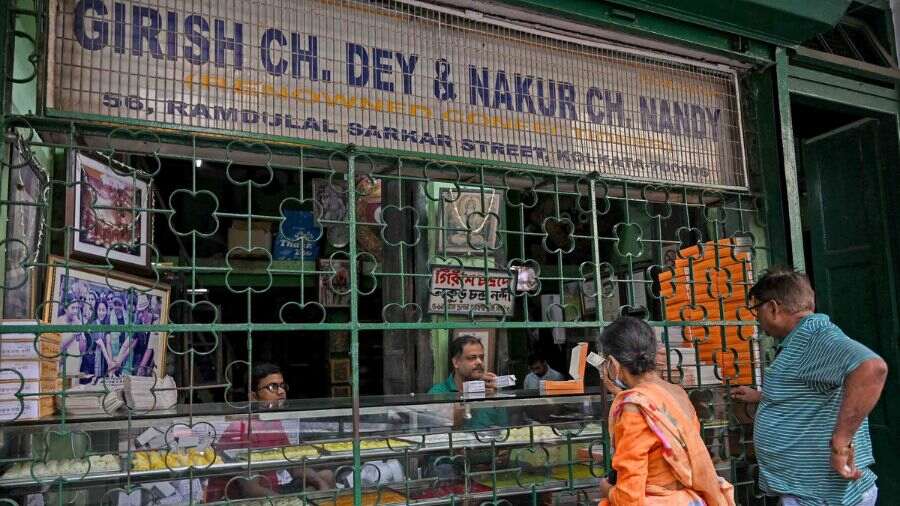 Amit Datta
Famous for its sandesh, this shop at 56 Ramdulal Sarkar Street Nakur makes its own chhana. Established in 1884, it remains one of the most sought-after sweet shops in Kolkata. Our favourites at Nakur are Chandrapuli and Mausumi Sandesh.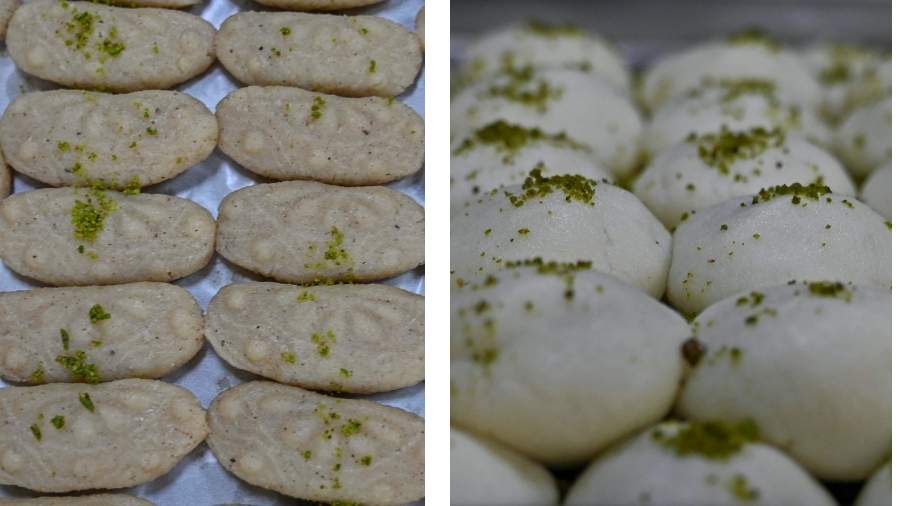 Chandrapuli and (right) Mausumi sandesh at Girish Chandra Dey and Nakur Chandra Nandy
Amit Datta
Chandrapuli, priced at Rs 30 per piece, is a sweet made from coconut and kheer. Each bite is magic in the mouth, no less. Mausumi, also priced at R. 30 per piece, is a more recent creation with a layer of chhana and a mixture of coconut, jaggery and nuts stuffed inside. It is an irresistible creation and you can't just eat one!
Balaram Mullick and Radharaman Mullick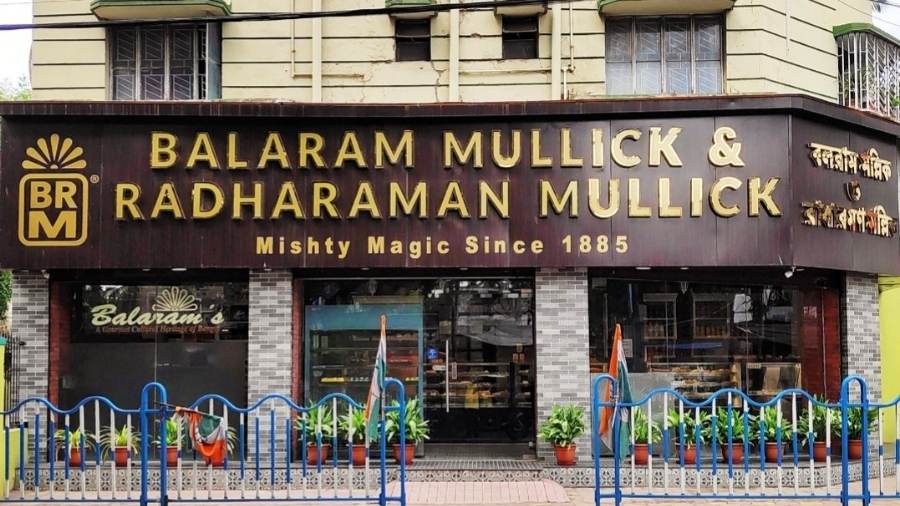 Soumyajit Dey
Ganesh Chandra Mullick came to Kolkata from Konnagar in 1880 and, after working in a few sweet shops, set up his own shop at Bhowanipore. Soon his sweets started gaining popularity for its freshness. The tradition was carried forward by his brother Balaram and his son Radharaman Mullick. The shop now has branches all over the sweet and is known for its fusion creations.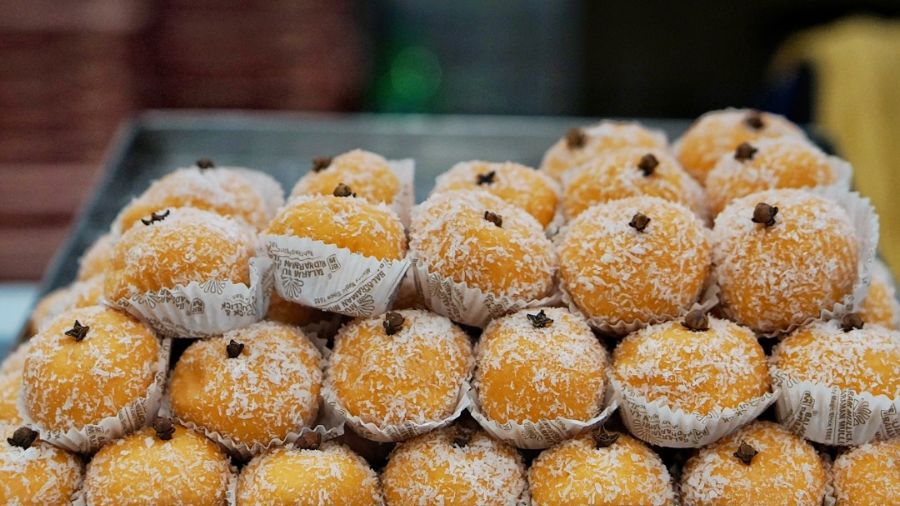 Orange peda at Balaram Mullick and Radharam Mullick
Soumyajit Dey
Baked Sandesh and Baked Rosogolla are among the most popular sweets at Balaram. But our picks are Strawberry Lava Sandesh, priced at Rs 20 per piece, and Orange Peda, priced at Rs 25. Both are traditional sweets with a modern twist.
Naba Krishna Guin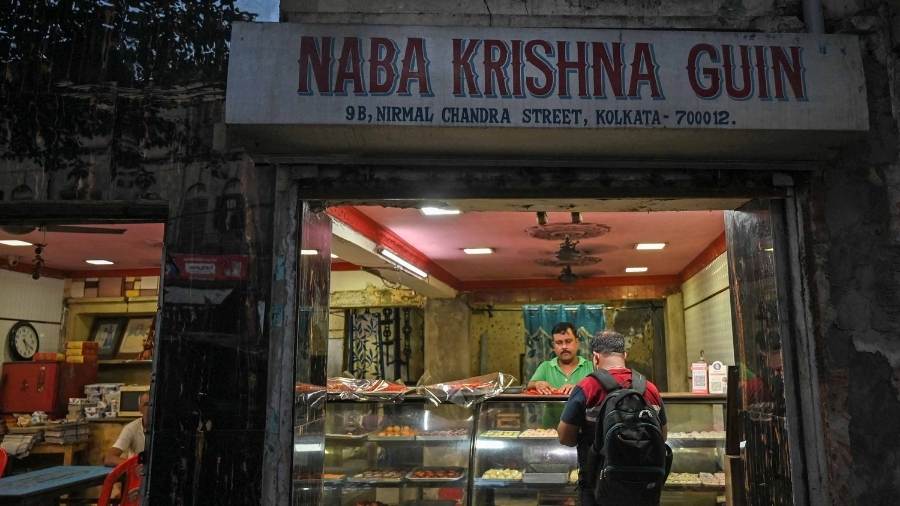 Amit Datta
Located on Nirmal Chandra street in Bowbazar, Naba Krishna Guin is famous for its traditional sweets, specially bhaja mishti (fried sweets). The shop is more than 200 years old.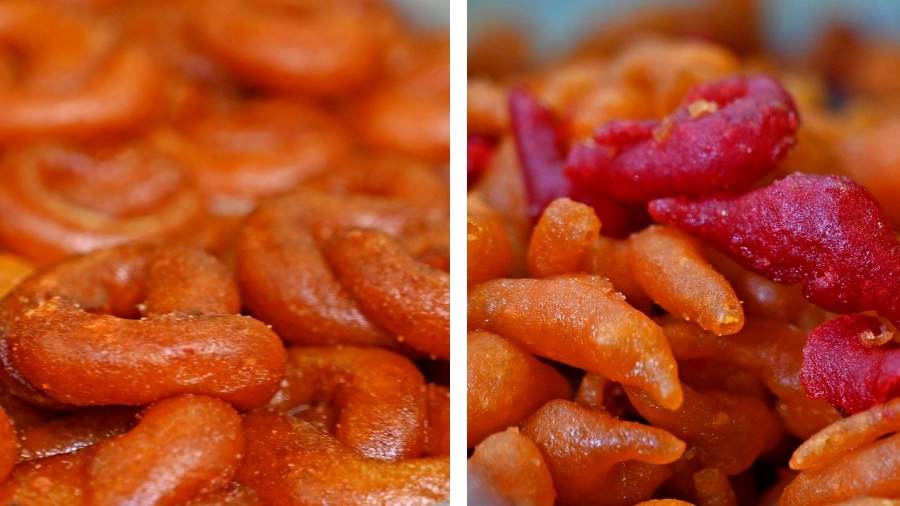 Chhana jilipi and (right) bonde at Naba Krishna Guin
Amit Datta
Here, we pick bonde and chhanar jilipi. The Bonde here is bigger in size than the usual ones. It's dry on top but filled with sugar syrup that fills up the mouth on every bite. The chhanar jilipi priced at Rs 10 per piece is perfectly soft, juicy and tasty.
Amrit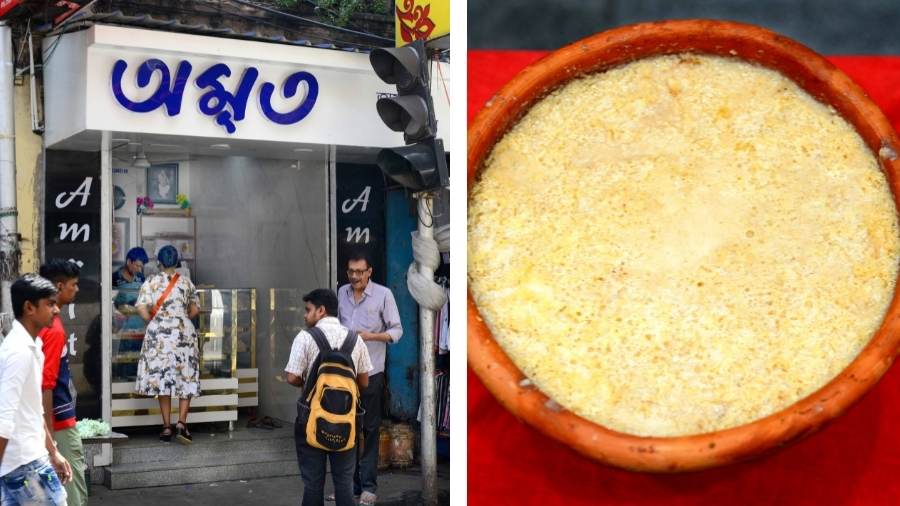 Ashim Paul
If you are a mishti doi lover, then this iconic shop that has been selling mishti doi since 1912 is a must-visit. Located at Fariapukur on Bidhan Sarani, this mishtir dokan is the paradise of mishti doi lovers. Priced at Rs 300 per kg, the mishti doi at Amrit is heavenly.
Putiram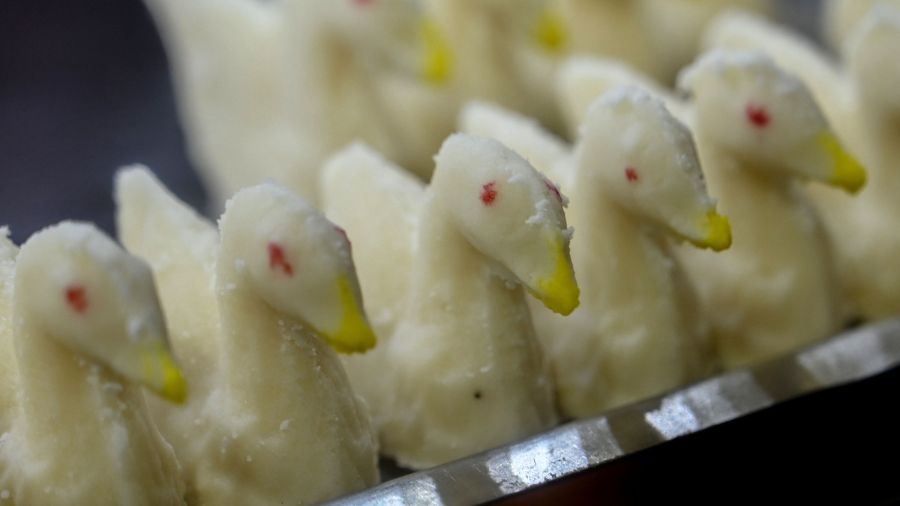 Amit Datta
This shop has been a must visit for visitors to College Street. The kochuri and shingara at Putiram are very popular and so is the juicy gurer rosogolla (available only in winter). Our favourites are Hansh Sandesh and Guli Goja. The Hansh Sandesh is a kora paak sandesh moulded in the shape of a swan (hansh). Once a common item at all shops, these sweets have become a rarity now. It is priced at Rs 10 per piece. Guli Goja is the smaller form of the regular goja. It is sold on Vijaya Dashami.
Mahua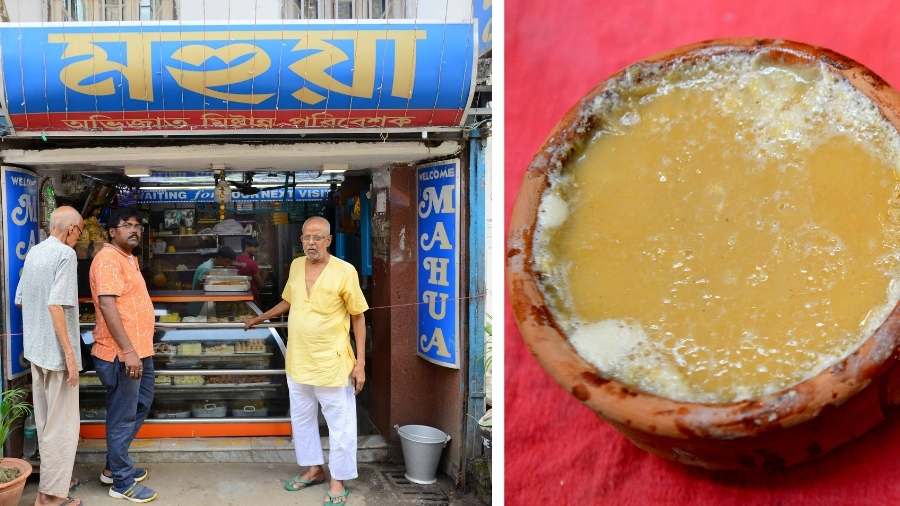 Ashim Paul
This small shop in the Sinthee area runs out of doi almost every day. Priced at Rs 260 per kg, the creamy doi just melts in your mouth. The shop is just 40 years old but has made a name for itself.
Sen Mahasay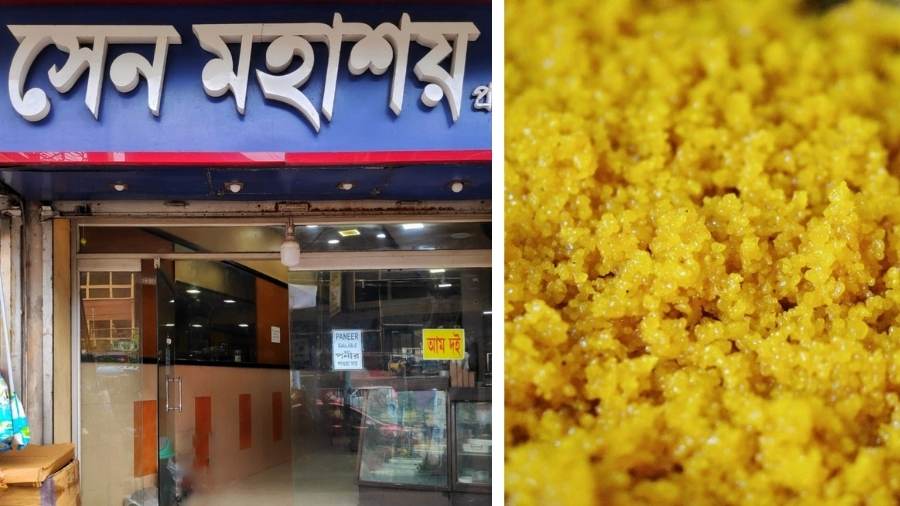 The shop and (right) mihidana at Sen Mahasay
Soumyajit Dey
Ashutosh Sen soon became popular for its sweet delicacies though Sen was not a sweet maker by profession. Over the years, the shop opened a few other branches. Our popular pick is mihidana. The subtle smell of ghee along with its sweetness is delectable. Priced at Rs 380 per kg.
Bhim Chandra Nag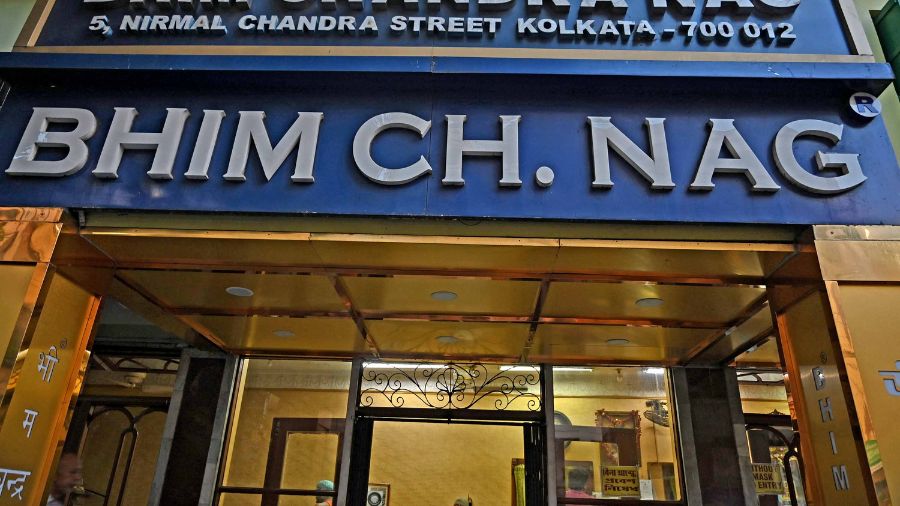 Amit Datta
One of the most renowned sweet shops of Kolkata, Bhim Chandra Nag is located at Bowbazar. Established 200 years ago, the shop is known for its sandesh, especially norom paaker sandesh. The shop is also the creator of Ledikeni.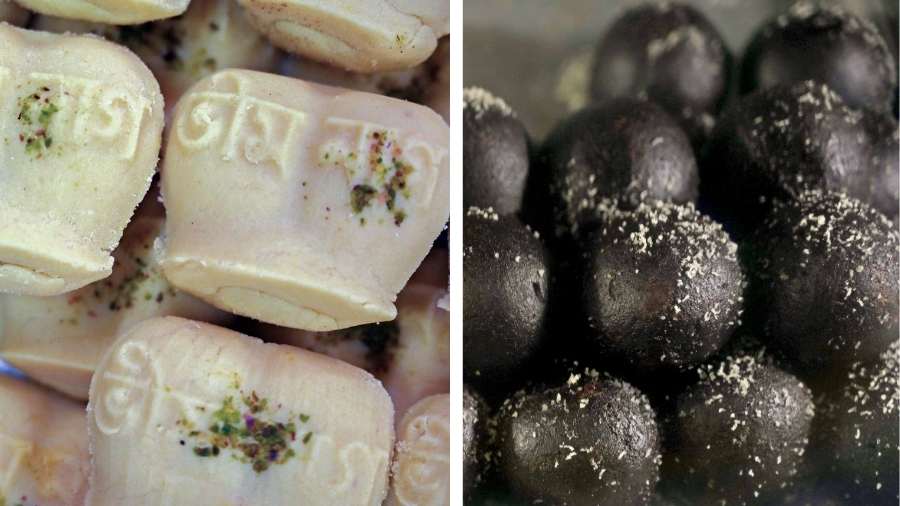 Kora pak sandesh and (right) kalojam at Bhim Nag
Amit Datta
Our favourites here are Ledikeni, kalojam, norom paak sandesh and kora paak talsash. The Ledikeni and kalojam are priced at Rs 20 per piece. Made of pure chhana, the norom paak sandesh is melt-in-the-mouth soft. The kora paak talsash tastes just as heavenly!