Manic Monday for patients in Jharkhand
Physicians shun OPD duty across health hubs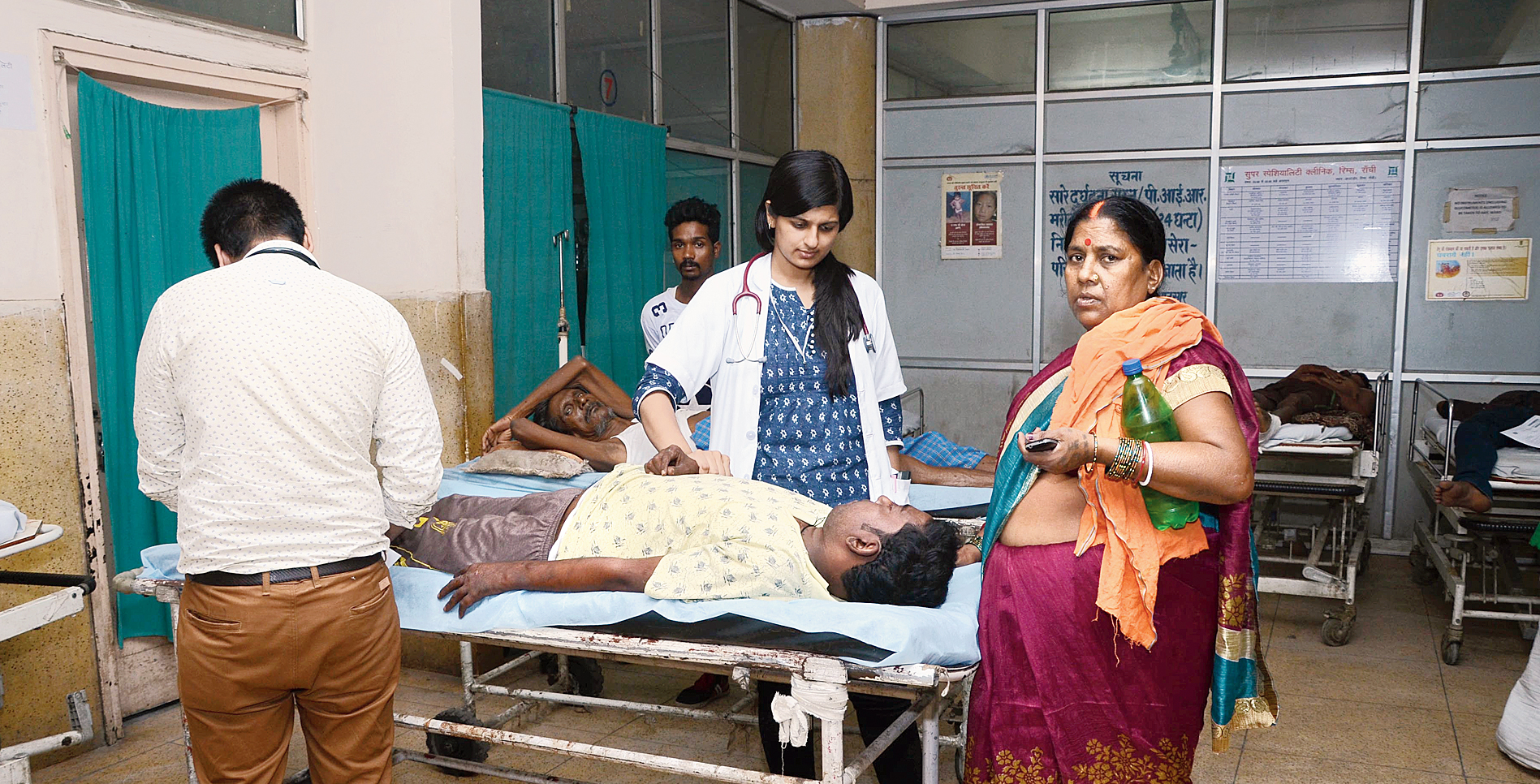 ---
|
Ranchi
|
Published 17.06.19, 11:19 PM
---
Patients coming to the capital from across the state and beyond were denied of medical care as out-patient departments of private and government hospitals remained suspended on Monday on the call of the Indian Medical Association to protest the assault on doctors at NRS Medical College and Hospital at Calcutta on June 10 night.
Patients and their relatives were seen sitting worried at OPDs across hospitals since the morning.
"I had to show my ultrasonography and blood reports but I was told the doctor will not see outdoor patients," said Naresh Vishwakarma at Nagarmal Modi Seva Sadan in Upper Bazar. "Now I am trying to somehow take an appointment from the doctor anywhere."
Mohammed Arif, who like Vishwakarma had come from Ramgarh district, around 47km away, had come for the treatment of his brother who is suffering from a kidney stone. "But when I reached here I saw a notice that the OPD will not function today," Arif said.
Shakuntala Devi, who had come from Kokar in the city for treatment, was sitting outside the OPD of Sadar Hospital with her one-year-old son.
"My husband has a limited income, so I depend on the Sadar Hospital for medical treatment. I reached here spending Rs 100 on conveyance only to see that doctors will not sit at the OPD. It was very frustrating for me," she said.
Similarly, Ladly Khan, who had come from Bariatu Basti, could not immunise her 20-day-old son, Yahya, against DPT at RIMS.
"Doctors are agitating for their security and I am worried for immunisation of my son against dreaded diseases like diphtheria, pertussis and tetanus. It is very difficult to decide which is more important," she said.
Balia Devi, who had come from Deoghar, said she was left with no option other than waiting for tomorrow.
"My home is about 300km from the city. I have pain in my chest. I had come here for treatment after doctors of Deoghar could not treat me properly. But when I reached here I was told doctors will sit tomorrow," Devi said outside the OPD of RIMS.
Rupa Devi was sitting at the RIMS OPD with her daughter, whose stomach was visibly swollen. But the mother was not panicking.
"Doctors had called me in the ward observing the urgency of the case. I hope my daughter will get treatment," Rupa said.
The situation was similar at the Bhagwan Mahavir Medica Superspeciality Hospital.
" I had called a friend's relative from Lohardaga, who is suffering from acute body pain. But there is no doctor at the OPD," said Rajesh Kumar, a resident of Harmu.
Indu Devi, who had come from Barachattia in Bihar's Gaya, rued that she would have to put up at a hotel for another night. Rakhe Devi, who had come from Giridih for treatment of an abdominal disorder, echoed Indu.
Daltonganj scuffle
There was a scuffle-like situation as nearly 300 patients gathered by noon at the Sadar Hospital in Daltonganj. Civil surgeon Dr John F. Kennedy said: 'Had me, Rajesh and Archana Tiwary not started examining patients there was a chance of patients or their attendants fighting each other just to get a prescription.'
Dr S. Pandey and Dr R.K. Ranjan also examined the patients.