Custodial 'torture' case: Police refuse to file FIR of tribal man
The case of Anil Singh has drawn the attention of chief minister Hemant Soren who had ordered state police to probe into the matter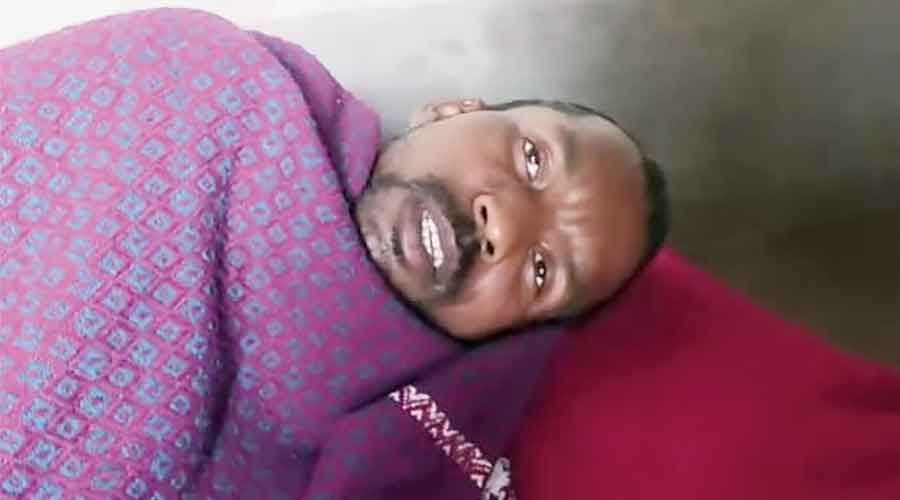 Anil Kumar Singh during his treatment at the Sadar Hospital in Latehar earlier this week.
Bhola Prasad
---
Jamshedpur
|
Published 04.03.22, 02:26 AM
|
---
Police have refused to file an FIR of a 42-year-old tribal man who had alleged custodial torture on suspicion of being Maoist supporter at a village in Latehar district of Jharkhand.
The case of Anil Singh has drawn the attention of chief minister Hemant Soren who had ordered state police to probe into the matter and take stern action on the officials involved in the alleged torture last month.
Singh, a native of Kuku village under Ganeshpur panchayat in Garu block of Latehar, had gone to Chipadohar police station on Wednesday to lodge the FIR against Garu station officials.
 "I had gone to Chipadohar thana with my complaint against Garu thana OC (Ranjit Kumar Yadav) who had beaten me with 300 to 400 lathis and also poured petrol down my anus on February 23 night.
"Next day the police forced me to give them my blood-soiled trouser and underwear and asked me not to complain about it.
"However, Chipadohar thana OC (Sujit Tiwary) refused to register my complaint asking me to go to the police station where the incident took place and also said that since SIT has been formed to probe into it, a separate FIR cannot be lodged," alleged Singh.
The allegation of the tribal youth is a violation of CrPC legal provisions.
 "Section 177, 178 and 179 of CrPC talks about jurisdiction in case of criminal trial and investigation.
"It makes it clear that the place where the offence has occurred or the place where it has occurred partly and partly in other such places; then every such place shall have the jurisdiction for the said offence.
"Then under Section 154 of CrPC a police officer is bound to register an FIR when a cognisable offence is brought to its notice," said Jharkhand High Court advocate Shailesh Poddar.
Rights activist Siraj Dutta said: "It is unfortunate that despite the CM's order for a probe on Monday no action has been taken against the guilty Garu thana OC (Ranjit Kumar Yadav). Now the police of other thana are not cooperating."
Singh had alleged that he was picked up by Garu thana officials on February 23 midnight and accused of supporting Maoists.
After being allegedly beaten and tortured he was let off the next morning (February 24) and told that he was picked up by mistake.
The medical report of Singh provided by Sadar Hospital in Latehar indicates injuries in both buttocks and deep abrasion on hip.
Latehar superintendent of police Anjani Anjan had on Monday informed The Telegraph that a probe team led by SDPO Mahuadand Rajesh Kujur has been asked to investigate the incident and submit a report at the earliest.
However, repeated attempts to contact the superintendent of police on his official phone on Thursday and even messages on his WhatsApp failed to elicit any response till the filing of this report.