Wrong Indian map: Shashi Tharoor tries to resurrect damage after facing flak
In his manifesto, Congress presidential candidate initially showed an erroneous map without parts of Jammu & Kashmir and Ladakh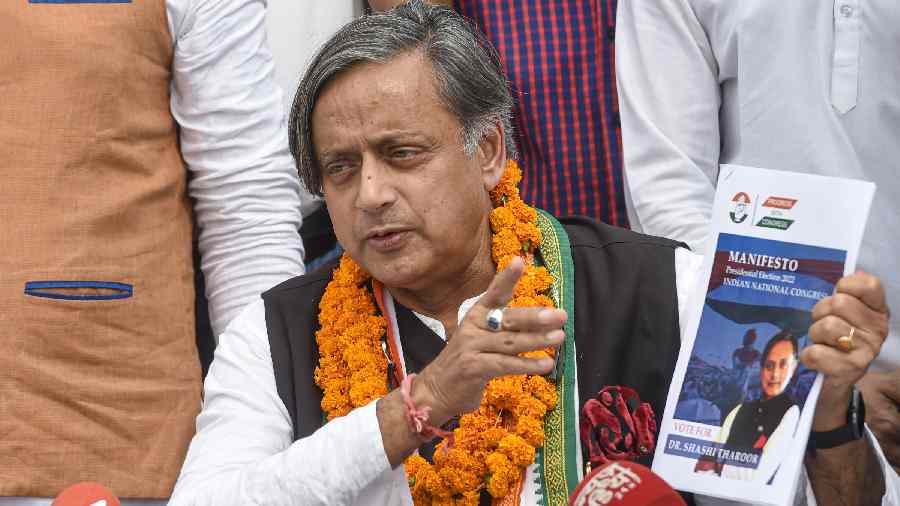 Shashi Tharoor addresses a press conference after filing his nomination papers for the post of party President in New Delhi on Friday
PTI Picture
---
Published 30.09.22, 06:53 PM
---
Congress presidential candidate Shashi Tharoor has reissued a corrected version of the country's map in his manifesto after his erroneous portrayal sparked a row, reports ndtv.com. 
The manifesto initially featured a map that excluded parts of Jammu and Kashmir and Ladakh. 
He reissued the map after facing backlash on social media especially from BJP followers. 
Tharoor's party however stayed away from the controversy and focussed on the 'Bharat Jodo Yatra'.
Some netizens called it "a massive goof-up" and "a shameful act". Some even went to the extent of accusing Tharoor of having "a divisive agenda".
Congress communications chief Jairam Ramesh alleged "the BJP is using any flimsy excuse as ammunition against party leader Rahul Gandhi's 'Unite India March'.
This was however not the first time when Tharoor, created a controversy over wrong portrayal of the Indian map.
In December 2019, he posted a publicity material about a Kerala Congress protest against Citizenship Amendment Act (CAA) which was afflicted with the same error. 
He however deleted the tweet after BJP's IT Cell and leaders like Sambit Patra slammed him.