Tejashwi claims JDU-Congress merger plea
At least two leaders of the Congress have denied Tejashwi's claim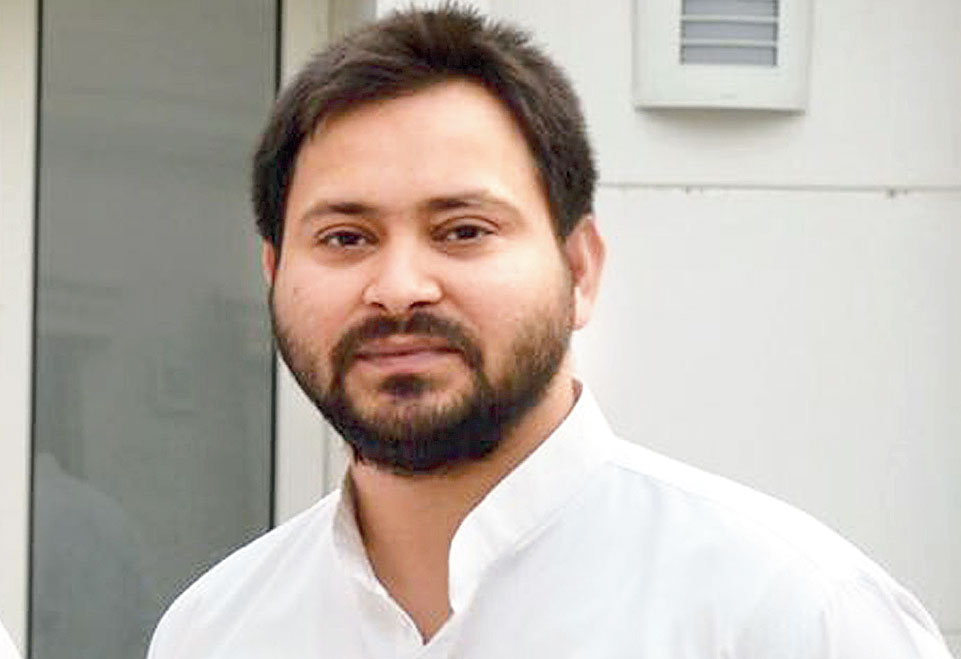 ---
|
Patna
|
Published 15.04.19, 01:55 AM
---
RJD leader Tejashwi Prasad claimed on Sunday that Nitish Kumar's JDU wanted to merge with the Congress after its purported plea for an amalgamation with the RJD was rejected.
"When we rejected (Bihar) chief minister Nitish Kumar's proposal of an RJD-JDU merger, made through (poll strategist and JDU leader) Prashant Kishor, the JDU wanted to merge with the Congress," Tejashwi told a vernacular news channel in Patna.
Tejashwi, the younger son of RJD chief Lalu Prasad, said his party was always with the Congress, "strongly and impartially" and that the Grand Old Party too rejected the JDU's proposal.
At least two leaders of the Congress denied Tejashwi's claim.
Lalu Prasad's wife Rabri Devi has claimed that Prashant had approached the RJD leadership with the offer of a merger and an arrangement under which Tejashwi would be made chief minister as quid pro quo for Nitish being projected as the prime ministerial candidate of a merged RJD and JDU.
Tejashwi claimed that Prashant had met a senior Congress leader. "The JDU wanted the Congress to talk to Laluji about the proposal of a merger," the RJD leader said.
"The Congress had wanted that the Grand Alliance remain intact and the JDU and the RJD work together with it. However, that could not happen as chief minister Nitish Kumar went against the public mandate to join hands with the BJP," Tejashwi said.
The RJD leader said all these purported developments took place within six months of Nitish's JDU quitting the Grand Alliance in July 2017 and joining the BJP-led NDA.
RJD national vice-president Shivanand Tiwari supported Tejashwi's claim and added that the purported proposal also included a merged RJD-JDU contesting all 54 Lok Sabha seats in Bihar and Jharkhand.
The Congress denied having received any such offer from the JDU.
Bihar Pradesh Congress Committee president Madan Mohan Jha said: "Something has been written in Laluji's book about a possible merger, but I cannot comment much about that. As far as a JDU proposal to the Congress for a merger is concerned, I have no such information."
Congress spokesperson and legislator Prem Chandra Mishra said: "I reject the statement of Tejashwi. The Congress leadership has no information about any such proposal."
JDU secretary-general K.C. Tyagi termed the merger claims "a lie, falsehood and fabrication that is beyond imagination".
"Why would the JDU, which carries a long socialist legacy and is the bearer of the ideals of Ram Manohar Lohia who was opposed to the Congress, want to merge with the Congress? It will be like murdering the party or signing the death sentence with our own hands."
JDU state president Bashishtha Narayan Singh accused the RJD of creating confusion during the Lok Sabha elections.