Tejashwi-as-CM carrot for merger: Rabri
Asked why Prashant Kishor would make such an offer, Rabri said that Nitish was not being able to run the government smoothly with the BJP keeping him under pressure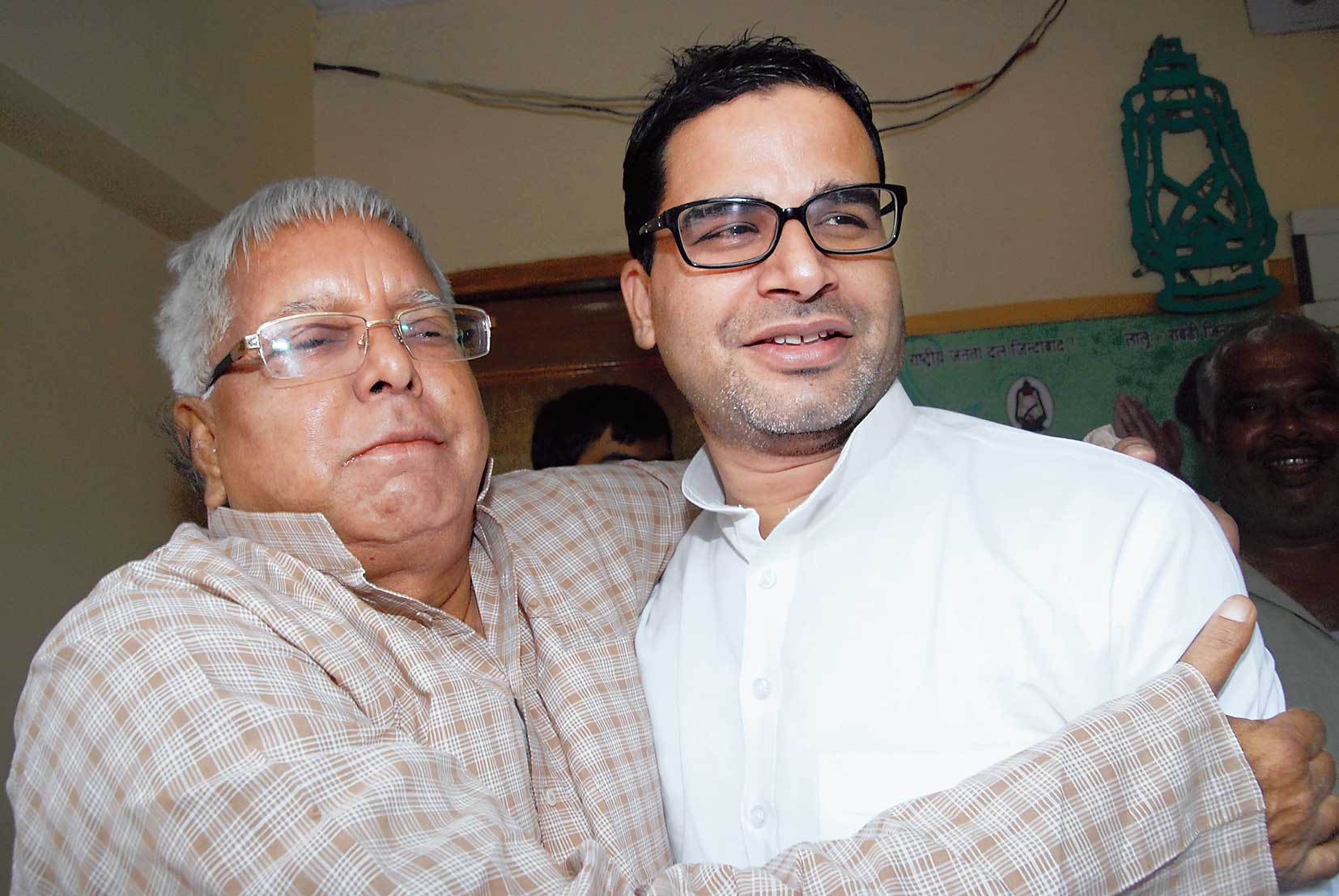 Lalu Prasad with Prashant Kishor
Telegraph file picture
---
Patna
|
Published 14.04.19, 02:08 AM
|
---
Rabri Devi on Saturday claimed that Janata Dal United vice-president Prashant Kishor had offered to make her son Tejashwi Prasad Yadav the Bihar chief minister as quid pro quo for a merger with the RJD and the projection of Nitish Kumar as the prime ministerial candidate of such a formation.
Rabri, the wife of RJD chief Lalu Prasad, made the claim on a day Kishor challenged Lalu to talks in front of the media over her earlier claim that Kishor had suggested a merger.
"Prashant came begging for help and had a business proposal. He said Tejashwi would be made chief minister in 2020 if the JDU and the RJD merged and Nitish was declared its prime ministerial candidate," Rabri told journalists on Saturday.
Asked why Kishor would make such an offer, Rabri said that Nitish, who's also the JDU president, was not being able to run the government smoothly with the BJP keeping him under pressure.
"Nitish is constantly under pressure from the BJP and has no value in the NDA government. So he sent Prashant Kishor to meet us with the offer," Rabri added.
She said she had rejected the offer. "I had no trust left in Nitish after he ditched the Grand Alliance of the RJD, JDU and the Congress and switched sides. I asked Prashant to tell him that there was no need to switch sides again."
Accepting Kishor's challenge to Lalu, Rabri said neither she nor her husband was afraid of anything or anybody.
"I dare Prashant Kishor to take permission from the court or the jail IG in Ranchi and sit with Lalu for a debate. We are not afraid of anybody, be it Prime Minister Narendra Modi or Nitish Kumar. Everybody knows that these people have conspired to implicate Lalu and send him to jail so that the voice of the poor could be crushed," Rabri added.
Earlier in the day, Kishor had tweeted and challenged the RJD chief to a debate.
"Lalu Prasadji should come and sit with me before the media whenever he wants. Everybody will know the things discussed between us and who offered what and to whom," he said.
The entire controversy has erupted in the backdrop of Lalu's recently published autobiography in which he has claimed that Kishor met as an emissary of Nitish, who wanted to rejoin the Grand Alliance. After the controversy erupted, Kishor admitted that he met Lalu several times before joining the JDU in September last year, but rejected Lalu's claims as "bogus" and asserted that the RJD leader would be quite embarrassed if he were to reveal what all transpired in the talks.
Tejashwi too challenged Nitish on Saturday to come clean on the issues.
"Why is Nitish Kumar silent? He should clarify why he had sent Prashant to meet my father. Every single word claimed by Laluji in his autobiography is true," Tejashwi said.
RJD spokesperson and Rajya Sabha member Manoj Jha asserted that whatever Kishor was saying were words put in his mouth by somebody else (read Nitish). Hitting out at Kishor for throwing a challenge to Lalu, Jha said: "He does poll management. At least he should not commit the mistake of sitting beside Lalu — a person who changed the grammar of politics. Lalu is not a creation of any brand making politics. Nitish is a symbol of opportunism."
JDU secretary-general K.C. Tyagi termed the entire controversy an attempt by Lalu to influence the polls and drive a wedge between the JDU and BJP. "Lalu has come up with his book to divert the elections. Rabri is also repeating the same things. All these are attempts to create differences between the JDU and BJP. Being a senior leader of the party, I am putting it on record that there was never any discussion to rejoin the Grand Alliance," Tyagi said.