Parivar plays with Kerala fire as it tries to enforce a shutdown
In Kashmir, we shoot them. In Kerala, we call them devotees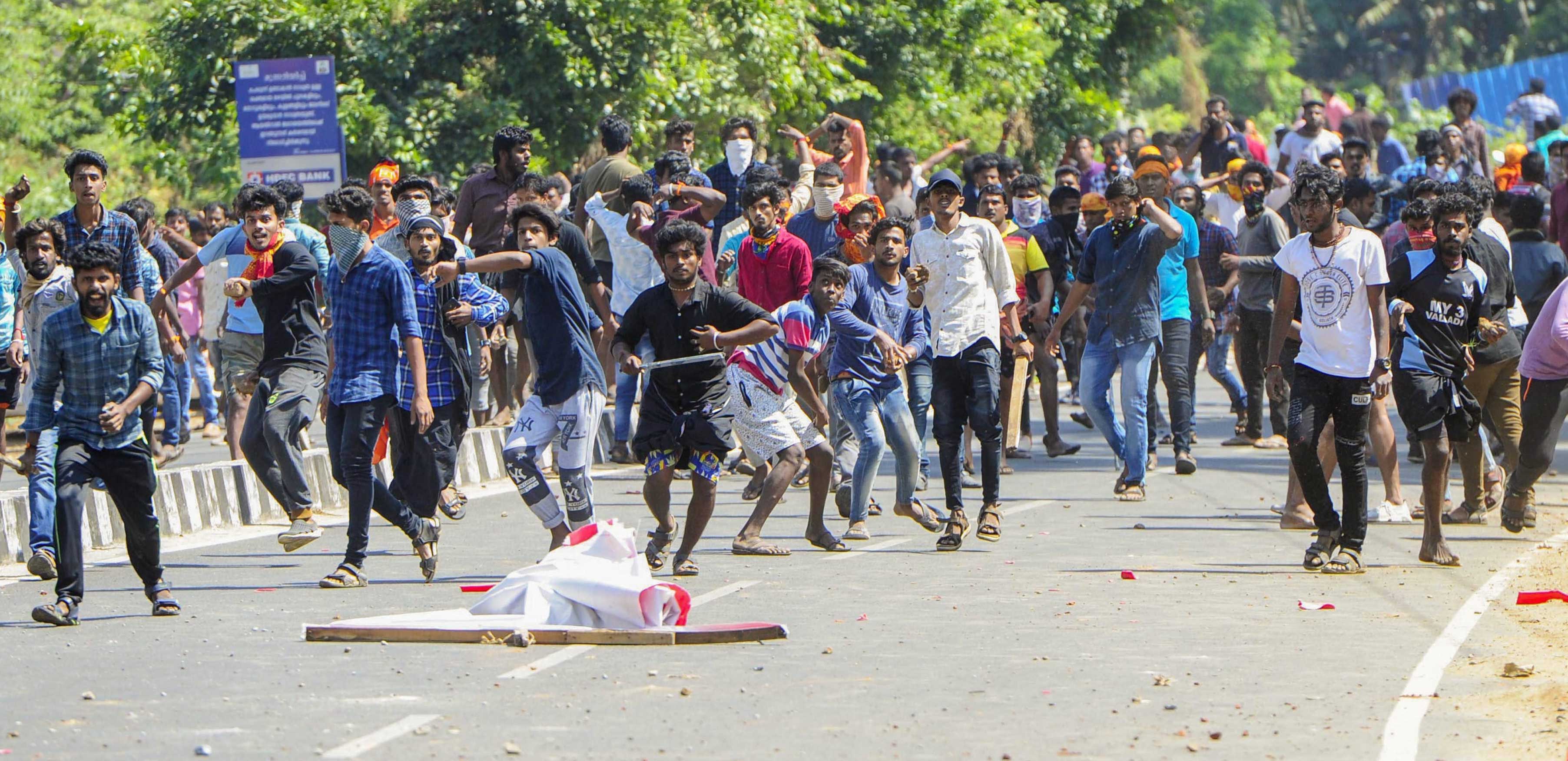 ---
Bangalore
|
Published 03.01.19, 10:20 PM
|
---
Raw hooliganism aimed at subverting the law and blackmailing the judicial process erupted in several places in Kerala on Thursday in the name of a Sangh parivar-sponsored shutdown to protest the entry of two women of childbearing age into the Sabarimala temple.
The protest and the resultant clashes led to at least one death and widespread destruction of property. At one point, the potential of the protest to threaten the social fabric of the progressive state was also on display.
A counter-attack blamed on the ruling CPM led to the death of one person in Pandalam, the central Kerala town closely associated with Lord Ayyappan, the deity of the Sabarimala temple.
Three BJP supporters suffered stab wounds in Thrissur, the cultural capital of the state, when they tried to forcibly shut down a shop and got embroiled in a brawl with a group that has been linked to extremist views. The incident underscored the ominous turn protests unleashed in the name of religion can take even though the immediate flashpoint had little to do with faith.
The rampage appeared to have political as well as legal objectives. The Sangh parivar, for which Kerala remains the last frontier in the country, is said to firmly believe that the polarising temple issue is a golden opportunity to achieve critical mass.
The muscle-flexing is also being seen as an attempt at piling pressure on the judiciary by creating an impression that a popular rebellion is brewing in the state on the temple entry. A little over three weeks from now, the Supreme Court is scheduled to hear a batch of petitions seeking a review of its order striking down a ban on women of childbearing age from entering the temple.
The issue has larger implications with the Supreme Court set to hear the Ayodhya case, and the national political leadership putting "traditions" above the law.
Against such a backdrop, the Left government in Kerala, led by chief minister Pinarayi Vijayan, has dug its heels in and vowed to uphold the law.
On Thursday, Vijayan accused the BJP and the RSS of unleashing the violence as part of a "conspiracy for political gains" and said it would be dealt with strongly.
Vijayan said the Prime Minister's hint that an Ayodhya ordinance could be considered after the Supreme Court verdict was of "utmost concern" because it should be read with the parivar's stand that the disputed land belonged to Hindus.
Vijayan laughed off the vicious attacks on him by a section of the Sangh parivar who had referred to his caste and the humble background of his father.
The Congress state unit, taking a line different from that of the high command, observed a "black day".