Lakshadweep: 'Saffronisation' of tree trunks deepens mistrust in Praful Khoda Patel
Move comes at a time the administrator has been accused of imposing a 'Sangh parivar' agenda on the Muslim-majority archipelago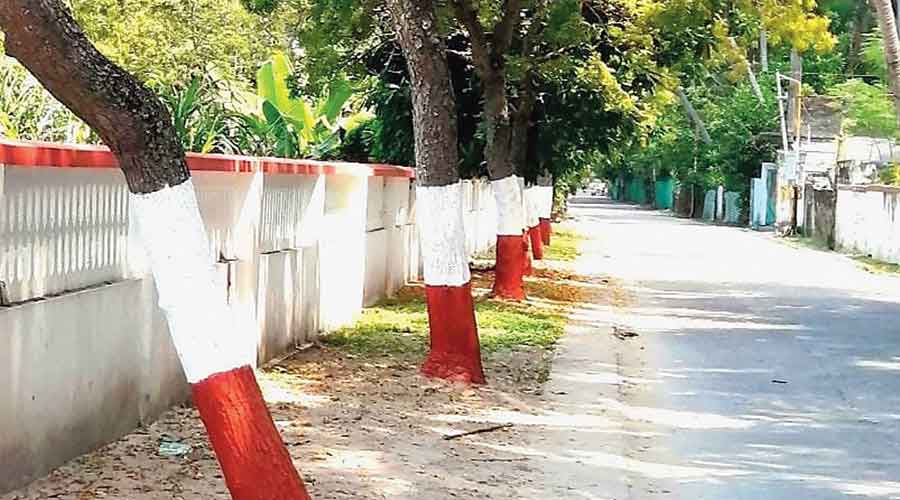 Tree trunks painted saffron in Lakshadweep
Telegraph picture
---
Bangalore
|
Published 30.05.21, 02:02 AM
|
---
The Lakshadweep administration has been painting tree trunks saffron at a time its administrator Praful Khoda Patel has been accused of imposing a "Sangh parivar" agenda on the Muslim-majority archipelago.
The bottom third of trees — including the islands' emblematic coconut trees — have been painted in saffron and the middle third in white across much of Kavaratti and Agatti since April, Kavaratti CPM local committee member P.P. Rahim said. Kavaratti is the capital of the Union Territory and Agatti is home to its lone airport.
Lakshadweep district panchayat member Thaha Malika of the Congress said the move was in itself perhaps trivial but appeared sinister in the context of the controversial decisions taken by Patel since his appointment last December.
Among these are a move to ban beef, a crackdown on dissent, a two-child norm for panchayat poll contestants, a drive against non-vegetarianism and destruction of the fishing infrastructure — all of which have sparked fears of Lakshadweep being turned into "another Kashmir" through repression and intimidation.
Trees in some cantonment towns in the country have been painted brick-red to add to the orderlyambience but defence sources said they were not aware of any hard and fast rule on the choice of the colour.
Malika said painting trees in any colour was unprecedented on the islands, known for their pristine beauty. He said he couldn't see any possible motive other than provoking the population through the choice of colour.
"We are a simple people who never nursed any communal ideologies. In normal times, it wouldn't have mattered what colour they were painting the trees in," he said.
"But since Patel's agenda is based on his party's ideology, there is much consternation among the people about trees being painted in saffron."
Malika added: "Like every contentious notification he issued, the administrator got his officials to paint the trees in saffron at a time when the people were forced to stay at home because of Covid."
Lakshadweep had stayed free of Covid through last year, till Patel arrived and relaxed the seven-day quarantine for people arriving from the mainland in the name of boosting economic activity — one of the earliest among his contentious decisions.
With the spotlight so far focused on Patel's major controversial measures — which have led to MPs writing to the President and a united Opposition preparing a mass petition for the administrator's recall — the tree painting had passed under the radar. It became widely known only recently after some islanders shared pictures of the "saffronised" trees.
"Everyone is taking note of this only now since we have all been busy battling the other controversial decisions," Rahim, the CPM politician, said.
Calls to an administration official in Kavaratti whose number this newspaper could collect remained unanswered.
The Kavaratti village panchayat on Friday passed a unanimous resolution urging Patel to withdraw his "anti-people" measures.
In Kerala, where all non-BJP parties have been calling for Patel's immediate recall and withdrawal of his reforms, CPM youth wing DYFI on Saturday launched a campaign to send 1 lakh emails to President Ram Nath Kovind.
Patel had been a Gujarat minister under then chief minister Narendra Modi from 2010 to 2012. Patel is believed to be close to both Modi and Amit Shah and is the first politician to be appointed administrator for Lakshadweep, till then run by bureaucrats.