Politicians say Praful Khoda Patel is turning Lakshadweep into 'another Kashmir'
The new administrator of the UT has been accused of moving to ban beef-eating, cattle transport, cracking down on protests and destroying the fishing infrastructure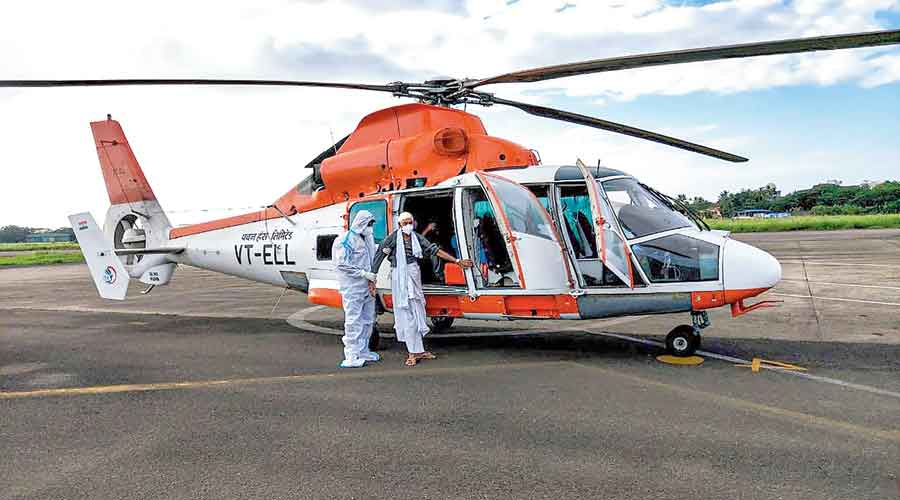 Covid patients being evacuated from Lakshadweep to Kerala on May 17
PTI
---
Thiruvananthapuram
|
Published 25.05.21, 02:05 AM
|
---
The new administrator of Muslim-majority Lakshadweep has been accused of moving to ban beef-eating and cattle transport, cracking down on protests and destroying the fishing infrastructure, with politicians alleging he wants to turn the Union Territory into "another Kashmir" and MPs writing to the President against him.
Praful Khoda Patel, formerly Gujarat home minister under then chief minister Narendra Modi and said to be close to Union home minister Amit Shah, has been executing "a Sangh parivar agenda" since his appointment last December, said Kerala-based Congress politician V.T. Balram.
Patel is the first politician since Independence to be appointed administrator — the islands' topmost official authority —  with all his predecessors having been civil servants.
Balram and others pointed to several of his actions: the expulsion of non-vegetarian food from school midday meals and hostel dining halls; a two-child norm for panchayat poll contestants that mirrors a parivar prejudice against Muslims; the dismissal of 2,000 temporary government workers that has raised fears about "outsiders" being brought in to replace them.
"His (amendment of the 1994 panchayati raj rules) to not allow people with more than two children into local bodies itself indicates that Patel is implementing a Sangh parivar agenda targeting Muslims," Balram, among the first to publicise Lakshadweep's grievances through a Facebook post, told this correspondent.
"It's part of the Sangh parivar mission to turn the islands into another Kashmir, with the residents turning extremely insecure."
Of the 36 islands that make up the Union Territory, only 10 have a human presence. The overwhelming majority of Lakshadweep's 65,000-odd people are Muslim.
Opposition politicians, some of whom have written to President Ram Nath Kovind seeking reversal of Patel's decisions or his recall, flagged several of the administrator's "anti-people and authoritarian" actions:
Gag on dissent
Lakshadweep MP and Nationalist Congress Party leader Muhammed Faizal said that Patel had enforced the "Control of Goonda Act on the islands, where crime is rare, only to make people insecure so they don't protest against his dictatorial regime".
"All the posters and boards erected here against the National Register of Citizens and the Citizenship Amendment Act have been removed," Faizal said.
The Control of Goonda Act allows arrests without warrants and facilitates long detentions.
"Police are now intimidating youngsters with the threat of arrest under the Goonda Act if they get involved in protests against the NRC and the CAA," Faizal said.
Balram said: "Fearing confinement under the Goonda Act, the local community is now silent but there is simmering discontent."
Fishing blow
Apart from moving to stop the sale, consumption, storage and transport of beef in a Union Territory where meat and fish are staple diets, Patel has cracked down on the fishing community that makes up more than 80 per cent of the local population.
His administration has removed their temporary huts, sheds, boats, net-drying facilities and storage spaces from the shores citing violation of coastal zone norms.
"This has meant that thousands of fisherpersons... are unable to support themselves and their families," CPI Rajya Sabha member Binoy Viswam has written to the President.
Viswam said: "Dairies have been hurt by the ban on cattle sale and transport. None of the decisions has been taken in consultation with local communities or their elected bodies."
Liquor licences
With Muslims making up "over 96 per cent of the population" of Lakshadweep, "in accordance with the religious and cultural beliefs of the community, the consumption of alcohol was banned on the islands", Viswam has written to Kovind.
"However, in a recent decision, the administration has begun issuing liquor licences under the guise of promoting tourism and individual freedom, thereby completely ignoring the socio-cultural context of the area," Viswam's letter says. Covid bungle
"The islands had effectively kept away Covid till last December through social distancing and adherence to the protocols. But they are now witnessing many positive cases after the administrator lifted all Covid regulatory norms," Faizal said.
He said that people arriving from outside were earlier required to quarantine themselves but Patel relaxed those norms in the name of promoting tourism.
As a result, Lakshadweep has seen "over 4,000 cases with over 20 deaths already", Viswam has written to Kovind. "Further, the pressure on the health infrastructure of the islands has increased manifold leaving the population vulnerable and worried."
Kerala snub
CPM Rajya Sabha member Elamarom Kareem, who has written to Kovind seeking Patel's recall, said the administrator had instructed ship and boat operators to ignore the ancient port of Beypore in north Kerala and prefer Mangalore port in south Karnataka when they sail to the mainland.
"The islanders speak Malayalam and are culturally connected to Kerala. Beypore port has been the link between the mainland and the islands for generations. Now the administrator is trying to sever the link between the island natives and Kerala," Kareem said.
Sacking spree
Viswam said over 2,000 temporary government servants had been sacked in the past six months even before completing their tenures and suggested the motive was sectarian.
"The administrator has also sealed off 38 Anganwadi centres, meant to provide nutritious food to children and pregnant or lactating women. The tourism department has fired 109 employees under the administrator's orders," he said.
All this was done on the plea that these Anganwadis and posts were redundant. But many islanders fear the agenda is to fill the posts later with non-Muslims from Kerala and Karnataka.
Environment
A Lakshadweep Development Authority Regulation, 2021, has been drafted to facilitate the "progressive development of land in both urban and rural areas" and to confer additional powers for acquisition. The islanders fear this will hurt the archipelago's fragile and diverse ecosystem.
Hibi Eden, a Congress MP from Kerala, too has written to the President and Prime Minister, seeking their intervention.
Actor and filmmaker Prithviraj Sukumaran has openly expressed solidarity with the islanders saying he had made friends there during the two-month shoot of his recent blockbuster Anarkali in Lakshadweep capital Kavaratti. He has also shot portions of his directorial debut Lucifer on the islands.
"For the last few days, I have been getting desperate messages from people I know and do not know from these islands, requesting and sometimes even pleading for me to do what I can to bring public attention to what is going on there," he has written on social media.
"The new administrator's reforms are completely bizarre.... How can you disrupt the way of life of a centuries-old peaceful settlement?"
Actress and director Geetu Mohandas too has protested some of the administrator's decisions. Footballer C.K. Vineeth ended his tweet questioning Patel's actions with: "Enough is enough! #SaveLakshadweep."
Patel became Gujarat home minister in 2010 after Amit Shah had to vacate the post following the Sohrabuddin Sheikh encounter case. Patel stayed in the job till 2012.
Additional reporting by Anita Joshua