Empty chairs at Yogi rally
Undeterred by the sight of half the ground empty, the UP CM coined a new slogan against the rivals of the BJP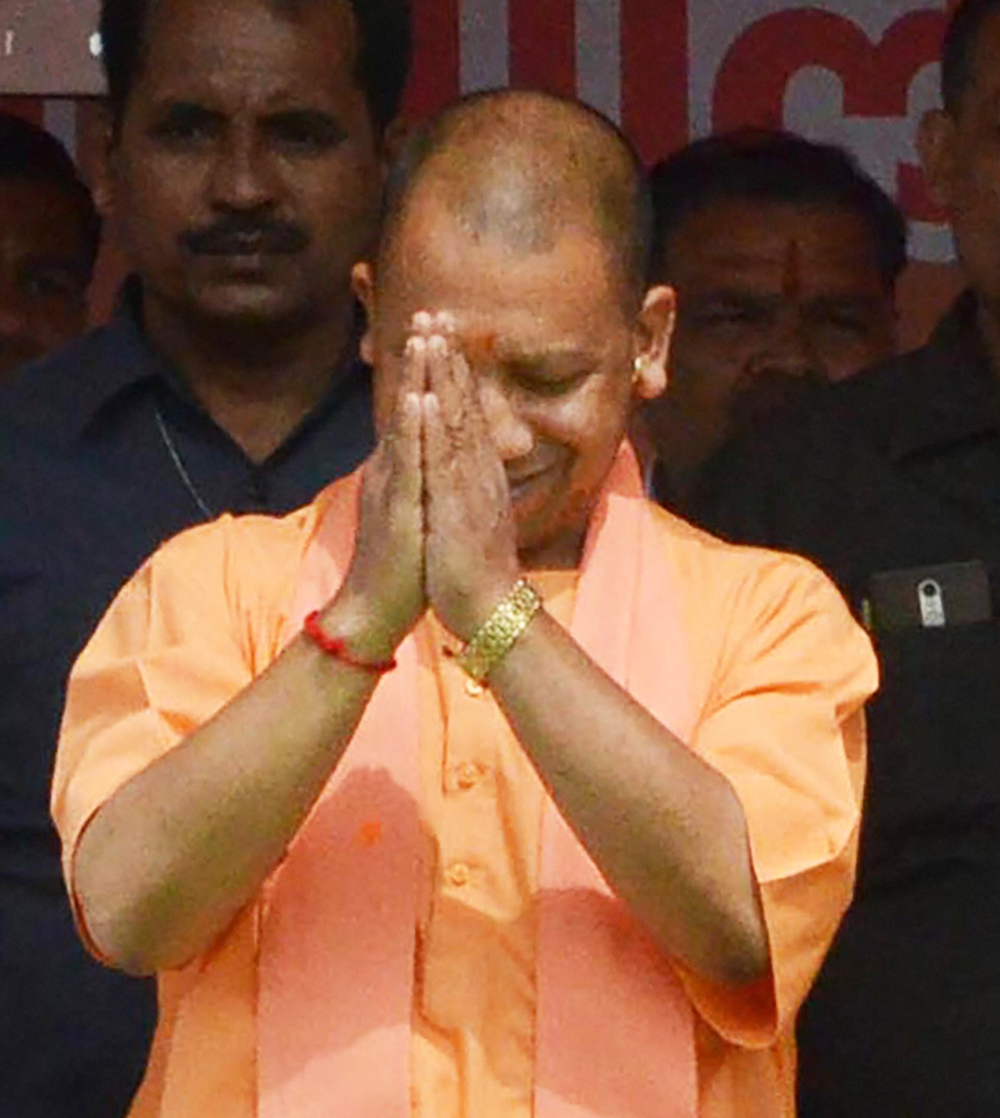 Uttar Pradesh Chief Minister Yogi Adityanath during an election campaign for BJP candidate and sitting MP Hema Malini for the upcoming Lok Sabha polls in Mathura on Monday, March 25, 2019.
(PTI)
---
Lucknow
|
Published 25.03.19, 10:13 PM
|
---
Only a few hundred people turned up to listen to Yogi Adityanath when he was in Mathura on Monday to address an election rally in support of actress and sitting MP Hema Malini.
Undeterred by the sight of half the ground empty, the Uttar Pradesh chief minister coined a new slogan against the rivals of the BJP.
"Sapa, Baspa, Congress-I, chor chor mausere bhai (The SP, the BSP and the Congress-I are the thieves and brothers),"he said.
Hema filed her nomination in the chief minister's presence and they offered prayers at the Banke Bihari temple in Vrindavan, 15km from Mathura town.
Mahesh Pathak, the Congress nominee from the seat, is the national president of the Akhil Bharatiya Tirth Purohit Mahasabha, an organisation of priests of all the temples to Krishna in northern India.
The Rashtriya Lok Dal, an ally of the Samjawadi Party and the Bahujan Samaj Party, has nominated Kunwar Narendra Singh.
A BJP leader said in Lucknow on condition of anonymity that there were 2,000 chairs and the local leaders had hoped that all would be taken. "We had hoped that there would be over 10,000 people but only 5000 turned up. The chairs were empty but there were a large number of people who were standing at the back," said the BJP leader.
Dwijendra Tripathi, a state Congress spokesperson, said: "It shows the deteriorating image of the BJP and its leaders who heavily banked on lies in the 2014 elections. Although people fear that the Rashtriya Swayamsewak Sangh members and some anti-social elements would attack them if they speak against the Narendra Modi government, they are staying away from their rallies."