Departures of Prasad and Javadekar cause stir
Cabinet: 12 ministers dropped, 36 new recruited, 7 promoted
Narendra Modi's reshuffle and expansion appears as an attempt to refurbish the image of a government scarred by Covid and economic mismanagement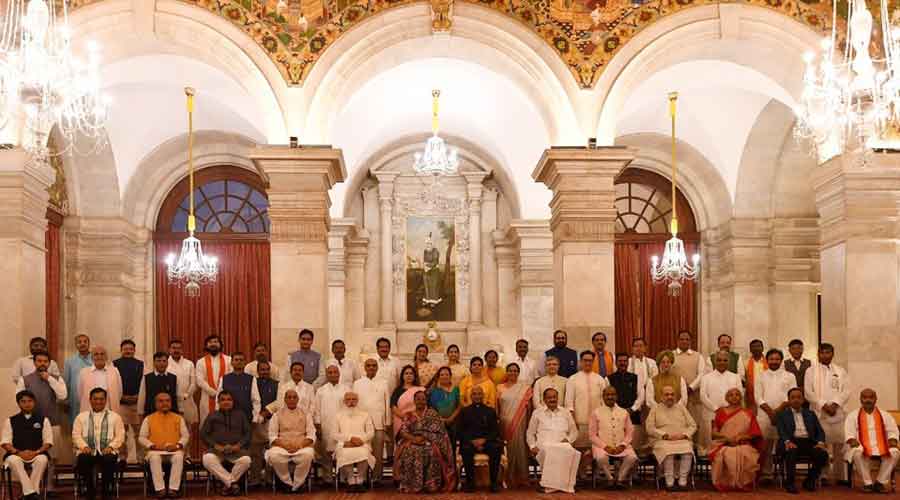 President Ram Nath Kovind, First Lady Savita Kovind, Vice President M Venkaiah Naidu, Prime Minister Narendra Modi and Lok Sabha Speaker Om Birla in a group photograph with the newly sworn-in Council of Ministers, at the Rashtrapati Bhavan
PTI
---
New Delhi
|
Published 08.07.21, 02:31 AM
|
---
Prime Minister Narendra Modi on Wednesday expanded and shuffled his ministry, dropping 12 incumbents, recruiting 36 new members and promoting 7 ministers of state in what appeared an attempt to refurbish the image of a government scarred by Covid and economic mismanagement.
The replacement of a host of senior ministers with fresh inductees is being seen as an exercise to safeguard Modi's reputation as a leader who means business and create a distraction from the problems besetting the people.
Government managers went to town hailing the "youngest council of ministers ever, largest representation of women, backwards, Dalits, tribals and highly educated people".
However, it was the exits of heavyweights such as Harsh Vardhan, Ravi Shankar Prasad, Prakash Javadekar, Ramesh Pokhriyal and Santosh Gangwar that created the bigger flutter, appearing to reflect a government acknowledgment of failure on key fronts such as health, education, labour, IT and information and broadcasting.
While health minister Harsh Vardhan's sacking caused some surprise despite the mismanagement of the Covid second wave, the departures of Prasad (law, IT) and Javadekar (I&B, environment) caused the greatest stir.
Prasad, an MP from Patna who was part of Atal Bihari Vajpayee's government and Modi's first ministry too, had been spearheading the government's run-ins with Twitter over the new IT laws. He and Javadekar had both functioned as chief spokespersons for not just the government but also the party.
It's being speculated that they have been punished for failing to protect the government's image, particularly before the international media where it has been battered over its handling of Covid and its record on human rights and democracy.
Many saw in the sackings a search for fall guys given Modi himself takes most of the crucial decisions.
The Modi government now has 77 ministers, up from 53 and just 4 short of the permissible upper limit of 81. The strength of the council of ministers cannot exceed 15 per cent of the strength of the Lok Sabha.
Such a bloated ministry belies Modi's promise of "minimum government, maximum governance".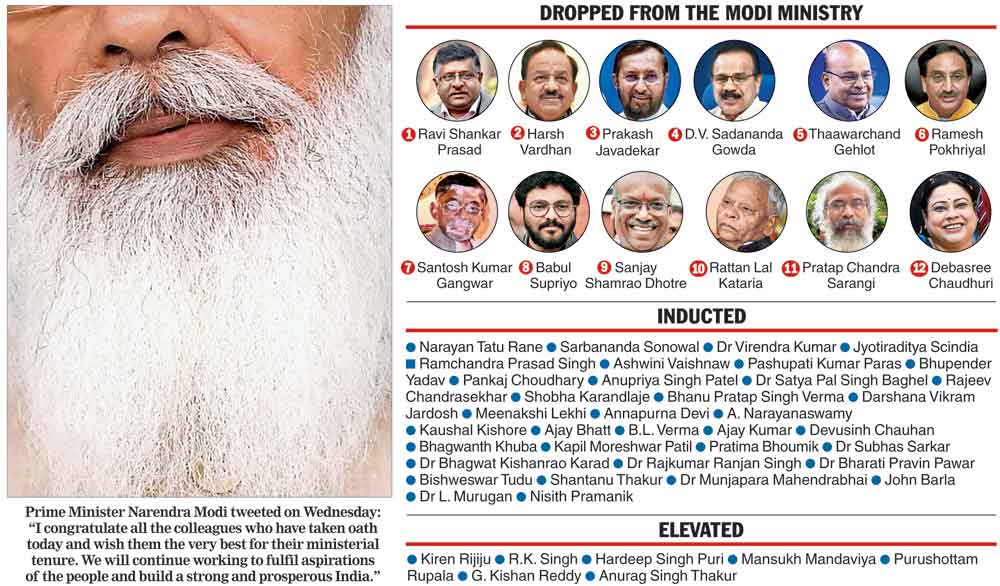 Eye on polls
Apart from polishing the Prime Minister's image, the choice of the new faces — the overwhelming majority of them first-time ministers — seemed dictated by the five state elections due next year.
Among the prominent new arrivals are Jyotiraditya Scindia, Sarbananda Sonowal and Bhupender Yadav. Jyotiraditya has been rewarded for defecting and helping the BJP bring down the Congress government in Madhya Pradesh.
Sonowal has been compensated for the loss of the Assam chief minister's chair, which he had obediently handed over to Amit Shah favourite Himanta Biswa Sarma. Yadav, a BJP general secretary, is also known to be a Shah confidant.
Bhagwat Karad, a medical doctor, has been inducted from Maharashtra and Rajya Sabha MP Ashwini Vaishnaw, an IIT graduate and MTech, from Odisha.
Seven of the new faces are from Uttar Pradesh, where polls are due by March. Among them is Anupriya Patel, chief of BJP ally Apna Dal which has an OBC Kurmi vote base. Patel has been made a minister of state.
Six BJP lawmakers from the heartland state --- three Dalits, two OBCs and one Brahmin – have been sworn in. The BJP is looking to win over the backwards and Dalits in Uttar Pradesh apart from relying on its core upper caste base.
Darshana Ben Jardosh, a first-time woman minister, has been inducted from Gujarat, the home state of Modi and Shah, and two junior ministers from the state have been elevated to cabinet rank. Gujarat votes at the end of 2022 but reports say the state BJP is wracked by infighting.
Four have been inducted from Maharashtra, where the BJP is desperate to pull down the Shiv Sena-NCP-Congress government. Among them is former chief minister Narayan Rane, who had started out with the Shiv Sena, shifted to the Congress and eventually embraced the BJP.
From Bihar, JDU member R.C.P. Singh, who is close to chief minister Nitish Kumar, has been sworn in. He is the lone minister from an ally that had sought four berths.
Pashupati Paras, the LJP member who led the coup against his nephew Chirag Paswan – Nitish's bête noire -- has been included.