BJP loads 'minority' gun
Rahul Gandhi fearing defeat in Amethi says BJP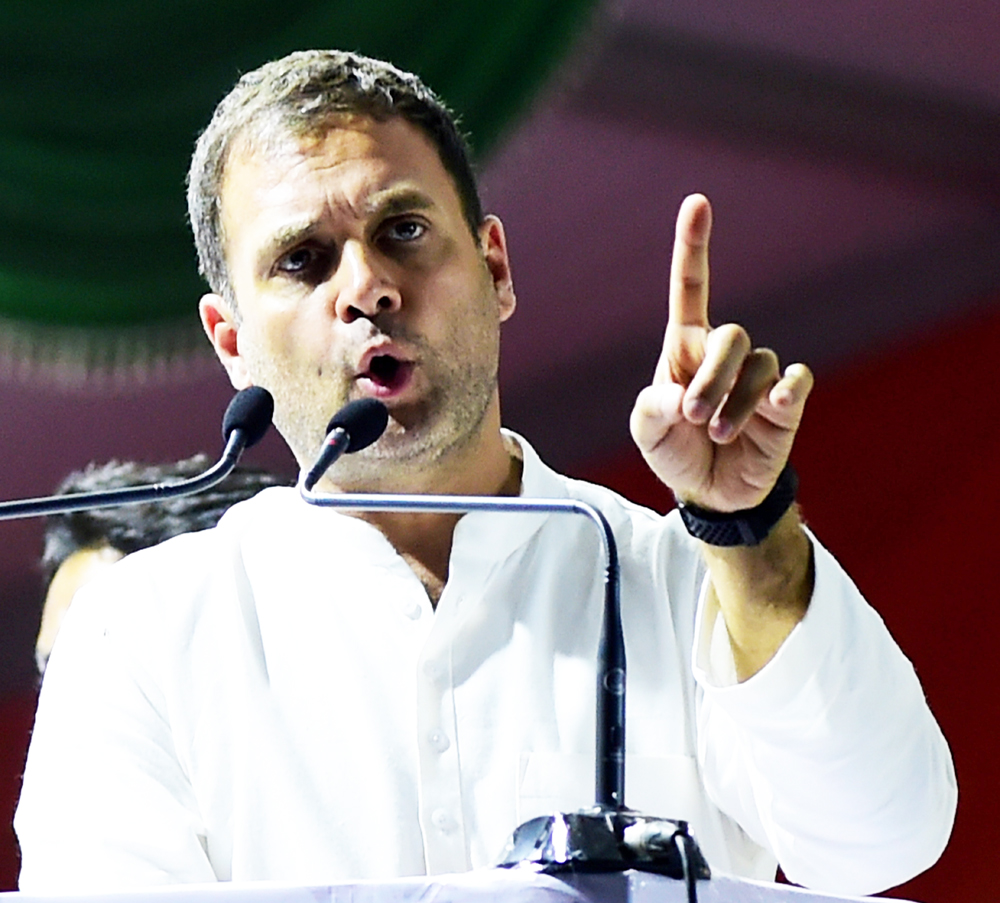 ---
Bijnore(UttarPradesh)
|
Published 31.03.19, 10:34 PM
|
---
The BJP on Sunday alleged that Rahul Gandhi had "fled" to Kerala fearing tough questions from Amethi's voters, and that he had chosen Wayanad because it has a substantial minority population.
"Rahul Gandhi has fled to Kerala because he fears that Amethi's voters will seek an account from him (about what he and his party have done for them over the years)," BJP president Amit Shah said in Bijnor, Uttar Pradesh.
"In Kerala, there is politics of appeasement, hence he is going there. You (Rahul) have played with the security of the country for your vote-bank politics. Wherever you go, the people of the country will ask you to give an account."
In Patna, Union minister Ravi Shankar Prasad gave a communal colour to the Congress president's decision.
"I did some research on the ethnic (sic) profile in Wayanad and found that while Hindus constitute 49 per cent of the population there, the remaining are from minority communities," Prasad said.
"The selection of the Wayanad seat exposes the sense of insecurity gripping Rahul Gandhi, because of which he selected a minority-dominant seat."
Muslims make up 28 per cent of Wayanad's population while Christians account for 21 per cent. Hindus make up another 49 per cent — with 20 per cent tribal and 29 per cent non-tribal communities — while Jains make up the rest.
Prasad termed Rahul an "electoral Hindu", claiming that while the Congress leader visits temples during election campaigns, when it came to selecting a seat for himself he opted for a "minority-dominant" constituency.
While Prasad echoed Shah in claiming Rahul feared defeat in Amethi, he justified Narendra Modi's decision to contest two seats in 2014.
He said Modi originally intended to contest from Varanasi alone but "contested the Vadodara seat on a demand from the people of Gujarat".
Prasad dismissed Congress spokesperson Randeep Surjewala's statement that Rahul was contesting from Kerala to safeguard the culture of south India, describing it as a "cruel joke" on the proud traditions of south India.
He asked what the Congress's stand was on the Sabarimala issue — a divisive subject in Kerala that the BJP would like to milk ahead of the polls.
"Our party's stand is clear — tradition should be safeguarded," he said.
The BJP supports the traditional ban on women of childbearing age entering the Sabarimala temple although the Supreme Court has declared the stricture unconstitutional.
Prasad claimed the Congress had always treated south Indian leaders poorly, citing how former Prime Minister P.V. Narasimha Rao's body was not allowed into the Congress headquarters. Rao was from undivided Andhra Pradesh.