Tejashwi gets health, Nitish keeps home
Bihar: RJD gets lion's share in cabinet as 31 MLAs are sworn in as ministers
Tej Pratap inducted, Congress MLAs Afaque Alam, Murari Lal Gautam and Hindustani Awam Morcha's Santosh Suman find place in ministry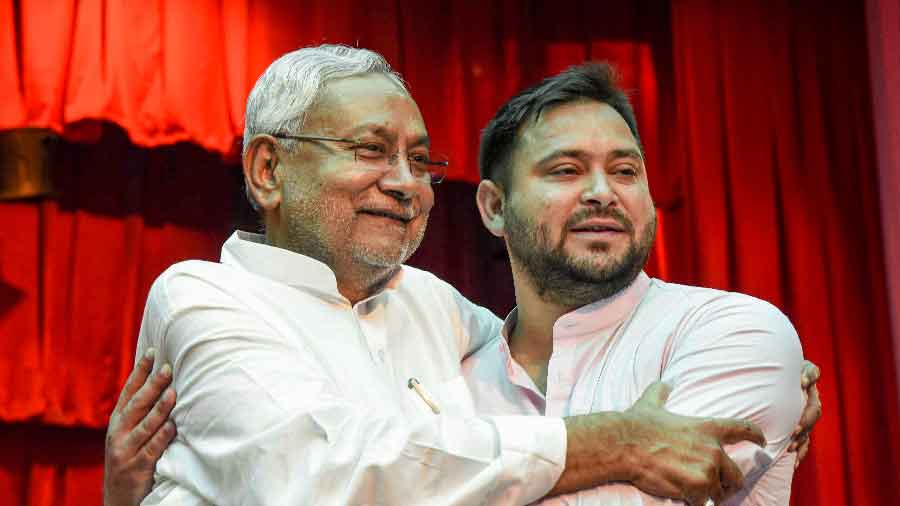 ---
Published 16.08.22, 11:45 AM
|
---
Bihar CM Nitish Kumar keeps home, general administration, cabinet secretariat in 'Mahagathbandhan' government: PTI reports
Bihar Deputy CM Tejashwi gets health, road construction, urban development, housing & rural development
As many as 31 ministers were inducted into the Bihar cabinet on Tuesday with the deputy chief minister Tejashwi Yadav's RJD  getting 16 ministerial berths, followed by chief minister Nitish Kumar's Janata Dal (United) which kept 11. 
Two legislators from the Congress, one from Jitin Ram Manjhi's Hindustani Awam Morcha and the lone Independent MLA, Sumit Kumar Singh, also took oath as cabinet ministers, reports PTI. 
From the RJD, Tejashwi Yadav's brother Tej Pratap Yadav, Samir Kumar Mahaseth, Chandrashekhar, Kumar Sarvajeet, Lalit Yadav, Surendra Prasad Yadav and Ramanand Yadav, Jitendra Kumar Rai, Anita Devi and Sudhakar Singh and Alok Mehta took oath.
Nitish retained most of his JD(U) ministers, including Vijay Kumar Chaudhary, Bijendra Yadav, Shravan Kumar, Ashok Choudhary, Leshi Singh, Sanjay Jha, Madan Sahni, Sheela Kumari, Mohd Zama Khan, Jayant Raj and Sunil Kumar.
Congress legislators Afaque Alam and Murari Lal Gautam were inducted into the cabinet as ministers, while Hindustani Awam Morcha's Santosh Suman was also sworn in.
The state cabinet can have up to 36 ministers, including the chief minister. The induction of ministers on Tuesday is expected to keep a few berths vacant for future expansion.
An in-principle agreement has been reached that the RJD, which is the largest party in the state assembly, will have a lion's share of ministerial berths, followed by Kumar's JD(U).