2 Kashmiris thrashed in Lucknow
Police sources said the attackers belonged to a group called the Vishwa Hindu Dal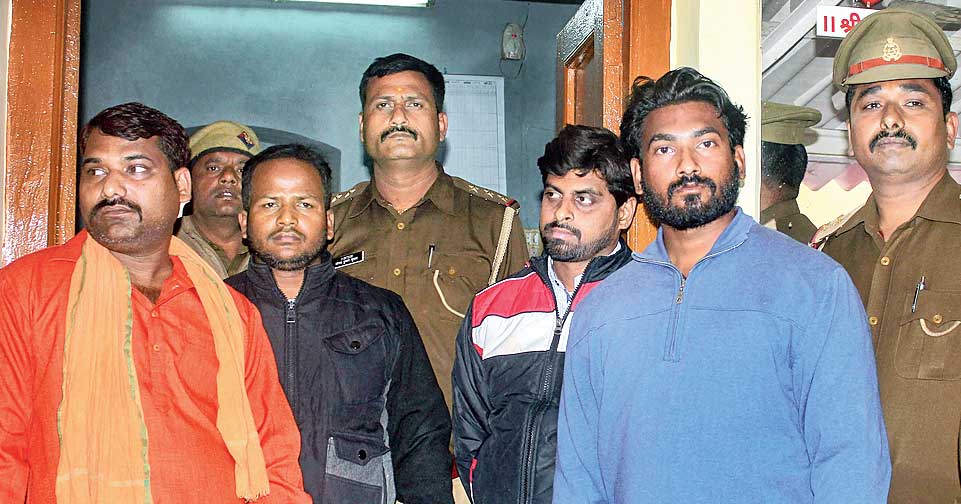 ---
Lucknow
|
Published 07.03.19, 08:20 PM
|
---
Lucknow police on Thursday arrested four people from a vigilante Hindu group for thrashing two young Kashmiri dry-fruit sellers on a roadside after branding them "stone-throwers" and "terrorists".
More than a dozen people in saffron kurtas accosted the victims on a Lucknow street on Wednesday and sought identity proof, the police said.
The Kashmiris say they showed their Aadhaar cards but were punched and beaten with batons. The four arrested men — Bajrang Sonkar, Himanshu Awasthi, Aniruddh Kumar and Amar Kumar — were part of the mob, officers said.
Police sources said the attackers belonged to a group called the Vishwa Hindu Dal.
The attackers uploaded a video of the incident on social media, which helped the police identify the four suspects, Lucknow senior superintendent of police Kalanidhi Naithani said.
After the arrests, a few local TV channels beamed images of men resembling Sonkar and Awasthi boasting about the attack.
The images purportedly show him claiming that he and other Hindus "wouldn't let these Kashmiri jihadis earn anything from Uttar Pradesh".
"We'll keep beating up these anti-national people and ensure they don't enter Uttar Pradesh."
The man resembling Awasthi claims being a "full-time protector of India" and a former BJP worker. BJP sources have denied the claim.
SSP Naithani said some local people had tried to save the Kashmiris and informed the police. The attackers fled before the cops arrived.
"We want to send out a clear message that such anti-social elements wouldn't be allowed to victimise people."
Officers said the victims, Abdul Salam and Mohammed Afzal from Kulgam district in south Kashmir, had expressed satisfaction at the police action.
The accused face charges of attempt to murder and provocation with intent to cause a riot.
Omar dare
National Conference vice-president Omar Abdullah on Thursday asked Prime Minister Narendra Modi to prove that his words carry weight and are implemented on the ground, referring to his speech in Rajasthan last month in which he had asserted: "Our fight is for Kashmir, not against Kashmiris."
Omar said that either the Prime Minister's words were not being implemented or they were just a "jumla" (rhetoric).