How we are pushing Kashmir to the brink: Omar has some questions
Referring to attacks on Kashmiris in parts of the country, Omar asks: Is it our fault that Jammu and Kashmir is the only Muslim-majority state?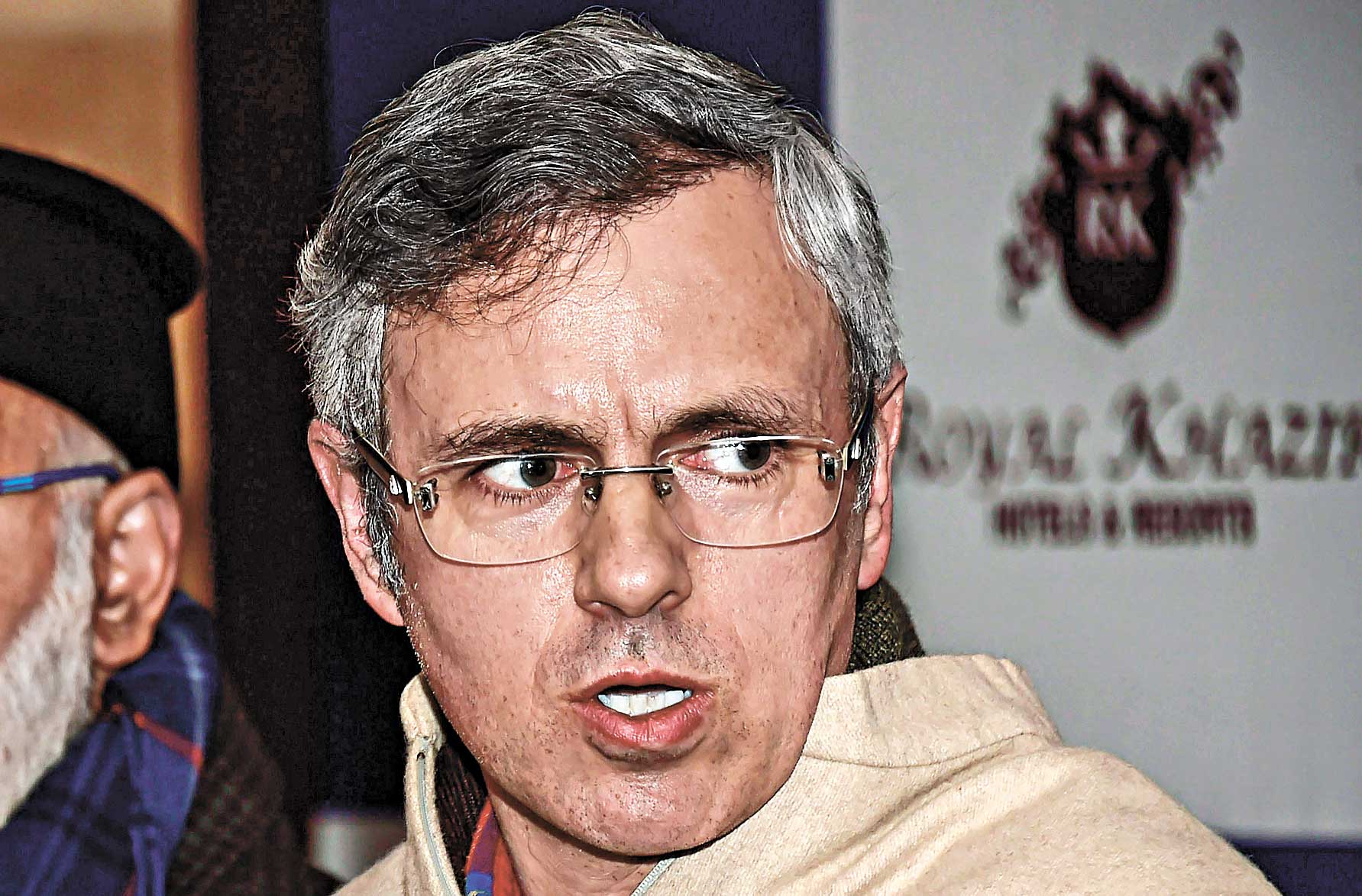 Omar Abdullah at the news conference in Srinagar on Thursday.
(PTI)
---
Srinagar
|
Published 21.02.19, 10:49 PM
|
---
Omar Abdullah, who had delivered one of the finest moments of the republic by declaring in the Lok Sabha in 2008 that "I am a Muslim and I am an Indian, and I see no distinction between the two", on Thursday confronted India with a telling testimony on the state of the nation a decade later.
"An environment is being created today where you are forcing those who never looked at the (Kashmir) issue through (the prism of) the two-nation theory. They are forcing us to think whether that was a right or wrong decision," Omar told a news conference in Srinagar against the backdrop of attacks on Kashmiris in several parts of the country after the Pulwama massacre.
Omar's words mark a seminal moment in the history of India. The two-nation theory, propounded by Muhammad Ali Jinnah as the cornerstone to create Pakistan, essentially holds that Muslims and Hindus are two separate nations by every definition. Jammu and Kashmir, the only Muslim-majority state in India, is a repudiation of that argument.
Many in the Valley still curse Omar's grandfather, Sheikh Mohammad Abdullah, for fiercely opposing the two-nation theory and claim that it is because of him that Kashmir is a part of India.
Omar, a former chief minister whose father Farooq Abdullah was also a Jammu and Kashmir chief minister, has been admired across India for being a mirror image of his grandfather, a notion reinforced by the Lok Sabha speech in 2008.
The comments by Omar on Thursday cannot be dismissed as an Opposition tactic. He criticised the Congress, too, for keeping silent.
Both Omar and Farooq are committed Indian nationalists but as Valley politicians, they are also voicing opinion from the ground.
Referring to the attacks on Kashmiris, mostly students, living elsewhere in the country, Omar asked piercing questions: "What is our fault? Is it our fault that Jammu and Kashmir is the only Muslim-majority state? Are we being punished time and again for this? Should we be suspected time and again?"
"Whether Dehradun or West Bengal or Rajasthan — we got reports from different places that Kashmiris are being targeted. Our students, who are studying in colleges and universities, who have nothing to do with politics and other issues and who wanted to pursue a good future through education, they are being targeted, threatened and driven out."
Omar regretted that anti-Kashmiri sentiments had been aired by people in positions of power and that nobody challenged them. The National Conference leader referred to the comment of Meghalaya governor Tathagata Roy who has publicly agreed to a retired colonel's purported suggestion to boycott Kashmiris.
"We thought it would be condemned, that too at the highest level. We were hoping that the Prime Minister, whom we heard say that Kashmiris cannot be won by bullets and abuses but by hugging them, would tell the governor that he should not have said it…. What we heard from them was only silence," Omar said.
He accused the BJP of exploiting the situation. He pointed out that like in Pulwama, CRPF soldiers had been killed in an attack in Chhattisgarh too, but nobody had called for boycotting Chhattisgarh or denied people from the state rooms in hotels elsewhere.
Omar also hit out at the Congress, saying he had expected words of "sympathy and moral support" from the principal Opposition party but that never came.
"We had not big expectations from the BJP, but thought that the Prime Minister would rise above politics. But where the Prime Minister was silent, the problem is that the leadership of the biggest Opposition is also silent on this issue," he said.
"Today we need a statesman instead of a politician. We can see politicians all around, but not one is a statesman," Omar added.
Omar, who is the National Conference vice-president, said his party and others in the Valley were being labelled "Pakistanis" and "anti-national" for espousing talks with the neighbour for the resolution of the Kashmir issue. He asked why nobody was putting such labels on the Prime Minister and others for backing talks.
Omar was referring to the joint statement issued by India and Saudi Arabia, during the visit of Saudi crown prince Mohammad bin Salman on Wednesday, calling for creating a conducive atmosphere for starting composite dialogue.
"Then what is our fault? What is the fault of the Kashmiri nation when we say we are sandwiched between the guns of two countries and want to get rid of those countries?" Omar asked.
"(For that) we become anti-nationals, Pakistanis, but you are nationalistic when it is between you and Saudi Arabia." "Regretfully we are being made victims of the propaganda that gives the dog a bad name and kills it. An impression is being created that Kashmiris can't be trusted."
Omar praised Bengal and Punjab chief ministers, Mamata Banerjee and Amarinder Singh, for initiating action against those who harassed Kashmiris in their states.