The 72nd Primetime Emmy Awards were given out on Monday morning
Here's what went down at the socially distanced 'Pandemmys'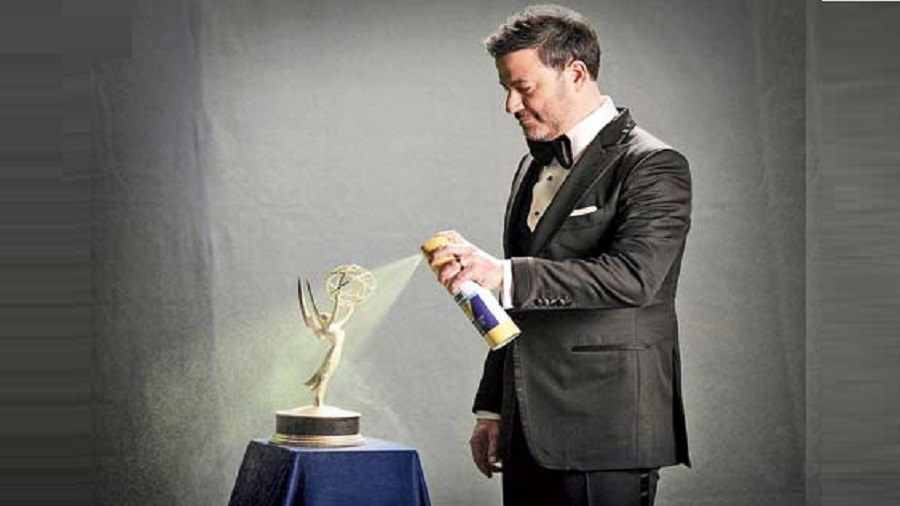 ---
Published 21.09.20, 08:21 PM
|
---
Jimmy Kimmel: Live... And Socially Distanced
Jimmy Kimmel, hosting the awards for the third time, kicked off the 72nd Primetime Emmy Awards — that he aptly dubbed as the "Pandemmys" — by acknowledging how "frivolous" it was to hold an awards show in 2020.
"The big question I guess we should answer is, why would we have an awards show in the middle of a pandemic? No, seriously, I'm asking: Why would we have an awards show in the middle of a pandemic? And why the hell am I here?" he joked.
Kimmel, who emceed from a nearly empty Staples Center in Los Angeles, however said that the Emmys provided "lightheartedness in a year filled with darkness". "What's happening tonight is not important — it's not going to stop Covid, it's not going to put out the fires. But it's fun, and right now we need fun. My God, we need fun," he said.

The host, who was in his elements despite the all-new isolated format, also acknowledged how television has been a boon for most of us in 2020. "This has been a miserable year. This has been a year of division, injustice, disease, Zoom school, disaster and death," he said, adding that we've all been living in quarantine like "prisoners" in a "dark and lonely tunnel".

"And what did we find in that dark and lonely tunnel? I'll tell you what we found. A friend, who's there for us 24 hours a day —our old pal television," said Kimmel.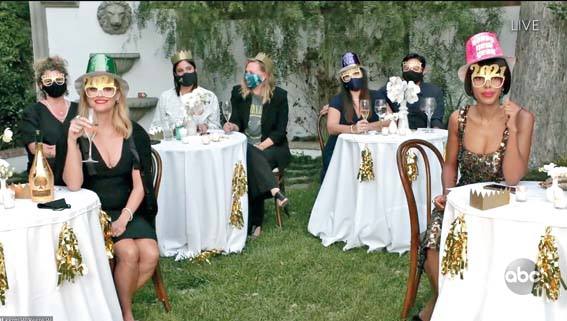 Dressing up... and down!
Nominees didn't allow their inability to land up for the awards to prevent them from dressing up and having some fun. Some donned gowns and tuxedos, while many others turned up smart and casual in their living rooms, often accompanied by friends and family. Some rolled out red carpets in their backyards, while the cast of some shows — among them big winner Schitt's Creek and Little Fires Everywhere, with Reese Witherspoon and Kerry Washington having a "New Year's Party" together because they are "ready for this year to be over" — banded together to cheer on each other. Most winners were handed over their trophies at home by Emmy officials dressed in custom-made hazmat suits. For the record, around 138 stars from 114 locations and 10 countries hooked up virtually to "attend" the evening.
The "dress code" for the evening travelled the whole gamut from glamorous gowns to pyjamas. Zendaya (right), who won the honour for Lead Actress in a Drama Series for her performance in Euphoria, thus becoming the youngest, at 24, to ace that category, had a couple of costume changes through the course of the evening. On the other hand, Jameela Jamil, who plays Tahani Al Jamil in The Good Place, that was nominated for six Emmys, was in attendance from her couch, captioning her Instagram post with, "No bra, no heels,
NO PROBLEM!"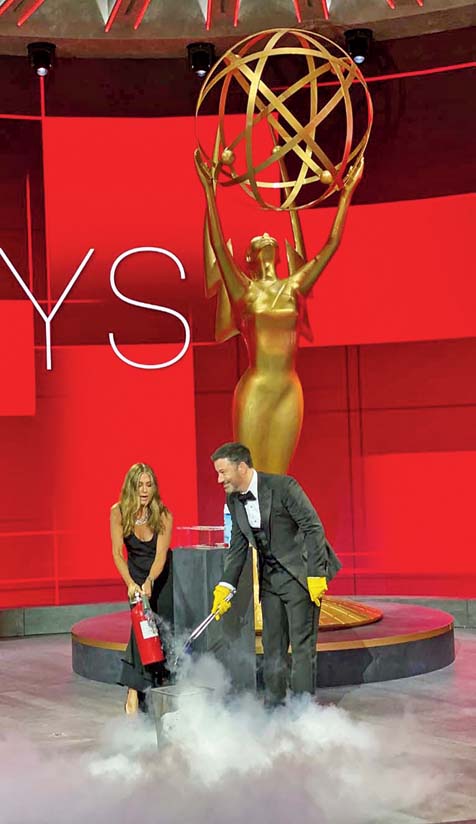 Setting the stage on fire!
Though Kimmel was almost always alone on stage, with the camera cutting to the winners and nominees safely ensconced in the comfort of their homes, the highlight of the show was Jennifer Aniston joining him briefly to announce an award. There was a lot of laughter in store when the two maintained a distance of 60ft on stage (instead of the prescribed 6ft) and could barely hear each other, as well as when Kimmel tried to "sanitise" the envelope with the winner's name by setting it on fire, and Aniston had to come to the rescue with a fire extinguisher. Literally setting the stage on fire? You bet!
Aniston later joined co-stars Courtney Cox and Lisa Kudrow at home for a "mini Friends reunion" that was beamed live. Oh, our hearts!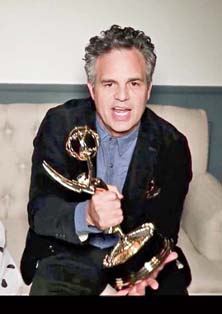 The Winners take them all
Schitt's Creek, Succession and Watchmen scored the maximum wins. With two Creative Arts Emmys already in the bag last week, Netflix sitcom Schitt's Creek established a new record for most wins in a single season for a comedy series, winning seven Emmys in a row. Succession and Watchmen, both from HBO, won four awards each.
Mark Ruffalo, who won Outstanding Lead Actor in a Limited Series or Movie for his double role in I Know This Much Is True, delivered the most powerful and poignant speech of the evening, exhorting fellow Americans to make the "right choice". "We have a big, important moment ahead of us. Are we going to be a country of division and hatred, a country only for certain kind of people, or are we going to be one of love and strength, fighting so all of us have the American dream? That's what we're facing right now, so get out and vote, make a plan, and vote for love and compassion and kindness," said the man we love as Hulk, winning over the Internet.
The Top Winners
Drama Series
Outstanding Directing for a Drama Series
Andrij Parekh for Succession
Outstanding Writing for a Drama Series
Jesse Armstrong for Succession
Lead Actress in a Drama Series
Lead Actor in a Drama Series
Jeremy Strong for Succession
Competition Programme
Limited Series
Outstanding Writing for a Limited Series
Damon Lindelof & Cord Jefferson for Watchmen
Lead Actor in a Limited Series
Mark Ruffalo for I Know This Much Is True
Lead Actress in a Limited Series
Comedy Series
Outstanding Directing for a Comedy Series
Andrew Cividino & Daniel Levy for Schitt's Creek
Outstanding Writing for a Comedy Series
Daniel Levy for Schitt's Creek
Lead Actor in a Comedy Series
Eugene Levy for Schitt's Creek
Lead Actress in a Comedy Series
Catherine O'Hara for Schitt's Creek