She-Hulk Episode 5: Jennifer goes costume shopping for She-Hulk; Daredevil's new yellow suit tease
Episode 5 of Marvel Studios' She-Hulk: Attorney at Law is now streaming on Disney+ Hotstar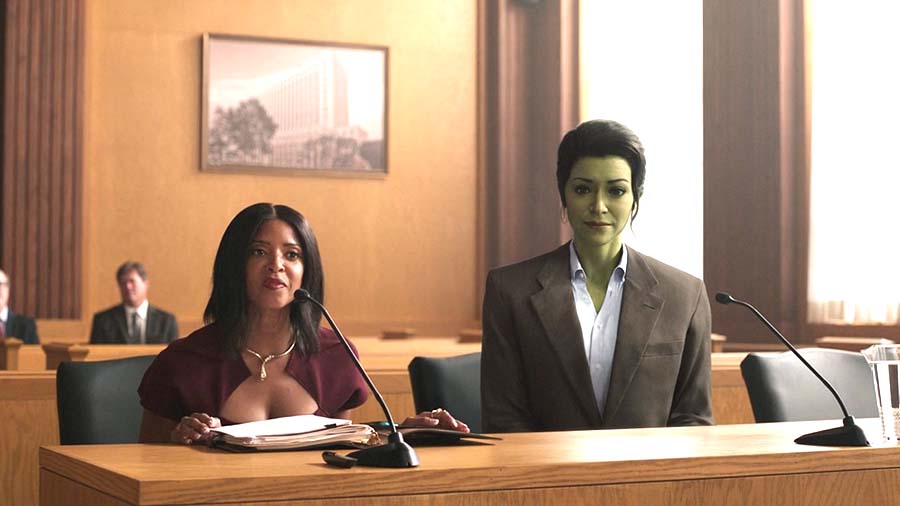 A still from She-Hulk: Attorney at Law
Disney+ Hotstar
---
Calcutta
|
Published 16.09.22, 09:46 AM
|
---
There is a lot to unpack after Episode 5 of She-Hulk: Attorney at Law, both for the protagonist and for us viewers. Jennifer Walters aka She-Hulk is still dealing with the urge to stick to her human identity while the world is more interested in her alter-ego — this is arguably the longest we have seen a Marvel superhero resist the urge to come into their own. 
On paper, this is the simplest episode so far. Jennifer faces off against Titania in court after the latter uses her fame to sell a range of products by trademarking the name She-Hulk. But the treatment is what brings a lot of nuance to our hero. There is a certain groundedness to Jennifer, brought by the emphasis on her dual identity. Her discomfort at identifying as a superhero while having the urge to keep the perks like good hair and strength makes her more relatable and human-like. She is not your average hero who magically gets implanted with a strong sense of morality after getting her superpowers. She reacts exactly like one of us would. 
There is barely any tension in the courtroom drama this episode offers. The arguments are clumsy-yet-suave, the case on hand is laughable, and our hero wins by disclosing some details about the men she dated. There is also a mild heartbreak when the men reveal that they are attracted to She-Hulk, but not Jennifer. 
While this emphasis on humanising  a superhero works with the quirky, light tone, it becomes a double-edged sword in terms of its connection with the MCU. We really don't want this show to be reduced to something that plays in the background while we eat.
At the end of the day, it's hard to forget that this is a Marvel show, especially with the costume-related easter eggs. We finally have a Daredevil reveal, and Jennifer is finally getting a swanky costume. 
But so far, she has had only two villains — Titania and patriarchy — neither of which seems to intimidate her. Given the foes she has battled, it will be extremely jarring to see her face off against multiversal threats in the upcoming Avengers films. It also becomes difficult to be engaged in her story without a compelling threat, as she never seems to be in any real danger. While we're enjoying the unique lens this show examines the MCU world through, it could get dated soon. She can't really be a Hulk without some smash, right?