Rising star behind the camera: Suravi Patnaik on why it's the best time to be a female producer in Bollywood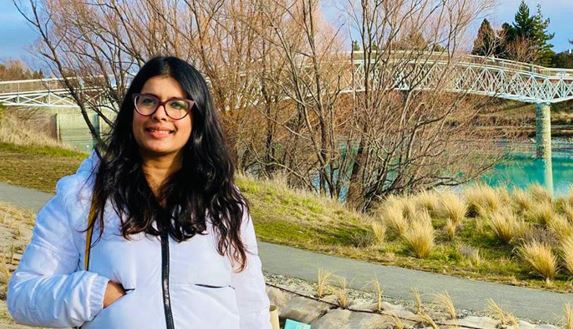 ---
Published 30.11.21, 02:02 PM
|
---
Suravi Patnaik, A strong-minded, resilient and revolutionary filmmaker, entrepreneur, and storyteller who's known for her viral reel of lemon chicken and her association with Tom Cruise starrer Mission: Impossible – Fallout in 2018 is all set to create a benchmark for outsider women who wish to be a filmmaker. Odisha born Suravi believes in chasing dreams with all the courage and perseverance. She is a founder and CEO of "Sponsa" - a global company with services in tech, marketing and even filmmaking.
Calling Bollywood male dominated terrain is a colossal understatement, especially when it comes to numbers. Statistics show a rather worrisome data of female filmmakers in Bollywood and global cinema. With an almost equal ratio of men and women in India, it's shocking that female filmmakers are less than 5% in Bollywood. Women like Suravi are taking the lead to bring the much needed change by beating all the odds and following their dreams. New Zealand based Suravi was academically a bright student who topped in all grades. She started earning in her mid-teens only by selling handmade jewellery in her high school. Her experience in Mission Impossible- Fallout inspired her to be a filmmaker but unknown to none, it isn't easy to be a filmmaker, more so for a female force breaking into the traditional male bastion of Bollywood filmmaking. Like (better phrasing here) Ekta Kapoor, Tahira Kashyap and Ruchika Kapoor, Suravi is all prepped up to expand the growing brigade of female producers.
The mammoth growth of web space over the last half a decade has made it a crucial medium in the entertainment industry. Suravi finds OTT platforms a doorway to abundant opportunities for both filmmakers and actors. These platforms open varied ways of storytelling for budding filmmakers. These platforms are also a wonderful opportunity for female filmmakers as they are comparatively easy to create content on and bring out stories which are not given a platform but need to be told. Suravi feels that OTT platforms are balancing the gender playing field as more and more women are finding their voices and bringing their stories on screen through web space.
As OTT platforms vanquish many of the commercial restrictions like censoring and format limit, they spoil consumers with choice by providing a wide range of content to them, says Patnaik. She believes that the digital medium has played an instrumental part in easing  commercial restrictions of creative projects. Patnaik says that these platforms allow filmmakers to experiment their craftsmanship.
Talking about her projects, Patnaik is all geared up for a first of its kind Odia anthology movie named "Indradhanu". Apart from that, she's already in talks with a leading artist for her next project.