Koneenica conveys social message through short films
She dons many hats in her first short film Haat that dropped on YouTube recently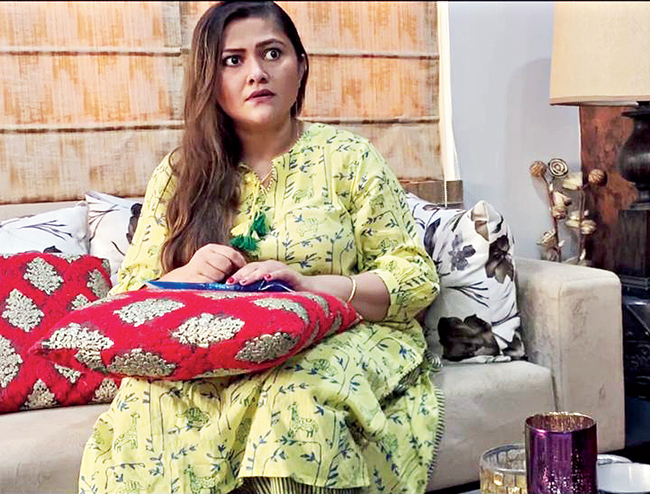 ---
---
Koneenica Banerjee is getting a lot of praise for two short films — Haat and Jharapata — that she has made from home during the lockdown. Incidentally, she dons many hats in her first short film Haat that dropped on YouTube recently. She not only acted in a triple role but also wrote the script and directed it. However, such versatility is nothing new for the actress. "In my school days I used to write the script, do the sets and make-up for everyone, and also act in a small role. One of my plays had received a lot of praise but at home I got a scolding for losing my grandfather's umbrella that I had used as a prop (laughs). So this is nothing new to me. I got a chance to revisit those days. The desire to be a director was always there in me so the short films allowed me to fulfill that wish too," says the actress.

Quarantined and involved in various household work, Koneenica was not finding a way to express herself, which is when the writing of the short Haat started. She says, "We are all in the same situation now. In foreign countries, people are used to household work. However, in India we are used to depending on the maid. Now, most houses are having to do without the maid. This was the basic idea that gave birth to the story. My husband (Surajit Hari) suggested that I work on the ideas that often crowd my mind and try to make a short film. I was thinking of a mother-daughter story but he suggested that I do a mother-in-law and daughter-in-law story instead. We shot it in three-fours hours. I had to change three looks in a rush because we are also having to look after our daughter Kiah. Krishnendu Dutta, our friend, helped with the edit. During such tough times, we have very few sources of entertainment. We did this to keep ourselves happy and in the process hoped to spread some joy too by keeping others entertained with a message."
Her husband Surajit shot the films on an iPhone. "He understands films. He clicks good photos too. He is well-versed with camera techniques. The shooting process was dependent on Kiah's sleeping and waking up schedule. Our shot division was pre-decided and we knew which part of our house we would use for shooting which scene. Since we did the whole thing in our house the shooting process wasn't that difficult to figure out," says Koneenica.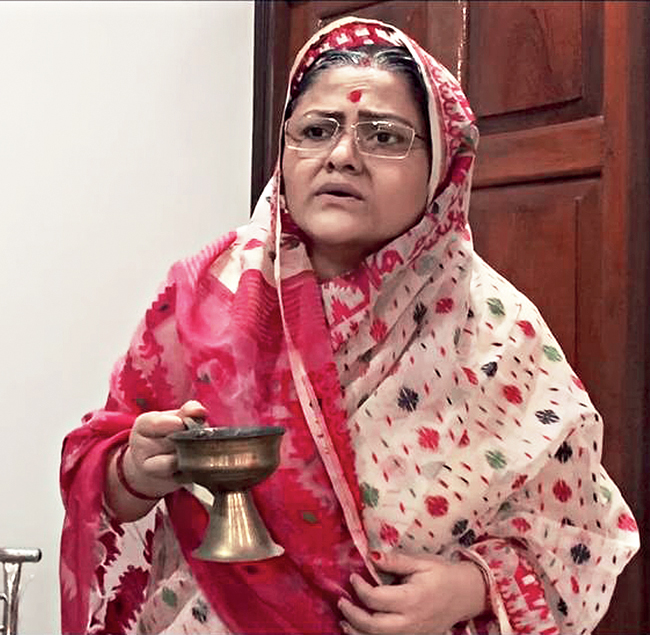 The actress chose humour to convey a message in Haat. "People are talking about getting irritated and depressed on social media. So I thought of using humour to give out a message. And I feel if the work gets divided between the family members and is not gendered, then it gets easier for all," said Koneenica, who aced all the three looks — that of the maid, the mother-in-law and the daughter-in-law — in Haat. The make-up had a lot of creativity involved in it too. "I am staying in my in-law's house now. I have all my make-up in my mother's house. But here I don't have all the things. So, I had to use a lot of tricks. For colouring my hair grey I used toothpaste! I had only one white sari here, that too with a red border, so I chose to portray the character with a different body language. I did the acting primarily using the movement of my neck. I used my maid's sari to do Pompa's role. I had given it to her and she left it in the house before taking leave. For the daughter-in-law's role I used my clothes. My daughter stared at my hair in wonder with that white toothpaste on it," smiles Koneenica.