Killer mood for War
Fans were waiting eagerly to watch the jaw-dropping action from Hrithik Roshan and Tiger Shroff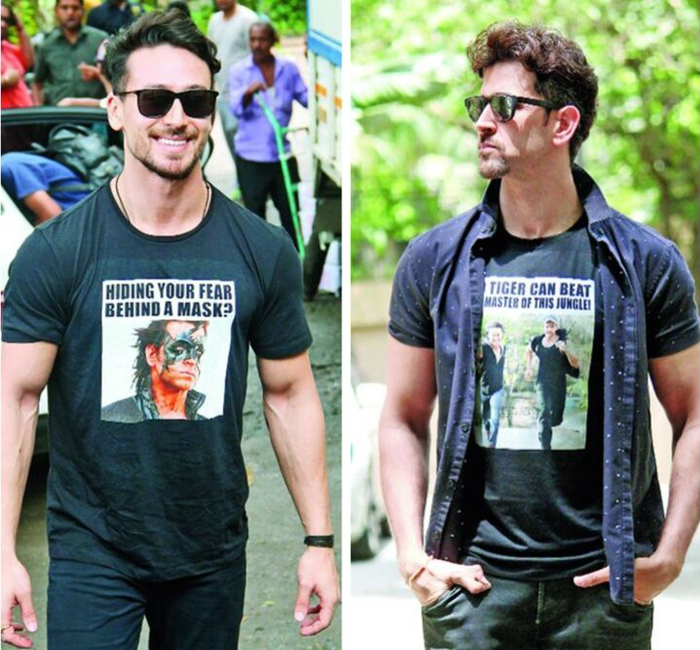 "Student" Tiger Shroff (Khalid) last week took to "teacher" Hrithik Roshan (Kabir)'s films for laugh-when-you-spot tees. Hrithik, too, kept the tee-game strong, as he stepped out on Saturday with a Tiger T-shirt of his own.
Pictures by Yogen Shah
---
Published 23.09.19, 02:28 PM
|
---
Hrithik Roshan and Tiger Shroff, two of the country's biggest action-and-dance stars, nailed the latest Holi track — Jai Jai Shiv Shankar/Mood Hai Bhayankar — from their October War with three weeks of rehearsal.
Fans were waiting eagerly to watch the jaw-dropping action from the stars, but this song is an added bonus.
War director Siddharth Anand said: "Since the inception of the film, people speculated that there would be a huge dance anthem featuring two of the best dancers of our country, Hrithik and Tiger.
"While people were excited that the action heroes were coming together for the first time, they were equally excited to see them dance. This has been the biggest anticipation which automatically creates a huge pressure to deliver a cracking song.
"First, we had to actually get the track right, a track that actually justifies them dancing together. Hrithik and Tiger have had very, very good songs to their credit… I told Vishal and Shekhar that this is not just a song, this is a responsibility. I think it's the blessings of God and the blessings of all the fans of Hrithik and Tiger
that we have been able to create a track which is truly an anthem."
Performed by Vishal Dadlani and Benny Dayal, the song has received over 23 million views since its release on YouTube Saturday morning.
After the release, Siddharth said once they "got the right track that had this kind of groove and beat which is so big" they couldn't have shot it in any lesser way. The director said: "You will get into a bhayankar mood to dance, you will just freak out and that is the killer part of it."