Flashback Friday: Rajnigandha
A tale of one girl, two cities and two men. Basu Chatterjee's award-winning Rajnigandha, which released in September 1974, is adapted from Mannu Bhandari's refreshing short story Yehi Sach Hai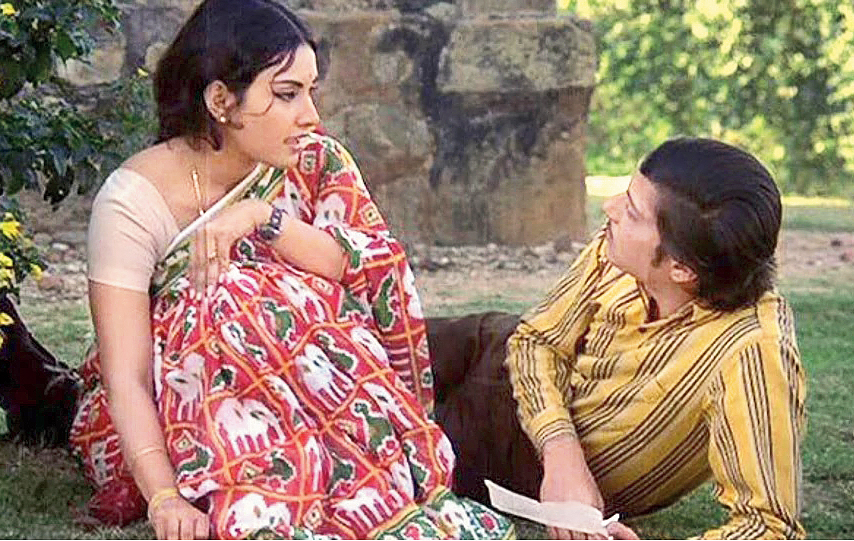 ---
---
Kis ko meet banaaun, kis kee preet bhoolaaun
A tale of one girl, two cities and two men. And a quiet fragrance that's deceptively heady.
Basu Chatterjee's award-winning Rajnigandha, which released in September 1974, is adapted from Mannu Bhandari's refreshing short story Yehi Sach Hai.
Chatterjee gets the mint-fresh pair of Vidya Sinha (Deepa) and Amol Palekar (Sanjay) to play a middle-class dating couple in early 70s Delhi. For the third angle, there's Deepa's ex-boyfriend Navin in Bombay, played by theatre actor Dinesh Thakur. And there's Ira (the glamorous Rajita Thakur), the catalyst, Deepa's uber-cool Bombay friend.
Rajnigandha isn't the celluloid snack called the rom-com, it's a full buffet of flavours. Deepa's doing her PhD, is a bit of an introvert, torn between current boyfriend and ex. Gasp, she's a Hindi film heroine 45 years ago.
One of the most flawed boyfriends Bollywood has ever seen, Sanjay's talkative, obsessed about his job and promotion, always late, forgetful about movie tickets and compliments. But he brings Deepa rajnigandha bunches, has an open smile and a heart that isn't insecure that his girl has more degrees than him or has had a boyfriend before.
Navin, firebrand student leader-turned-suave adman in Bombay, is the original LinkedIn man. He's a networker, attentive and punctual, he takes Deepa around in Bombay where she's come for an interview and pulls a few strings for her for the job.
There was no Facebook then, so we don't know Navin's relationship status. Director Chatterjee, who could have used Ira to enlighten us, never does. It's a narrative masterstroke. Because we only know, through a series of freeze frames, and that incredible song about the fluidity of desire, Kayi baar yun bhi dekhaa hai... (wordsmith Yogesh, composer Salil Chowdhury, singer Mukesh and cinematographer K.K. Mahajan make magic), how Deepa wordlessly falls for Navin again, despite their angry break-up years ago, despite Sanjay.
It's a taut film of 110 minutes, so Deepa's emotional ping-pong never tires the viewer. Who does she choose? The clue was always in the film's name and title song.
A rare Hindi film that gives the girl a choice in her love life and doesn't judge her for wavering.