Flashback Friday: 25 years of Hum Aapke Hain Koun...!
Two weddings, a funeral and superdog Tuffy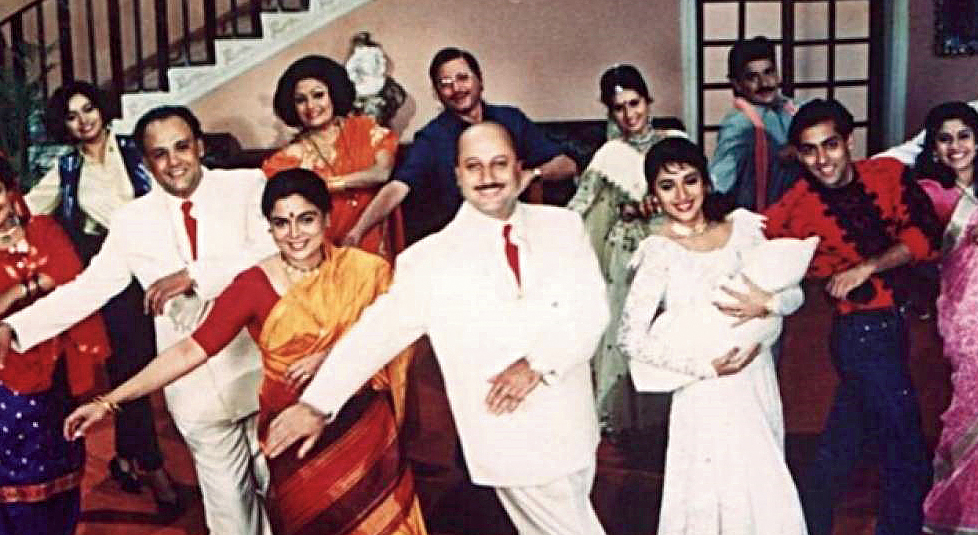 ---
---
Mere sasurji pita hain, pati devta hain
Devar chhavi Krishna kee...
It's the Baabul song where the just-married Pooja (Renuka Shahane) is leaving her parents (Anupam Kher and Reema Lagoo) and sister Nisha (Madhuri Dixit). Sung by Sharda Sinha, it's also possibly the least-remembered song in Hum Aapke Hain Koun...! but Ravindra Rawal's lyrics embody the values of Sooraj Barjatya's magnum opus.
Disparaged as a shaadi video by critics, HAHK — which completed 25 years this August 5 —is a blockbuster because of it. Indians love weddings and the film had the intimacy of a family shaadi video. Over 7 crore people invited themselves to the engagement between Pooja and Rajesh (Mohnish Behl), their wedding with joota chhupai, Pooja's baby shower, her funeral, all interspersed with the secret love story of Nisha and Rajesh's brother Prem (Salman Khan), and finally Rajesh's second marriage to Nisha... oops. It would have happened had the family dog Tuffy (Indian Spitz Redo) not turned up with the incriminating necklace and love letter. Prem and Nisha, who'd chosen Family over Flirtation, get to marry thanks to Tuffy. But even the superdog can't save the bride from diaper duty.
It's a traditional yet fun-loving world where a good girl marries a handsome industrialist with everybody's blessings, gives up painting and salwar kameezes for cooking and saris, discovers a flair for garden cricket, becomes pregnant in the space of a song and dies three songs later, only to have her parents pick her husband for her sister before her own ashes are cold. Another good girl is pampered enough to be able to study computers, read comics, eat chocolates, roller-skate AND reply to catapult with coquetry (Didi tera devar deewana), but sanskari enough to give up her boyfriend at a moment's notice to play mommy to Munne Raja. Everyone's nice, including the Muslim family friends and the servant couple. The only mean Mamiji (Bindu is delicious) is cured by a slap from her husband (Ajit Vachani), the film's most violent moment.
To its credit, the film does have a genuine bear-hug appeal. At a time cable TV showed American couples chewing each other's lips off, Nisha and Prem flirt with coughs, families eat, sing and pray together. Barjatya binds two weddings and a funeral with a large ensemble cast (Alok Nath, Satish Shah, Himani Shivpuri, Laxmikant Berde, Priya Arun...) where everyone gets a moment and a character, and 14 catchy songs (Raam-Laxman). In the end, you smile even at the dog ex machina.