Depth of heart
Ranveer Singh is actually a man with an unshakeable depth that isn't apparent from his hearty, crazy exterior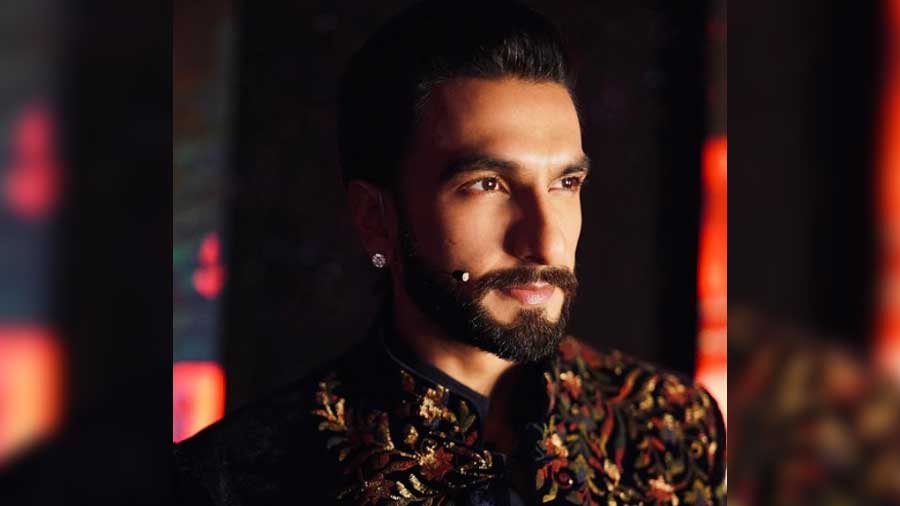 Ranvir Singh
File Picture
---
Published 15.01.22, 11:55 PM
|
---
In May 2012, Ranveer Singh was nursing an injured back, after an accident on the sets of Lootere. Yash Raj Films had launched him two years earlier with a spirited Band Baaja Baaraat. At his Khar apartment, where he lived with his parents and sister, while Ranveer chatted with me and Ritika laid out a spread, his parents stayed in their rooms. That's what he always wanted — to keep the spotlight away from his family. He didn't want to even click a casual picture of himself on his mobile phone and send it to me, firm about not wanting a nook or cranny of his parents' home to be featured anywhere. He's been that protective of their privacy.
Most people tend to misread his flamboyance, outlandish wardrobe and life-of-the-party wackiness as flippancy. Having watched him closely, he is actually a man with an unshakeable depth that isn't apparent from his hearty, crazy exterior. After much stardom too, Ranveer insisted on going solo to a TV show that featured all its celebrity guests with a close associate or family member. Similarly, the levity is nowhere when he's immersed in a role, unavailable for social interactions or script narrations.
May 2012 was when another of YRF casting director Shanoo Sharma's proteges was making his debut. Most actors would look at a same-age entrant as a rival. But that evening at his place, Ranveer pumped the air, heartily cheering Arjun Kapoor and Ishaqzaade. When YRF cast both their discoveries in Gunday (2014), the chemistry between them wasn't an act.
Both born in 1985, Arjun is one month older than Ranveer. They're both related to Sonam Kapoor. Dyed-in-the-wool, third-gen filmi kid Arjun from her paternal side, Ranveer with no connections to the industry, a far-off cousin from her mother's side.
Another common ground is that each has done a commercially tepid film with Sonakshi Sinha (Lootere, Tevar) and partnered Alia Bhatt in a box-office hit (Gully Boy, Two States). They've done the Royal Stag commercial together and co-hosted an IIFA evening. Each has also anchored a TV show (The Big Picture, Khatron Ke Khiladi) with neither pulling it off too well. 
But they are a study in contrast. Each grew up yearning to be an actor. While Arjun was weaned on "Lights, Camera, Action", Ranveer was the outsider who dabbled in copywriting as an alternative and wondered how he'd catch the attention of a remote film industry. They have also had contradictory experiences with Sanjay Leela Bhansali. When he was doing a screen test with Vidya Balan for a film that never materialised and Arjun strolled into the set, the filmmaker had turfed him out. Bhansali went on to make three thumping hits with Ranveer.
For all his energy and outward flashiness, Ranveer fell in love, said "no means no" to talking about his ladylove, and got married at 33 to co-star Deepika Padukone, six months younger than him. Arjun is in a more unconventional relationship with Malaika.
Despite the different circumstances and personalities, the duo has a bond dotted with integrity. By now, most people know that the script of 83 had first gone to Arjun.
An excited Arjun had taken the script to Phantom, a big production house six years ago, headed by Anurag Kashyap, Vikramaditya Motwane, Vikas Bahl and Madhu Mantena.
It is believed that Ranveer had sent a warning signal to Arjun right then. Few know that Bombay Velvet (then touted as a prestigious project) was to have starred Ranveer. But when Ranbir Kapoor showed interest in it, Ranveer was replaced at the eleventh hour.
But Arjun stayed with Phantom, even offering to do an audition to play Kapil Dev. However, even while cricketer Abhishek Nayar was tapped to prep him, Arjun got to know that Ranveer had been approached. Ranveer hid nothing from Arjun.
Arjun lost a good role. But he didn't lose a good friend.
Bharathi S. Pradhan is a senior journalist and author