Blurr, Copenhagen Cowboy, Vijayanand, Vadh: New trailers, teasers and posters
Here's what kept the world of cinema and web buzzing today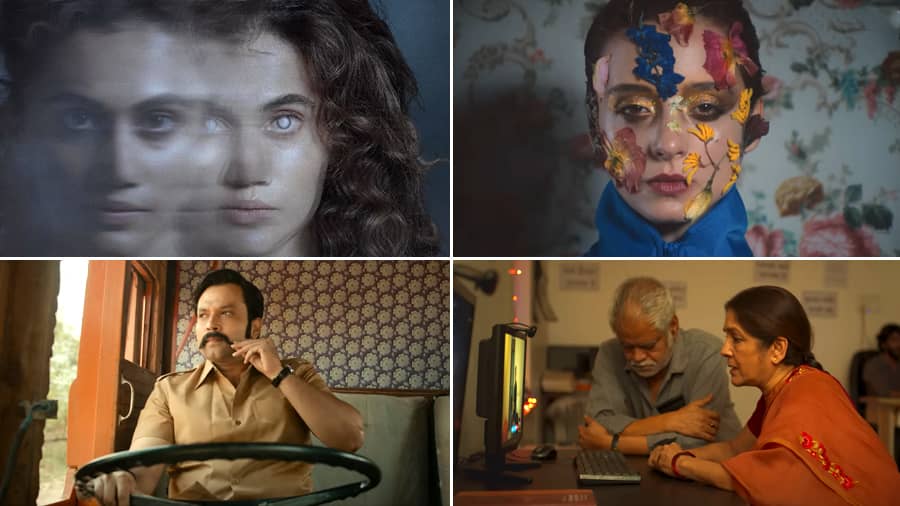 ---
Published 24.11.22, 04:26 PM
---
Blurr
Taapsee Pannu shared the first look and release date of her upcoming psychological thriller Blurr on Wednesday. Directed by Ajay Bahl, the movie will premiere exclusively on ZEE5 in Hindi. The film is produced by Zee Studios, Outsiders Films and Echelon Productions. 
In the first look, a seemingly scared Taapsee looks at the camera as another Taapsee appears in front of her. As their faces get blurred, the former Taapsee is seen losing her eyesight. Sharing the motion poster, Taapsee captioned the post, "There's always more than what meets the eye! #BlurrOnZEE5 premieres 9th December."
Blurr will arrive on Zee5 on December 9. 
Copenhagen Cowboy
Netflix has dropped the official trailer of Nicolas Winding Refn's upcoming Danish-language neo-noir series Copenhagen Cowboy. The six-episode series stars Angela Bundalovic, Zlatko Buric, Andreas Lykke Jørgensen, Jason Hendil-Forssell, LiIi Zhang and Dragana Milutinovic. Winding Refn is known for his Pusher trilogy and Drive. 
In the trailer, we follow an enigmatic young woman, Miu, who seeks justice and retribution after being a slave all her life. She encounters her adversary Rakel, and together they set out on a treacherous journey across the natural and supernatural realms in Copenhagen's criminal underbelly. The trailer is drenched in neon lights and noir aesthetics.
Copenhagen Cowboy will be streaming on Netflix from December 5. Vijayanan
The official Hindi trailer for the upcoming Kannada-language film Vijayanand was released by the makers. Touted as Kannada cinema's first-ever biopic, the film is written and directed by Rishika Sharma and stars Shri Anant Nag, Nihal, Bharath Bopanna, Siri Prahalad, Vinaya Prasad, Prakash Belawadi, V Ravichandran, Anish Kuruvilla, Ramesh Bhat, Dayal Padmanabhan, Shine Shetty and Archana Kottige.
The trailer tells the story of Vijay Sankeshwar, the man who founded VRL Logistics — the biggest logistics company in India. What began as a single-truck company expanded into one of the biggest networks of organised fleets in the country. In addition to focusing on Padma Shri-recipient Vijay Sankeshwar's battle with bureaucracy and the establishment of social hierarchy, the movie also centres on his son Anand Sankeshwar's effort to uphold his father's legacy.
Vijayanand is all set to release on December 9 in Kannada, Hindi, Tamil, Telugu and Malayalam. Vadh 
T-Series dropped the official trailer of its upcoming crime drama film Vadh. Written and directed by Jaspal Singh Sandhu and Rajeev Barnwal, the film stars Sanjay Mishra, Neena Gupta, Saurabh Sachdeva and Manav Vij in lead roles.
In the trailer, we see a retired middle school teacher living a mundane middle-class life with his wife in Gwalior. A situation gets out of hand as a man gets killed by the old teacher, who must now dispose of the body and behave as if nothing had happened.
Vadh will hit the cinemas on December 9.