A New Normal
War has brought a new reality to Ukrainians, but some things still hold true. As the weather warmed, some parents wondered — what should we do with the kids this summer?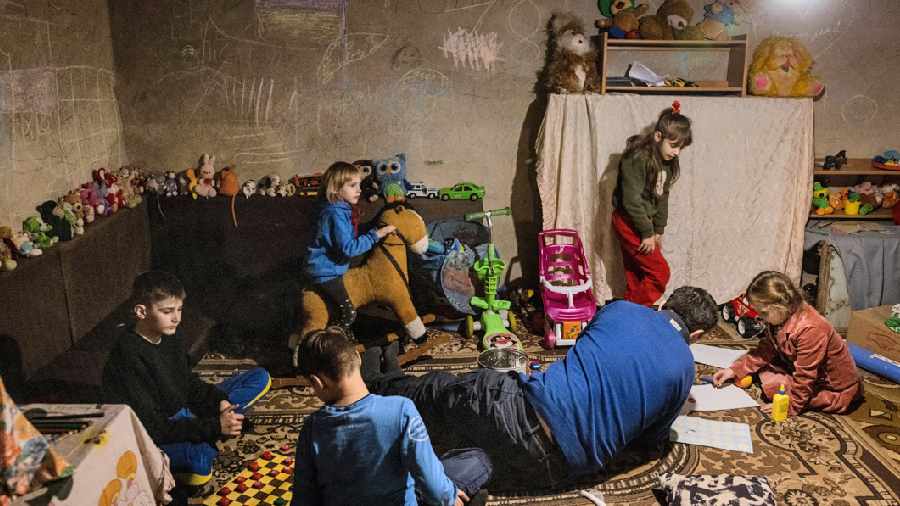 WAR GAMES: Children engage in activities in an underground bunker in a small town south of Kyiv, Ukraine.
NYTNS/ Ivor Prickett
---
Published 13.09.22, 05:48 AM
|
---
A late-July morning, and the sounds of the summer camp were the sounds o f s u m m e r camps everywhere as children raced from activity to activity. But the Midgard Forest Camp is in Kyiv, in wartime Ukraine, and when the air was pierced by a warning siren, the children knew what to do, abandoning their games and dashing for safety. It is a routine as familiar as lunch.
With children isolated and deprived of social contact — some driven from their homes by fierce combat — schools and camps in Ukraine began springing into action to offer programmes. Parents considering the Forest Camp, which is run by the Midgard School, may once have asked about counsellor-camper ratios or art programmes, but on February 24, when Russian forces surged across the border into Ukraine, all of that changed.
"My first question was whether they have a shelter," recalled Nataliia Ostapchuk as she dropped off her six-year-old son. Yes, it does, and when the siren went off the other morning, that is where the campers headed. The children spent about an hour in the basement shelter, and for the most part, they took it in stride.
The shelter covers about 5,000 square feet, and given the frequency with which the children must go there — at least once a day — the school has equipped it well. Beyond the tables and chairs, there are toys, table games, television screens. There is also an air-supply system, toilets, showers and Wifi.
"I don't feel like I'm in a shelter," said Polina Salii, 11, whose family fled Pokrovsk, a town in the east. Back home, her family would race down to a basement repurposed as a shelter, with canned food, porridge and litre bottles of water. "When there was shelling in the distance," Polina recalled, "we spent the whole night there".
The campers soon seemed to forget their basement surroundings, content to spend time with their electronic devices as their parents were sent text messages of reassurance. But when the siren wound down, the children responded joyfully, climbing the stairs to resume their day. 
The Midgard School, as in past years, transformed into a camp when summer came. But this is not like any other year. This summer, the camp offers a 50 per cent discount for the children of Ukrainian military members, many of whom are deployed on the front lines. About one-third of the campers are from internally displaced families, who attend at no cost. And the campers no longer go on day trips. They need to stay close to the shelter, in case the siren sounds.
Many families of internally displaced campers arrived with little more than they could carry. The school has provided housing for three families that fled the fighting in the east. They are living in what is ordinarily the kindergarten building.
Five years ago, when her son was born, Maryna Serhienko decided that Kyiv, Ukraine's capital, could use a family development centre. So she founded one. Uniclub offered community members a kindergarten, a summer camp and a gym where mothers could bring their children.
Like the Forest Camp, Uniclub recast itself after Ukraine was invaded. "When the war started, we organised a shelter," said Ivan Zubkov, Maryna's husband. "Families with their children — and even pets — were living in the shelter room." Public kindergartens are not open this summer in much of Ukraine, but Uniclub has 25 children in its kindergarten and 12 in its camp.
It has also offered services for children displaced from Mariupol, the eastern city that was brutally besieged by Russian forces. Uniclub provides clothes for those who need them, along with discounts and tuition waivers. Some families have landed at Uniclub to escape fighting elsewhere — if only as a way station.
It might once have seemed an unfathomable summer activity, but Ukraine itself has become unfathomable, and so a programme to teach children how to reduce the risk from mines does not look so odd.
The class is put on by Soloma Cats, a charitable foundation that works with specialists from the State Emergency Service and the National Police. Over the course of a week, in five districts of Kyiv, children and their parents are offered safety lessons about mines and unexploded ordnance.
Although Russian forces pulled back from Kyiv after early efforts to take the capital failed, areas around it were occupied. When the invaders withdrew, there were mines and booby traps left behind.
"Today, more than 1,00,000 square kilometres of the territory in Ukraine is mine-contaminated," the charity says. "Children and adults all need to know how to react if they find a dangerous object."
The war has taken a heavy toll on the children of Ukraine. Since the beginning of the invasion, at least 358 had died and 693 were injured.
NYTNS