Special call
Have the policies to enable persons with disabilities pursue schooling and higher education made a difference?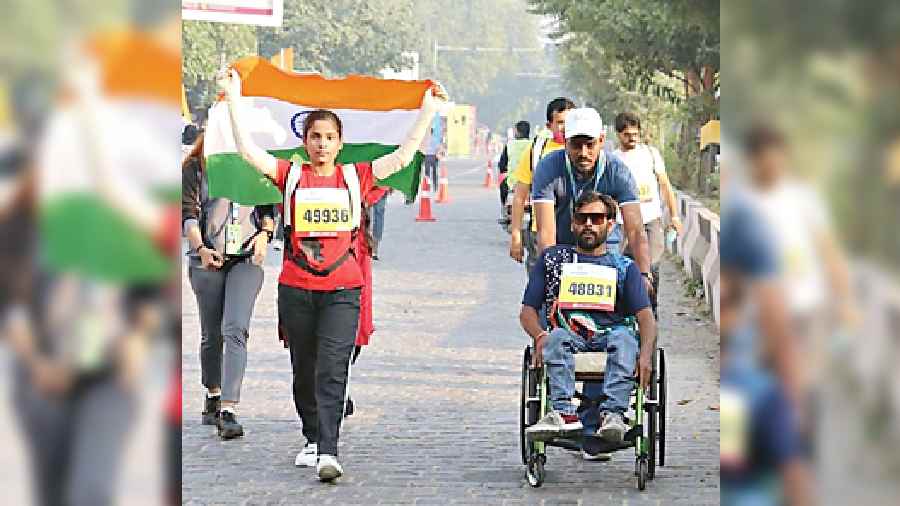 A disabled student participates in the recent Delhi half marathon
---
Published 15.11.22, 04:09 PM
|
---
In recent years, there have been the Rights of Persons with Disabilities Act 2016, the National Education Policy 2020, the UGC's Accessibility Guidelines and Standards for Higher Educational Institutions and Universities 2022. However, in reality, these students with disabilities face several barriers to participation and learning opportunities in higher education institutions. "This could be due to structural, attitudinal, resource-related obstacles and so on," says Afaq Ahmad, a senior research fellow in the department of sociology at Aligarh Muslim University.
Some colleges such as Jadavpur University, Rabindra Bharathi University, Shoolini University, Ashoka University, O.P. Jindal Global University have made the campus more accessible for disabled students. But in most colleges, awareness is very low. "According to the disabilities act, there is a 5 per cent reservation for disabled students in all higher educational institutions but many colleges are not aware of it," says Biswajit Ghosh, former principal of Ramakrishna Mission Blind Boys' Academy at Narendrapur. "Sometimes, when students face problems, they bring it to our notice, and we talk to the college. In some cases, we do involve the commissioner of disabilities to resolve the issue. Jadavpur University has excellent facilities. They have a special education department, trained staff, hostels, stipends and the physical infrastructure to support these students," he adds.
Some students feel isolated when they join these institutions. Kundan Yadav, a visually impaired student who graduated in English from Jadavpur University, says, "We get facilities and help but people don't mix with us as they feel we are different." 
Ishan Chakraborty, a visually impaired assistant professor at Jadavpur University, says the department of arts has a regular influx of disabled students, an accessible library, audiobooks, braille books, lifts and ramps in most buildings. He says, "We have hope, visibility and a voice for getting things addressed, which is not there outside." Jadavpur offers two master's courses in disability studies; a first for West Bengal.  "After this students can pursue a PhD or get into special education or social work. Some also go abroad," he added.
Anurag Kashyap, advocacy manager at Sarthak, an NGO working with people with disabilities, says courses related to disability will raise awareness levels among people. "Others will also do these courses, and see that they can learn and research in this area. This will bring equality in the university. But just a few places like Ambedkar University in Delhi and Tata Institute of Social Sciences in Mumbai offer such courses."
About the new policies being introduced, Kashyap says there has to be a huge mindset change before anything else. "If you look at Delhi University records, 500 seats for people with disability remain vacant. Sometimes students do join but drop out after a year or two. The reasons are infrastructure inaccessibility — these colleges have very old buildings; lack of special resources, and professors having no information about disabilities," he adds.
In India, students with disabilities are often dissuaded from taking science, technology or maths programmes and are diverted towards the humanities. Tanmay Singh, a student with cerebral palsy, decided to break the mould and study biology. "I fell in love with the subject in Class VII," he says. Though his family was supportive, there were concerns about how he would manage the extensive laboratory work.
Tanmay got through Delhi University and the faculty was very supportive, he says, but he soon realised that the campus was not accessible or built to support "someone like me". This was in 2019, and the Disability Act had been passed some years ago. "I was disappointed and realised a huge gap exists between practice and policy," says Tanmay who then turned to Ashoka University. "They have an Office of Learning Support or OLS and many students with disabilities study at Ashoka. There are lifts, ramps, special needs washrooms and there is not a single location on campus which is not accessible." Ashoka University started its OLS department in 2016 with the invisible disabilities — dyslexia (difficulty in reading), dysgraphia (inability to write coherently) and dyspraxia (childhood developmental disorder). "Now  we  have students with visual impairment, hearing impairment, cerebral palsy, autism and ADHD. They are all extremely bright and live on campus. So, we work to create a comprehensive system where these students can participate in all kinds of programmes and activities offered by the university," says Reena Gupta, founding director of OLS.
More students with disabilities are attempting competitive exams such as IIT-JEE. They get extra time or a scribe if required. Lovesh Gupta, who has a locomotor disability, got into IIT Bombay after clearing the JEE Advanced exam. After completing his bachelor's in computer science in 2021 he joined Amazon. He says, "Many buildings at IIT-B had ramps and lifts, but the campus can be made more accessible and some vehicles should be allowed to move between buildings." He feels it would help visually impaired students to get recordings and slides of all lectures.