Rajkummar Rao faces off with Neha Dhupia
It's Rajkummar Rao and Ishaan Khatter on BFFs with Vogue tonight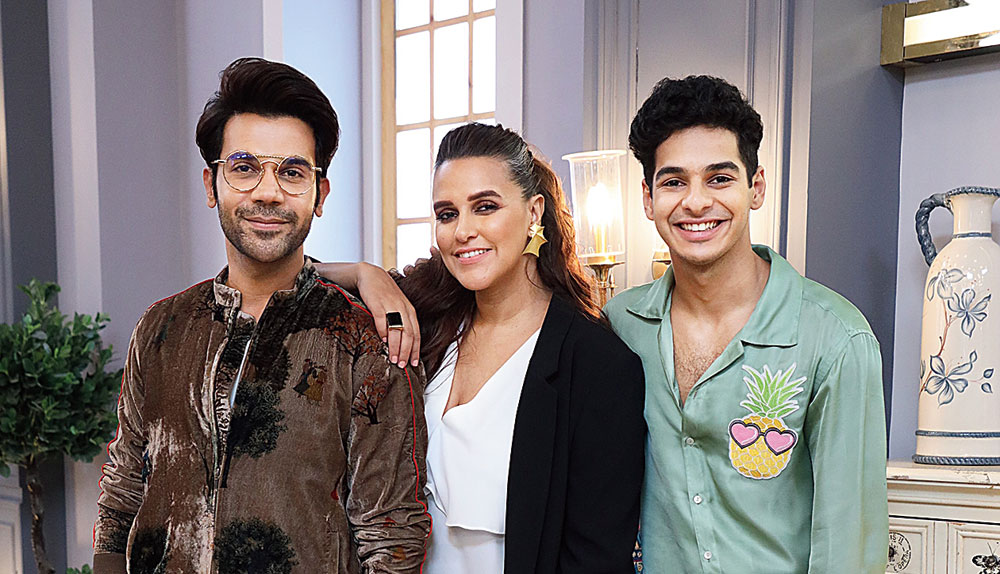 Rajkummar Rao and Ishaan Khatter with host Neha Dhupia on BFFs with Vogue, airing tonight
A still from the show
---
Published 10.05.19, 01:33 PM
|
---
Actors Rajkummar Rao and Ishaan Khatter share the couch in the third episode of Season 3 of Jeep Presents BFFs with Vogue. Here are excerpts from the chat hosted by Neha Dhupia and airing tonight (at 9pm on Colors infinity and Colors infinity HD)...
Neha Dhupia: If you were to get someone's name tattooed on your body, who would it be and where?
Rajkummar Rao: I don't know if I can ever have a tattoo on my body, but if it has to be there I am just going to have 'Ma', in Hindi. That's probably where I'll have it (pointing towards the tip of his index finger).
Neha: Raj, you're doing Mental Hai Kya. Who is the most mental co-star you have worked with?
Rajkummar: The rat in Trapped was the most mental co-star, yeah.
Neha: Who in your family curses the most and why?
Rajkummar: I used to when I was in school, but not any more. You know, typical Delhi boy!
Neha: The last film that made you laugh till you cried?
Rajkummar: I've just binge- watched Friends all over again, so I think I laughed every night. But films that made me laugh…. maybe some parts of La La Land. And The Hangover is one of my favourites.
Neha: What's your 'go anywhere do anything' fantasy?
Rajkummar: I want to go to a beach where there is nobody. Only me, and most probably Patralekhaa (Rajkummar's girlfriend) will be with me. I just want to roam around there without wearing clothes, with no paparazzi and run around all over the beach naked and swim.
Neha: Ishaan, what's your current earworm?
Ishaan Khatter: I am listening to this song called Tadow by FKJ.
Neha: Okay Ishaan, tell us what's the best thing about being in a relationship with a celebrity?
Ishaan: Uhhhhh!
Neha: Are you in a relationship with a celebrity?
Ishaan: Yeah, my brother (Shahid Kapoor)! He is a huge celebrity and the best thing is to get exclusive entry into film screenings.
Neha: Raj, what's the worst thing?
Rajkummar: There's nothing worse, as such. I think it's just maybe sometimes you want to have your time and space, but there'll be people all around who want to take selfies.
Neha: Ishaan, who has the worse temper — Shahid or Mira?
Ishaan: I would say my brother.
Neha: Raj, what's the best accessory you have ever gifted your girlfriend, Patralekhaa?
Rajkummar: Bags.
Neha: Not diamonds?
Rajkummar: Not yet.
Neha: Ishaan, one piece of jewellery you would love to give your girlfriend one day? Size, carat, give us all!
Ishaan: I really don't know much about size and carats and 'naayaab cheezein', but I like necklaces.
Neha: Raj, copy one of your co-stars…
Rajkummar: (Imitates Sonam Kapoor's twang) Okay, so when she speaks English, of course she is brilliant in Hindi as well… 'Hi Raj, how are you? Hi, you know I was in London, but you have to come to my house, it's so pretty!