Dig up a great future
The columnist offers some of the best solutions to your education-related queries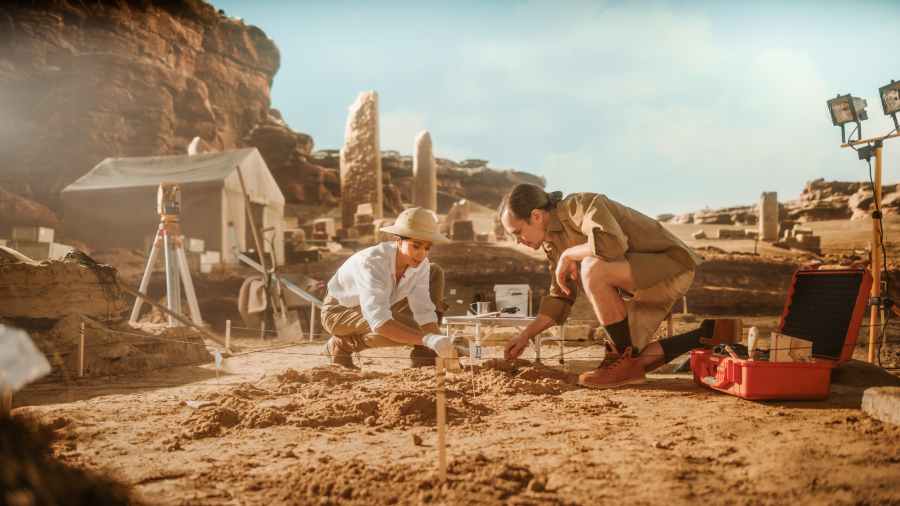 If you have a flair for learning about the past, archaeology is a great career option
Shutterstock
---
Published 26.04.22, 12:23 AM
|
---
I am a student of Class XI pursuing humanities. I want to know about the different career opportunities related to history. What do I have to do if I want to be an archaeologist? Is there a future in archaeology?
Ananya Kayal, Howrah
If you're interested in history, you could pursue a bachelor's degree in the subject and then work as an art or museum curator, historian, archaeologist or as an archivist. Students from humanities can also move into areas such as marketing, advertising, law, hotel management, social media or journalism.
However, if you have a flair for learning about the past, archaeology is a great career option.
It gives you the chance to go directly to the source and study past human activity by excavating and interpreting objects as well as sites of historical interest.
To become an archaeologist, you need a bachelor's and a master's degree in the subject.
Those with a bachelor's degree in anthropology or history could also opt for a postgraduate degree in archaeology. Having a doctorate degree in the subject will lead to better work opportunities and higher pay.
Admissions to most graduate or diploma programmes in archaeology are merit-based though some colleges conduct entrance exams followed by personal interviews. If you wish, you could look at the option of pursuing your undergraduate degree in India and then going abroad for higher studies. Just keep in mind that some countries require students to have at least four years of undergraduate education.
India has a rich cultural heritage, so there is a demand for archaeologists here. The Archaeological Survey of India is one of the primary recruiters of archaeologists.
Organisations such as the Indian Council of Historical Research, national heritage agencies, private and public museums as well as universities also recruit archaeologists.
May the wings be with you
I am a student of Class X and want to graduate in medicine. After my graduation, I want to join the Indian Air Force. However, I am interested in joining the flying branch in the IAF.
Is that possible? It will be great if you could provide all the relevant details.
Aaryan, Calcutta
There are different ways to get into the armed forces. Since you are interested in pursuing medicine, you should try for the Armed Forces Medical College, or AFMC, in Pune through the NEET exam. Please ensure that you have physics, chemistry and biology in Class XI to be eligible for the NEET exam.
You can start preparing for NEET from now. You may join a coaching centre or you could study by yourself. Solve a lot of question papers and keep tabs on your timing.
The NEET cut-off for AFMC is quite high. After you qualify NEET, you will have the next stage of tests and interview for AFMC.
First, you will have to take the ToELR exam, which stands for Test of English Language, Comprehension, Logic and Reasoning. Then you have the PAT — Psychological Assessment Test — and finally the interview. You also have to undergo a medical test before you can be admitted into the college.
You can also join after completing your MBBS from any college recognised by the National Medical Commission as a short service commission (SSC) officer.
Officers of the SSC serve for a minimum of 10 years with the option to either leave or opt for an extension.
Unfortunately, you can either be a doctor or a pilot, not both.
Nina Mukherji is a career counsellor and certified psychometric assessor. She conducts workshops in various areas for students. Mail your queries to telegraphyou@gmail.com with "Ask Nina"in the subject line. Don't forget to add the name of your school or college and a contact number