Care for healthcare workers
WHO emphasises on the correct use of personal protective equipment (PPE) such as masks, face shields, gloves and gowns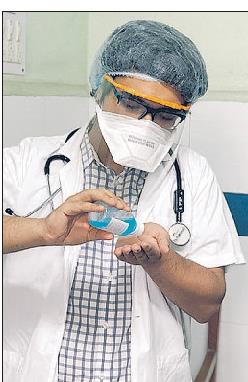 ---
---
A group of nine medical interns at the Institute of Postgraduate Medical Education A and Research (IPGMER) and SSKM Hospital, have taken up the task of sensitising the staff of the hospital about always following hygiene protocol. They are calling themselves the Covid Crusaders.
According to World Health Organization (WHO) data from the end of April, the Covid-19 pandemic has affected over 35,000 healthcare workers across the world. Several of them have died too, though numbers remain unverified. In a country like India where the doctor to patient ratio is poor, infection or death of a single healthcare provider at this crucial time can disrupt the system. India has a doctor to patient ratio of 1:1,445, as opposed to the WHO recommended 1:1,000.
To protect frontline healthcare workers, WHO emphasises on the correct use of personal protective equipment (PPE) such as masks, face shields, gloves and gowns.
Most healthcare workers have a basic knowledge about how to use PPEs for self-protection. But, as the Covid-19 pandemic is still very new, there is some confusion as to how to handle infected patients. Besides, as people panic and the number of infected patients rise sharply, healthcare workers rushed off their feet are prone to missing basic hygiene protocol. They can unwittingly make errors while putting on or taking off PPEs. This is the point at which the Covid Crusaders intervene.
These crusaders keep an eye on whether doctors and other healthcare workers are doing the donning and doffing of PPEs correctly as well as following government guidelines to a tee.
Unless handled carefully PPEs can spread the contagion.
'We are ensuring that everyone wears a mask, and uses it properly', says Antareep Halder, an intern who has recently took the final year MBBS exam. 'We are also monitoring proper use of gloves, hand sanitisers and maintenance of social distancing all The Covid Crusaders at work over the hospital,' he adds. The Covid Crusaders convinced the hospital authorities to set up specific areas in the emergency department of SSKM where health- care workers could change in and out of their PPEs in the correct way.
In addition, they are ensuring proper screening of Covid-19 and nonCovid-19 patients. They keep an eye on patients' kin as well and make sure that they maintain physical distancing.
They are also reminding attendants who man stretchers to maintain the prescribed hygiene protocol while handling or transferring patients from one place to another. Says intern and one of the Covid Crusaders, Adrita Ray, 'We are urging healthcare providers to avoid gatherings, especially in canteens and hostels. We are also talking to concerned authorities for proper fumigation of certain areas of the hospitalRay and the others are trying to boost the morale of healthcare workers who are in quarantine. They make frequent video calls so that the staff don't feel left out.
Dr Diptendra Sarkar, a professor of surgery at IPGMER and the mentor of these crusaders, says, 'Amid darkness and doom, these crusaders are not only motivating us to fight the pandemic with a positive mindset, but reassuring us of the basics of humanism -- the core ingredient of the medical professionAdds Dr Pradip Mitra, a former director of IPGMER and former director of medical education, West Bengal, 'It's a great initiative. Everyone must come forward in trying to find out all possible ways to protect themselves from being infectedDr Suresh Angurana, a critical care specialist at the Advanced Paediatric Centre, Post Graduate Institute of Medical Education and Research, Chandigarh, says of this initiative, 'Such services of MBBS students and interns can go a long way in providing safety of healthcare providers and improving patient care. This model can be emulated in other hospitals that are taking care of Covid-19 patientsIt is only right that some people keep an eye on the welfare of our overworked frontline healthcare workers as they fight the ballooning Covid-19 pandemic..