Munch menu
1Beer Sourdough Crust Pizza @ The Spirits: This slightly spicy, non-vegetarian pizza from the Salt Lake Sector V address is prepared by adding beer to the flour for the dough. It's baked till the crust is crispy, which is then topped with mozzarella and cheddar, smoked chicken and pan-grilled vegetables. Perfect for sharing with a chilled mug of beer!
2Beer Cheddar Soup @ Canteen Pub & Grub: This creamy preparation with sharp sour notes, available at the City Centre Salt Lake outlet, is a bowl of warmth in the monsoon. A thick soup made with ingredients like butter, celery, garlic, thyme, pepper, cheddar and beer, it is served with garlic toasts on the side.
3Beer Braised Chicken and Onion @ Chapter 2: Slightly pungent with a hint of bitter and a sweetness that lingers, this dish from the Southern Avenue address is slow-cooked in order to achieve its strong flavours. A surprise for your palate, the braised chicken with beer drizzled on top, is prepared with a marination of strong beer. Served on a bed of boiled fettuccine, it is cooked in chicken stock and beer gravy with garlic, onion, rosemary and bay leaf.
4Blackened Beer Grilled Fish @ Traffic Gastropub: Served at the City Centre New Town address, this smoky, sweet and spicy dish goes well as a side with your mains. Basa is marinated twice with beer and a mix of herbs and spices, grilled and served with saffron mash and sour cream slathered on top.
5Beer Bacon Risotto @ Cafe Mezzuna: Get a taste of classic risotto with a tipple twist in this hearty dish from the South City Mall and Forum all-day resto-bar and cafe. The dish is prepared with crisp bacon, wilted mushroom, beer and finished with parmesan cheese and beer butter cubes.
6Egg Beer Curry @ Zobet: You can give your regular egg curry a break and relish the taste of this rich egg gravy cooked with a beer twist at the Camac Street address. The onion-tomato gravy is cooked with beer and stock, with pan-tossed eggs added along with dry red chilli and Indian spices. Garnished with coriander, the dish is a riot of Indian flavours.
7Oh Suber Hafen @ What's in d Name: Satiate your dessert cravings with this German dessert presented innovatively and available at the Camac Street address. Hefeweizen pound cake made with beer, sour cream, eggs and butter, is served with a layer of Belgian wheat beer-flavoured whipped cream, blueberry chunks and espuma of Belgian sour cream ice cream prepared with blueberries, sour cream and Belgian wheat beer. Bitter-sweet in taste, the soft cake has a creamy texture due to the use of nitrogen.
8Beer Loaded Nachos @ Unplugged Courtyard: If your heart is craving for a snack on monsoon evenings, park yourself at this Park Street resto-bar for a plate of beer-flavoured nachos and a glass of your favourite tipple. This spicy and sour dish is served with a topping of salsa, warm cheese fondue and frothy beer with sour notes. Tipple Tale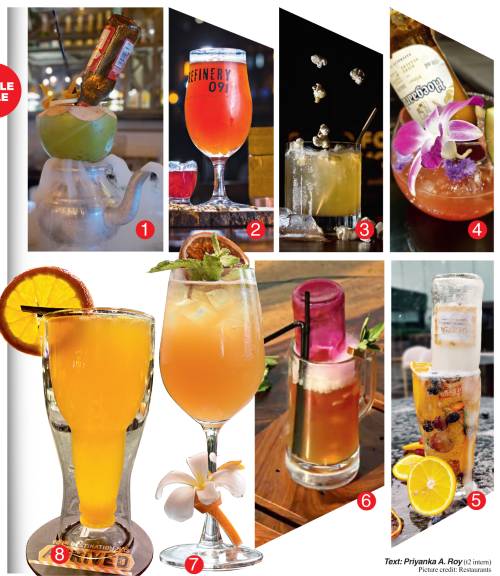 1SKC Budtale @ Sab Ka Club: This vodka and beer cocktail from the Topsia Road pub is for those who love a touch of coconut in their tipple. Mixed with vodka, cranberry juice and tender coconut, the drink is topped with beer.
2Pink Lager @ Refinery 091: Make your monsoon evenings relaxing with this colourful glass of a sweet and flavourful beer-based cocktail prepared with strawberry puree and lavender syrup at the Salt Lake Sector V address.
3Tequila Passion @ OCTA: This fruity cocktail — a concoction of passion fruit syrup, tequila, beer and guava juice, is a monsoon special from the Park Street outlet. The drink is topped with salted popcorn and is served on a rock glass.
4Gini in Lamp @ The Dugout Sports Club: Get a sip of this refreshing cocktail at the Southern Avenue address to get over your weekday blues. It's prepared with gin, fresh watermelon juice, lime soda and beer, and served with a garnishing of fresh watermelon slices.
5Summer Shandy @ Club Fenicia: Charge yourself up at this Salt Lake Sector V address with a refreshing and classic summer cocktail made of seasonal berries muddled with orange slices and mixed with beer and lemonade. Low on alcohol, this cocktail comes in a fruity flavour.
6Beer Boiler @ Scrapyard: The Camac Street brewery serves a Scotch-based bitter-sweet beer cocktail concocted with lime juice, elderflower syrup and Belgian strong ale. Garnished with basil, it's perfect for those who want to give the regular beer a break.
7The Royal IPA Velvet @ Capella: This bitter-sweet cocktail from the Salt Lake Sector V address made with Indian pale ale and sparkling wine, has fruity notes. The cocktail is a mix of beer, sparkling wine, fresh orange juice, Triple sec and fresh lime juice.
8Beer Booster @ Truly Publik: The Southern Avenue outlet serves a vodka and beer-based cocktail prepared with Malta orange juice, cinnamon syrup and ice cubes. Garnished with a slice of orange and cinnamon, this cocktail is a soul soother.
Picture credit: Restaurants